Many women feel bad about their bodies after giving birth. They lose self-confidence when they see pictures of famous people on social networks. Some women are used to exercising and eating healthy foods before pregnancy; These women always had excellent and standard bodies. After pregnancy and childbirth, naturally, their body has changed, and their concern about returning to their previous bodies increases. Many women benefit from a mommy makeover in Iran; In fact, women are thinking about changing their bodies after pregnancy and childbirth, and the first method that can be suitable for them and can be done quickly is a mommy makeover. Because Iran is one of the centers of medicine, many foreign compatriots and tourists travel to Iran for this type of surgery every year.
It is interesting to know that the physical changes in different women are different according to their genetics and body. A woman's body stores a lot of fat during pregnancy, and this causes their body shape to change after pregnancy. After incubation, women's breasts enlarge and inflate to prepare for breastfeeding. Also, fat in the abdomen and sides increases because, during pregnancy, these fats protect the fetus as outer layers. Other areas of the body change during pregnancy and after pregnancy; These areas include the chest, abdomen, sides, thighs, hips, and legs, which will differ depending on each person's body.
Worrying for women after pregnancy is that exercise or slimming creams will not help to change their bodies; even with regular diet and exercise, the speed of changes will be prolonged. In this situation, many women worldwide choose mommy makeover in Iran because the results obtained from this surgery in Iran are exceptional and extraordinary. Stay with us to share more information about mommy makeover with you.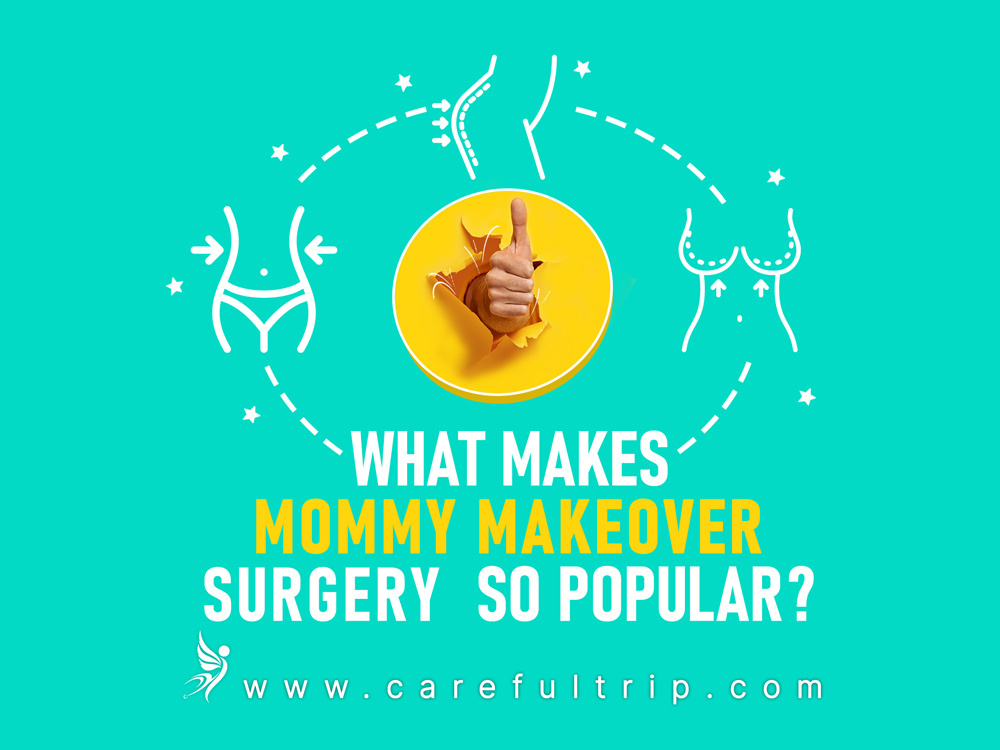 How is mommy makeover done?
Surgical intervention in these conditions and after childbirth is the only way to restore your self-confidence after changing the size and shape of your body. In this situation, expert doctors suggest a Mommy makeover; This surgery is a set of different methods to restore your ideal body. Of course, you should know that Mommy makeover is different for each person, and various surgical approaches can be suggested depending on the body changes of each person. The following methods are usually considered for Mommy makeover:
Breast cosmetic surgery

Tummy tuck

Liposuction
Usually, breast surgery after childbirth includes breast reduction and lifting. Your specialist surgeon may perform several surgeries simultaneously, but all these cases depend on the doctor's expertise and the previous successful experiences of the surgeons. When your surgeon decides to perform several surgical procedures for you at the same time, it makes you experience the feeling of happiness after the physical change at once after the surgery and the recovery period. Also, when you perform the surgeries together on the same day, your recovery period will be shorter, and once after all the surgeries, you don't need to have more time off after work.
To be able to use Mommy makeover, it is better that you have finished breastfeeding your baby. Doctors recommend you wait six months after breastfeeding your baby for the initial changes in your body. After a few months of breastfeeding, your hormonal changes will begin, and some swelling will disappear. In this situation, you and the surgeon can better choose the appropriate methods of body shape change. Sometimes, moms decide to wait a few years and then get a Mommy makeover. If you have selected Iran to perform your cosmetic surgery, you should contact the CarefulTrip team for essential advice. Our team will introduce you to the best medical consultants and surgeons.
You should know that pregnancy is a beautiful and valuable process, and you have various treatment methods to achieve your ideal body. Mommy makeover generally includes breast rejuvenation, liposuction, and tummy tuck. But with your physical condition, there is a possibility that other surgeries, such as vaginal tightening, are also considered for you in the Mommy makeover treatment packages. Also, the type of each surgery of the Mommy makeover treatment package is different according to your physical condition; For example, there is a possibility that one of the methods of breast reduction, breast fat injection, implant, or breast implant will be used to rejuvenate your breast. Also, according to your physical condition, different methods for tummy tuck surgery will be considered to remove the hardened fat on your belly and sides with the most significant effect.
What makes mommy makeover surgery so popular?
You will be overwhelmed with joy and delight when you look at your newborn baby. As you touch the skin of your baby's hands and smell their body odor, you forget all the hardships of pregnancy and childbirth. But when you look at your physical changes, you realize that your body is not the same as before, and many changes have been made. This issue can have many effects in reducing your self-confidence. With the advancement of science and technology, mothers no longer worry about changes in their body shape because they know that their bodies will quickly return to their previous state after giving birth. Mommy makeover gives you the good news that in a short period, you can have a body as beautiful as your pre-pregnancy body and regain your lost self-confidence. Also, according to the research, Mommy makeover in Iran is very common. Iranian surgeons have created impressive results for mothers by using up-to-date information and technologies. Also, if you are visiting Iran as a tourist for a Mommy makeover, don't worry about accommodation because the CarefulTrip team will consider the best hotels and accommodation conditions for you based on their experience in this field.
Usually, a Mommy Makeover is considered an outpatient surgical procedure, and the patient's recovery time varies based on the selected treatment package. Some Mommy makeover treatment packages only require a few weeks of recovery time. But some Mommy makeover treatment packages may take a few weeks to a few months to recover and pass the recovery period after the treatment.
Over the past few years, we've seen a dramatic increase in Mommy makeover, which can be attributed partly to media hype and the growing acceptance of moms who are satisfied with their plastic surgery. Moms look and feel their best after a Mommy makeover, and they deserve these beautiful feelings. Mothers should not feel guilty about body changes after pregnancy; Pregnancy changes and weight gain are among the natural changes after pregnancy and childbirth. Also, post-mommy makeover care differs according to each patient's treatment package; Depending on which treatment methods the surgeon chooses, your treatment and recovery time can be added. You can consult an expert surgeon about your body changes. Talk to a specialist surgeon and discuss your expectations with the expert doctor. It is also suggested to follow proper exercise and diet after cosmetic surgery so that your body changes become permanent. During this period, you can get help from your partner and take care of yourself a little more to restore your self-esteem. Your Mommy Makeover results can be as subtle or dramatic as you want them to be, but most importantly, they should be precisely what you expected.
Here are three main reasons for the popularity of Mommy makeover:
Improving and changing the shape of the middle part of the body

Cost-effectiveness of surgery

Breast rejuvenation
You have a large and loose belly after giving birth. Mommy makeover helps you change your midsection and achieve your ideal figure. Excess fat on your stomach and sides will be drained after the Mommy makeover, and you will reach your perfect body after recovery.
By choosing Mommy makeover, you will select affordable treatment packages for yourself. The surgeries you need are included in the Mommy makeover treatment packages, and you will pay less for all the surgeries. It will also save you time. Many tourists travel to Iran every year and save time and money by doing a Mommy makeover. Also, they spend their recovery time in Iran's well-equipped hotels, and after consulting with the doctor, they visit Ira's tourist areas during this time.
Your breasts change during pregnancy and afterward (while breastfeeding). Usually, women's overweight during pregnancy causes the breasts to become large and loose. Also, you need to shape or enlarge your breasts at some point after pregnancy. Mommy makeover and surgeries related to breast rejuvenation adjust the size of the breasts and lift their breasts. Mommy makeover packages help you achieve your ideal body quickly.
Summary of the article
Motherhood is a fantastic gift. Pregnancy is challenging but rewarding, and it changes your body. The breasts undergo many changes, the skin is stretched, and your stomach becomes large and loose. Mommy Makeover is designed to help moms rebuild their bodies and boost their confidence through plastic surgery and beauty treatments. Some women may think that Mommy Makeover and plastic surgeries are not for them, but their views will change completely after giving birth and seeing the changes in their bodies.
If you have not done anything to increase your self-confidence after pregnancy, we suggest a Mommy makeover in Iran. Your body changes shape after pregnancy and breastfeeding, and the form of your chest and abdomen changes. You can achieve your ideal body by choosing Mommy makeover treatment packages. After the Mommy makeover, you will notice that your personal, work and emotional life will change. Our team offers you services such as getting a hotel, a visa, a translator, choosing a Mommy makeover surgeon, visiting a doctor, and consulting before and after treatment. Take help from the CarefulTrip team to select an expert and experienced surgeon. Our team can introduce you to many expert surgeons according to the activity in this field. Also, don't worry about the measures related to your trip to Iran; CarefulTrip provides all the travel services in the best possible way so that you don't have to worry about receiving your medical benefits.
Iran is one of the most popular medical and tourism destinations. Many tourists travel to Iran annually to receive medical services. Also, the affordable packages of our team are among the things that can be effective in your decision for a Mommy Makeover in Iran. As we have mentioned in the text of the article, Mommy makeover is popular due to their affordability, breast rejuvenation, and improvement of women's midsection after childbirth. This article will help you make the best decision to increase your confidence and change your body.