In medical terms, a tummy tuck is referred to as an "abdominoplasty." It is intended to target and cure excess fat and loose or extra skin in the abdomen. It entails the midsection's complete surgical remodeling, which will treat extra skin and fat as well as repair and reorganize the abdominal muscles. We can tailor abdominoplasty to your goals, which is one feature that makes it so adaptable. Before further information is given, it should be mentioned that nowadays, due to the progress of Iran in the medical field, many patients do a tummy tuck in Iran with the best specialists and surgeons.
CarefulTrip can perform a full or partial abdominoplasty or tummy tuck in Iran, depending on your needs. Other than the best age for this surgery, additional information will be provided. A full abdominoplasty is beneficial for patients who have severe skin laxity throughout their entire stomach and extra fat. A partial abdominoplasty, which only treats the bottom half of the stomach, can be beneficial for patients who have a lesser degree of skin laxity, particularly in the lower region beneath the belly button.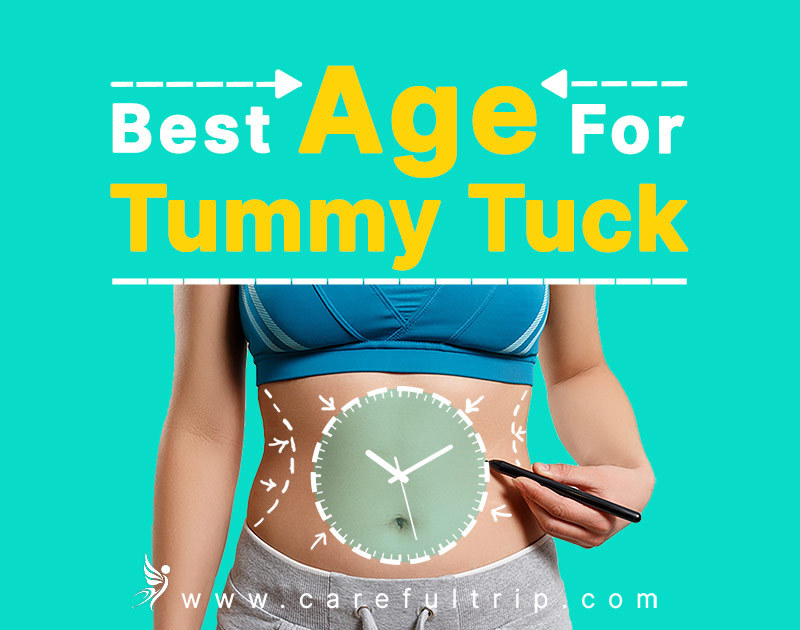 Different ages for tummy tuck
Age does matter when it comes to having a belly tuck to treat your midsection, but other significant criteria come first when making this decision. The majority of female patients are in their late 30s, early 40s, or older. However, when it comes to your age, any age is the perfect age as long as you are devoted to preserving results, have no plans to become pregnant again, and are in good health.
Middle-aged or beyond
You are the perfect age for a stomach tuck if genetics, several pregnancies, or considerable weight loss have caused loose skin around your abdomen that discourages you from your appearance. Your current waistline may resemble your 20-year-old midsection more after this operation. Regardless of your age, it will eliminate extra skin and fat and tighten the entire area so you feel more confident in a swimsuit.
In the 20s or 30s
You do not have to be in your forties to receive a tummy tuck in Iran or anywhere else. In their 20s or 30s, some patients elect to get a stomach tuck to improve the appearance of their abdomen, which has been adversely affected by genetic reasons or major weight reduction. Your outcomes will be adversely impacted if you opt to have this operation and become pregnant later in life.
In the end, choosing the best candidates for this treatment doesn't really depend much on age. Other elements to take into account include lifestyle, present health, and long-term objectives. By deciding to have a tummy tuck in Iran with CarefulTrip, we'll help you assess other things that our team will take care of during your medical trip, like getting a visa, reserving a hotel, booking an appointment with your doctor, etc.
Does age affect tummy tuck recovery?
Even though we would all like to believe it, no matter your age, recovery from surgery is not the same for everyone. Although patients of all ages can recover well from cosmetic surgery and enjoy excellent results, the recovery period may lengthen as you get older. People of all ages who are in excellent physical condition before surgery typically recover from the treatment more rapidly and run a lower risk of developing post-operative problems. The recovery of younger and older patients is, however, affected by a few broad variances. For instance, younger patients typically heal quicker than older ones. This is not to say that older men and women shouldn't have stomach tucks, but it helps to be aware of what to anticipate. Additionally, patients with young children at home must be aware that they won't be able to lift little children while recovering. If your career or way of life needs heavy lifting, lifting restrictions is something to think about, but keep in mind that they are only temporary. If you have a tummy tuck in Iran or anywhere else, be aware that for up to six weeks following surgery, your surgeon could instruct you to wear a support garment (a form of the corset). This aids in reducing swelling and relieving pain and suffering.
Who can't have a tummy tuck surgery?
There are requirements for the best abdominoplasty candidates. It is crucial that patients are in good health before having surgery, as with any elective surgical operation. They will have the best results from the treatment and the recuperation period if they are in good health. Candidates for this operation have extra skin and fat that liposuction alone, as well as dietary and lifestyle adjustments, are unable to remove. Ideal applicants will also comprehend the significance of retaining results. Before having the operation, they must have reasonable expectations for the procedure, the healing process, and the outcomes. The best treatment candidates should also be close to or at their ideal weight.
You might not be eligible for a tummy tuck if you:
Being a smoker

Are extremely fat.

Having previously experienced blood clots

Intend to become pregnant in the future.

Having improperly managed diabetes or heart disease

Have body dysmorphia, which is the belief that something is wrong with the way you look Despite the fact that there isn't
If the procedure is the best option for you, our plastic surgeon at CarefulTrip will be able to tell you all the necessary steps for a tummy tuck in Iran. so you can contact us to book an appointment anytime possible and receive the best results.
Tummy tuck information and advice
It's crucial to get the appropriate information prior to a tummy tuck. You should carefully consider the following:
What you want to achieve with surgery

What's possible and what's not

The dangers present

The aftercare

The postoperative recuperation period
It's crucial to carefully select your surgeon if you decide to have a tummy tuck. Make sure to hire someone who has the necessary education and experience. Your general practitioner might be able to recommend a qualified surgeon in your area. Or they might offer you suggestions on where to look. Consider your options carefully before deciding whether to get a tummy tuck in Iran or other countries. You should consider how you would feel and react if there were complications or if something went wrong because the operation is not absolutely necessary.
Before enrolling, make sure to meet the surgeon performing your surgery. Before having surgery, you should be given a "cooling off" period of at least a few weeks. After this, if you still have concerns, it could be beneficial to meet with your surgeon again. You will be required to sign a consent form if you choose to proceed. For this reason, it's crucial to ensure that you feel well-informed. Before the procedure, you can alter your mind at any time.
Complications
A tummy tuck might result in complications, just like any other kind of surgery. These difficulties comprise:
An unanticipated side effect of the anesthetic, such as an allergic reaction.

Significant hemorrhage

Developing a blood clot, typically in a leg vein (deep vein thrombosis, DVT)
Additional side effects of a tummy tuck include:
Antibiotics may be required for infection.

A hematoma, or bleeding under the skin, may require additional surgery to control the bleeding and drain the region.

A seroma is a buildup of fluid surrounding a wound that may require syringing or using a needle to remove.

Scars that are extremely red or elevated may take several months to diminish.

A pulmonary blood clot (pulmonary embolus)

Asymmetry refers to your body not appearing the same on both sides.

Bulges at the ends of your scar may require additional surgery to correct.

Deep stitches that protrude through your skin in the weeks following surgery can be easily removed by the physician.

Wound healing issues might delay your recovery and leave you with more pronounced scars.

Since nerves are injured during surgery, symptoms like pins and needles, a burning feeling, numbness, or discomfort when touching the skin may last a lifetime for some people.
Smoking may increase your risk of postoperative problems. If you have diabetes, problems are also more likely to occur. A tiny percentage of people are more susceptible to developing sepsis after surgery. The body's potentially fatal response to an infection is sepsis. Although uncommon, this is a medical emergency that requires particular attention. After surgery, visit the hospital right away if you have a fever or any of the following symptoms:
Shivers or a cold chill

Having difficulty breathing

Having little energy

Diarrhea

Sickness or feeling ill

A rash that is rapidly spreading
Of course, it should be mentioned that today, due to Iran's significant progress in the fields of medicine and plastic surgery, the percentage of these risks is greatly reduced because the best specialists and surgeons in the CarefulTrip team provide the best services every day, and according to surveys, many clients are completely satisfied with the results of the surgeries they had. So you can have a tummy tuck in Iran with confidence at any time.
Conclusion
In this blog, all the information needed to perform tummy tuck surgery at the right age, plus other necessary information, was provided. So, if you decide to have this surgery after reading this article, do it as soon as possible, and don't forget that choosing the right medical team and bed for surgery is one of the main points that you should take care of. In this case, you should be aware that by undergoing a tummy tuck in Iran and working with CarefulTrip, you will receive the best results. The most reliable health tourism provider in Iran is Careful Trip. We thoroughly assess your medical situation and recommend a unique combination of hospitals, clinics, and top surgeons. Make appointments with the best surgeons and specialists who have received foreign training. Pre-operative check-ups, round-the-clock assistance, and lodging arrangements.