Are you one of those people who are unhappy with their noses? This is widespread among men and women who are unsatisfied with their noses or have many problems with their beaks. Rhinoplasty is one of the most common cosmetic surgeries that solves a wide range of patients' problems; For this reason, Rhinoplasty in Iran is very popular and common. Nose crookedness, nose mismatch with your face, and sometimes breathing difficulties can be easily solved by Rhinoplasty. If a skilled and expert surgeon performs Rhinoplasty, it will most likely solve your nose's aesthetic problems; It is enough to tell the doctor your expectations before your nose surgery to get the best and most complete result.
Since years ago, Rhinoplasty has gained many fans among people. In fact, through this low-risk cosmetic surgery, patients can solve their nose problems and be more satisfied with their appearance than before. According to the reports, people will have more self-confidence after Rhinoplasty, and the quality of their personal, work, and emotional life will increase significantly. It is interesting to know that Rhinoplasty is not only for nose aesthetics. Most people indeed go to a nose surgeon to beautify their nose, but Rhinoplasty can significantly treat patients' structural and breathing problems. Sometimes, people feel the need for more changes after their nose surgery, and in this situation, Rhinoplasty is suggested for them. The physiology of the nose is very complex, and Rhinoplasty is considered one of the most challenging plastic surgeries that require extensive knowledge of the anatomy of the face and nose. Still, this method is highly effective and practical. In fact, by choosing a specialist doctor and a well-equipped hospital, you can have a wonderful Rhinoplasty experience. Stay with us to talk about nose problems that Rhinoplasty can solve.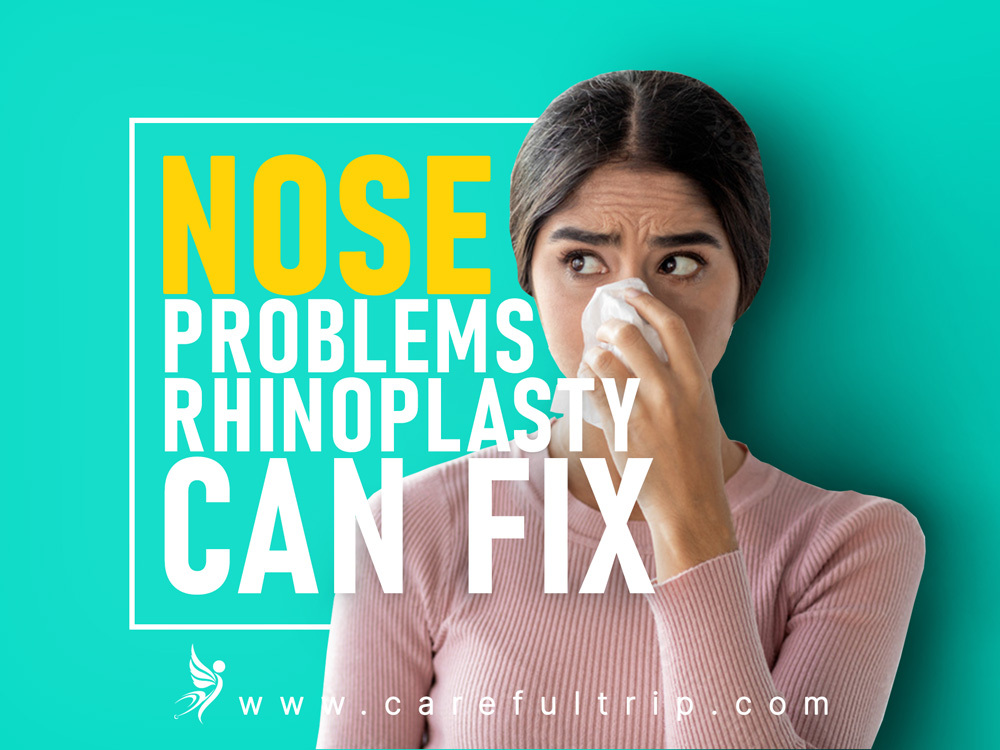 Nose Problems Rhinoplasty Can Fix
Rhinoplasty will not be done just to beautify people's noses. Many structural problems of the nose, breathing problems, and Rhinoplasty treats injuries. Of course, this condition requires the specialist doctor to know your expectations and needs from cosmetic surgery and finally suggest the best and most effective treatment method. Rhinoplasty in Iran is one of the most common cosmetic surgeries many tourists travel to Iran to perform yearly. The high-quality cosmetic surgery, expert and skilled doctors, well-equipped hospitals, and affordable prices are why patients choose this country to receive their beauty and treatment services. CarefulTrip will be by your side throughout your treatment and tourism process. In this text, we mention some nose problems that Rhinoplasty solves.
Broken nose

Deviation of the septum

Nostril shape

Crooked nose

Big nose tip

Breathing problems

Asymmetry

Flat Nose
Repairing a broken nose is one of the therapeutic and non-cosmetic uses of Rhinoplasty for the nose. In some cases, Rhinoplasty leads to a change in the shape of the cartilage or the rearrangement of the broken bones of the nose and treats the injuries in the best possible way. In some cases, it has been seen that Rhinoplasty only treats the damage caused to the nose and does not focus on the beauty of the nose. In this situation, the patient's broken nose and breathing problems will be resolved, but the nose may not have significant cosmetic changes.
The septum is the cartilage that makes breathing easier. The position of the septum in your nose allows you to breathe correctly. In some fractures or congenital diseases, the septum may not be in the right place, and your breathing will face many problems. In this situation, it is suggested to do Rhinoplasty so that the airflow can quickly enter your body and improve the function of the heart and blood vessels. Rhinoplasty can reconstruct the structure of your nose to keep the septum in the center.
Some patients are not satisfied with the shape of their nostrils. Some nostrils may be too narrow, too large, or uneven. In this situation, the specialist doctor suggests a relatively invasive Rhinoplasty to solve your problem. In this situation, it is necessary to change the physiology of your nose in general so that you can breathe better or the appearance of your nose becomes more beautiful. Breathing performance may affect how much your nostrils change.
Some patients have a hump on their noses. This nasal hump may be congenital or caused by a fracture. In any case, you can fix your runny nose using Rhinoplasty; The doctor removes the extra cartilage on your nose so that you have a more beautiful nose and your breathing does not face any particular problem. Many tourists travel to Iran to fix their hump nose by Rhinoplasty. Rhinoplasty in Iran is a widespread and popular cosmetic surgery that skilled surgeons have complete and sufficient control over this work. It would be best if you stayed in Iran during your nose surgery to perform your treatment visits properly. After the surgery, your surgeon will check the nose to ensure that the desired results are achieved.
The shape of the tip of your nose may be a way you are not satisfied with. In this situation, your specialist doctor suggests using Rhinoplasty to shrink the muscles at the tip of your nose. This condition is also a common issue that many tourists travel to Iran to solve.
Finally, it is better to know that to solve nose problems, it is better to choose a specialist and experienced surgeon to provide you with the best treatment services. Changes in the nose and Rhinoplasty are directly related to your face's respiratory function and beauty, so it is imperative to have a common choice for this type of cosmetic surgery. Nasal problems can include some of the above or sinusitis and respiratory-related diseases.
Solving nose problems with Rhinoplasty in Iran
There is a desire to become more beautiful and live better in all human beings; In this situation, it is better to introduce practical and appropriate methods to improve living conditions. As you know, the change in appearance, especially the change in the face, directly affects the quality of life of people. Some of these changes can be easily solved with effective measures. The nose is one of the most influential organs in the beauty and self-confidence of people. Also, nose problems and the damage caused to them can affect people's lives. So, the best way is to visit a specialist doctor to solve your nose problems and change your life. Some reasons may be done with minor changes to beautify the nose's appearance, but others solve problems and diseases of the nose and improve your breathing conditions. You may be worried about the steps and requirements of your trip to Iran. You may have concerns about pre-treatment counseling and communication with doctors; It is better to know that Iranian surgeons and specialist doctors are fluent in English, and we will be by your side throughout this trip, so you don't have to worry about communicating. We assure you that you will not be alone during this journey, and our consulting team will provide you with the best and most unique services.
Rhinoplasty solves patients' nose problems, and during this time, according to the doctor's diagnosis, you must stay in a hotel to do your medical examinations. As you know, Iran is one of the centers of tourism and medicine, and many tourists travel to this country every year for medical and cosmetic surgery. Also, due to its beautiful tourist attractions, you can visit many tourist places during your stay in Iran. During your stay at the hotel, you can see beautiful tourist areas according to the doctor's opinion. It may be interesting to know that Rhinoplasty in Iran has a very affordable price compared to European countries, America, Turkey, and Dubai. With a simple calculation, you will find that the cost of surgery and your trip to Iran will be much lower than rhinoplasty surgery in another country. The high quality and low cost of Rhinoplasty in Iran is one of the advantages of doing Rhinoplasty in this country. By reading this article, you can learn more about Rhinoplasty.
Rhinoplasty affects the inside and outside of your nose so may change the airways and sinuses. Iranian surgeons can open your nasal airways by changing the structure of your nose, including the nostrils. Opening the nasal airways improves breathing and reduces the risk of sinus infection. Many patients seek rhinoplasty surgery in Iran to correct one or more of their nose problems. The compassionate Iranian surgeon team can reconstruct your nose in the shape and size you want and solve problems and diseases with the best results. Also, due to the experience and expertise of Iranian surgeons, they can remove the scar tissue in your nasal airway from previous injuries or infections.
Treatment of nose problems by Rhinoplasty with CarefulTrip
Rhinoplasty is one of the most popular surgeries in recent years. This popularity has been formed due to the results obtained from satisfied patients after Rhinoplasty. But you are paying attention to where and which doctor you choose for Rhinoplasty will be effective in the results of your Rhinoplasty. Rhinoplasty in Iran is performed with the highest quality in hospitals equipped with the latest technologies. But it is difficult for compatriots outside Iran and tourists to plan this therapeutic trip. Among the services that CarefulTrip provides, you include hotel booking, visa, translator, choosing a cosmetic surgeon, doctor's visit, pre-treatment consultation, etc. Our team will be with you throughout your journey to Iran to experience the best medical services, tourism, and overall stay.
It is better to stay in the hotel during the recovery period after Rhinoplasty and follow the doctor's instructions. During this time, according to the doctor's advice, you can visit the beautiful tourist areas of Iran. The high quality of medical services, skilled doctors, and affordable prices compared to other countries have made Iran one of the most popular medical destinations for tourists. Our practical and affordable packages give you the best and most memorable trip.
Summary of the article Nose Problems Rhinoplasty Can Fix
By reading this article, you probably realized that Rhinoplasty could solve a wide range of diseases and problems of the nose. Nasal problems can include congenital diseases, breathing problems, a broken nose, a hump at the back of the nose, asymmetry of the nostrils, and aesthetic issues of the nose. In general, all these problems will disappear with Rhinoplasty. Of course, we advise you to consult a specialist doctor before performing any cosmetic surgery and get advice from them about your illness or problems. Specialist doctors will suggest the best and easiest way to solve nose problems. Also, if you have a disease or other diseases, you are taking a particular medicine, or there is an issue, be sure to discuss these issues with your doctor. Pay attention to the doctor's instructions during your treatment process and take the necessary medicines and painkillers after Rhinoplasty. If your body has an allergic reaction to cosmetic surgery or medications, discuss it with your doctor.
Nasal congestion after Rhinoplasty may be dangerous for you; If you feel short of breath, talk to your doctor immediately. Of course, you need to know that Rhinoplasty is one of the least dangerous cosmetic surgeries with few side effects. Still, it is better to consider all the issues to create favorable results for you after Rhinoplasty. Many patients feel a combined approach to their rhinoplasty surgery, which means you can solve problems and diseases related to your nose with Rhinoplasty and have a more beautiful nose. To achieve this goal, before Rhinoplasty, discuss your needs and expectations with the doctor so that the results are done according to your wishes. Typically, patients will experience more self-confidence after Rhinoplasty and benefit from sinus health and easier breathing due to improved function.