Do you feel distressed about the shape or size of your breasts? Or do you have problems and pains like backache because of your breast size? You can forget about these pains and feelings by performing breast reduction surgery. No matter where you live, you can come to Iran for this operation since the best surgeons are at your service at reasonable prices. Generally, breast reduction in Iran is the best way to easily change the size and shape of your breast at an affordable price. But how can you choose the best size and shape for your breast?
Breast reduction operation is the best way to help women who are unhappy and unsatisfied with their breast shape, size, or weight. Let's make your breast smaller and more lifted by performing breast reduction operations in Iran. A good and professional clinic will help you to choose the best shape for your breast, so choose your operation clinic wisely.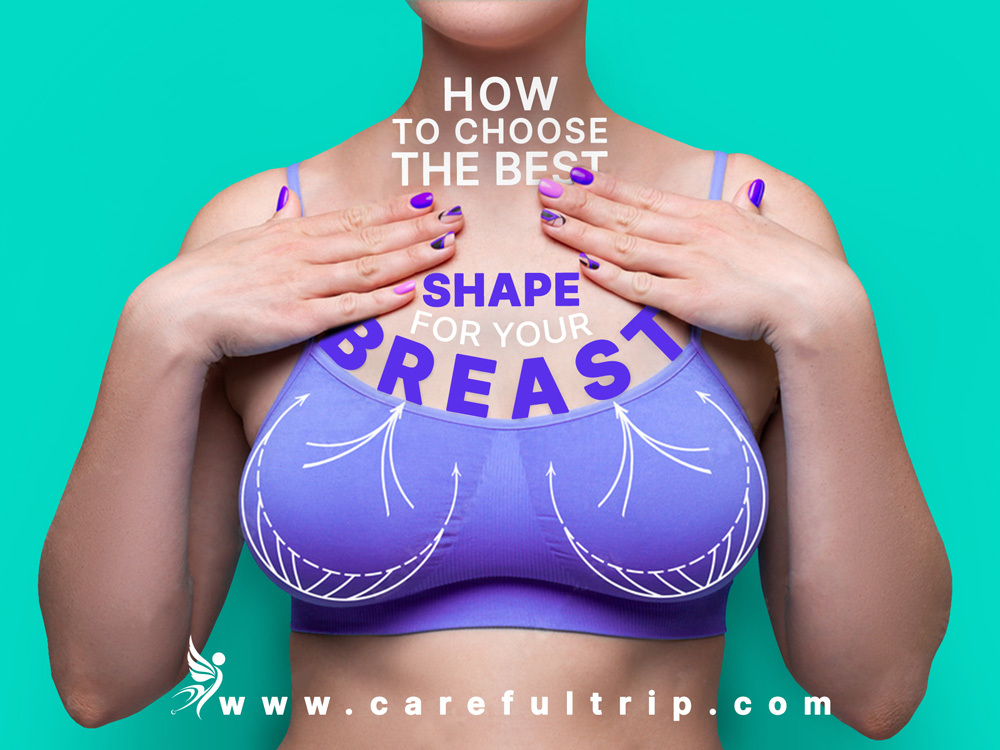 What to think before having a breast reduction in Iran
Before going ahead with your breast reduction surgery, you have to know why you are doing this operation. It means you have to know the logical reason for breast reduction surgery.
Are you unsatisfied with your breast shape or are you unhappy with its size and weight? Based on obtained statistics from breast reduction in Iran, most women want a lifted breast with a better shape.
But how is it possible to choose the best shape for a breast? Breast reduction has different reasons, like health reasons and apparent reasons. Typically, most people want to have this operation because of apparent reasons.
It is possible to say breast reduction in Iran is one of the highest rates of happiness among all cosmetic surgeries since Iran has the most professional surgeons with high potential skills.
Please consider breast reduction will cause some scars, and you can only cover them with clothes. Before making the final decision for your breast reduction, you must be aware of scars, the shape of your breast, and other essential matters, so discuss them with your surgeon first.
Choose a surgeon
An essential part of performing breast reduction is choosing a surgeon. As you know, there are too many surgeons for these cosmetic surgeries, but not all of them are the best or most potential with professional experience or knowledge.
The surgeon must make you aware of these operations afterward, like scars. Therefore, you will need an honest surgeon with enough kindness and responsibility toward patients.
A professional surgeon will perform breast reduction for 4 hours. The fat and extra tissue of the breast will make some women unsatisfied and unhappy; therefore, surgeons will remove the excess volume of breast tissue, create contour and close the wounds, but there will be a minimum scar on the patient's skin.
As your surgeon is more professional, your wound will be closed better, and your scar will be minimum. According to many global patients' reviews and opinions, performing breast reduction in Iran is their best choice since surgeons are the most knowledgeable and professional ones.
Choose the best shape for your breast
Another alternative before breast reduction is choosing the best shape for your breast, which will be hard for you. Therefore patients will need logical and reasonable advice about selecting the final breast shape. You will have some suggestions like:
Enlarged breasts

Augmentation with saline

Silicone implants
Plastic surgeons will help patients to choose the best shape of breasts based on their body shape, different goals, and lifestyle. For example, if your breast is half the cup size and shape, you can perform lipo-filling to make it a full cup.
Liposuction is one of the best and most effective ways to change the breast shape based on the patient's requested shape. Lifting will be the best solution if you want to have larger breasts.
Breast lifting lets your breasts hang down instead of sitting steady on the chest. Besides breast lifting, many women want breast reduction to make their breasts smaller because they feel uncomfortable.
The shape of the breast must be in harmony with other parts of the body. Perform a reduction mammoplasty to remove extra fat, tissue, and skin from your breast and make the best shape adaptable with the rest of your body.
Alternatives to choose the best shape for your breast
Choosing the right shape is dependent on different factors. For example, the existing shape of your breasts before surgery will be an essential matter.
The cup shape is the most common alternative among patients. The final form is related to below matters:
Initial breast shape

Blood supply to the nipple

Percentage of removing tissue
It is vital to know it won't be possible to predict breast shape sometimes because the percentage of removed tissue is unpredictable.
If case of choosing a board-plastic surgeon, you will have your demanded breast shape. Having enough breast tissue will let the surgeon make your requested shape without destroying nipple functionality.
The chosen shape must make your breasts look natural and appropriate to the rest of your body. Surgeons must consider below items to before making your requested breasts shape:
Adaptability with patients' overall body shape

The percentage of pre-surgery pain

Patients preference

The portion of required breast lift

Scare location
2 most common breast shapes
People are looking for breast reduction for too many reasons, but the most common reason to perform breast reduction surgery is to change the size and shape of breasts. Women have an appearance goal to perform this cosmetic surgery.
The surgeon must consider the patient's anatomy and help her find the best shape of her breasts. The doctor will describe different matters for the patient and help her with which shapes the best for her body after considering below items:
Body type

Sternum width

Chest wall contour

Existing breast tissue

Personal influences
There are 2 best and most common breast shapes according to gathered information. It will be a complex process to help the patient choose the best breast shape for having beautiful and natural-looking breasts. It may take plenty of time, but finally, patients can make their final decisions with the help of surgeons.
Round breast shape
Most patients with breast reduction in Iran prefer a round shape because it is nearer to the original form of breasts. The round shape reflects the worldwide trend. Also, breast lifting is another global trend after breast reduction.
Having soft, round, and well-proportioned breasts is every woman's wish, so it is possible to have such beautiful breasts by performing a breast reduction operation in a professional clinic.
The best and most knowledgeable surgeons will make a balance between the top and bottom of the breasts. The round shape can be an ideal choice for every woman; it only depends on the potentiality of chosen surgeons.
The good news is that you can find the best and most skillful surgeons in some Iranian clinics like CarefulTrip. Search about your surgery and demand breast shape, and then choose a high-profile clinic with professional surgeons.
Teardrop breast shape
Some women want to look more natural, so they choose a teardrop shape. They believe the round shape feels artificial and results from a boob job. The surgeon will make the top of the breast thinner during breast reduction surgery.
It is not a good idea to remove all the breast tissue if you want to have a tear-drop breast shape. This matter must be discussed with your responsible surgeon. An excellent point to know is about afterward of breast reduction.
After a breast reduction operation, your breast may need a breast lift to look better. You may need to elevate the breasts to make them look more beautiful if you choose the tear-drop breast shape.
How much does a breast reduction in Iran costs?
Everyone knows cosmetic surgeries and trendy operations are not under the insurance system. You may find some special insurance to pay your expense, but generally, these operations are the most expensive ones worldwide.
If breast reduction changes appearance rather than healing, the patient must pay more privately without insurance coverage.
Although breast reduction operation is too expensive in the UK or other countries, you can experience breast reduction in Iran at reasonable prices. Health insurance may cover some of these operation costs, but working out will take a long time.
The best clinics for breast reduction operations are private, and they will take more money compared to other state clinics, but they will provide the best services with the help of professional and skillful surgeons.
Come to Iran to have the best, most accessible, and cheapest breast reduction surgery with the help of the most skillful surgeons. Iranian clinic do their bests to offer the most satisfying services; moreover, you can have every breast shape based on your request.
Breast reduction in Iran with CarefulTrip
CarefulTrip is one of the best clinics for cosmetic operations due to its skillful surgeons, modern nursery procedures, different after-surgery packages, etc.
In addition, affordable prices are the most important reasons to encourage you to choose this professional medical clinic with the best health package tours.
Choose CarefulTrip and let them perform your breast reduction operation with the best available healthcare services and provide you with the most reliable medical equipment.
Experience a well-known, memorable trip by choosing CarefulTrip as your supportive medical clinic for a breast reduction operation.