Are you entirely entertained by watching the Kardashian sisters? Do you regularly check their website and various social media pages and aspire to have a following similar to theirs?
Many scientists believe that Brazilian butt lift surgery, also known as BBL, is the riskiest form of cosmetic surgery. However, the most recent trend in social media is to have BBL surgery to look more like Jennifer Lopez or the Kardashians.
But if that's the case, does that mean getting a Brazilian butt lift is risky? In that case, what is the most secure BBL location? And to what extent can we rely on Brazilian butt lift in Iran? These are just a few questions that will provide their answers later in this article.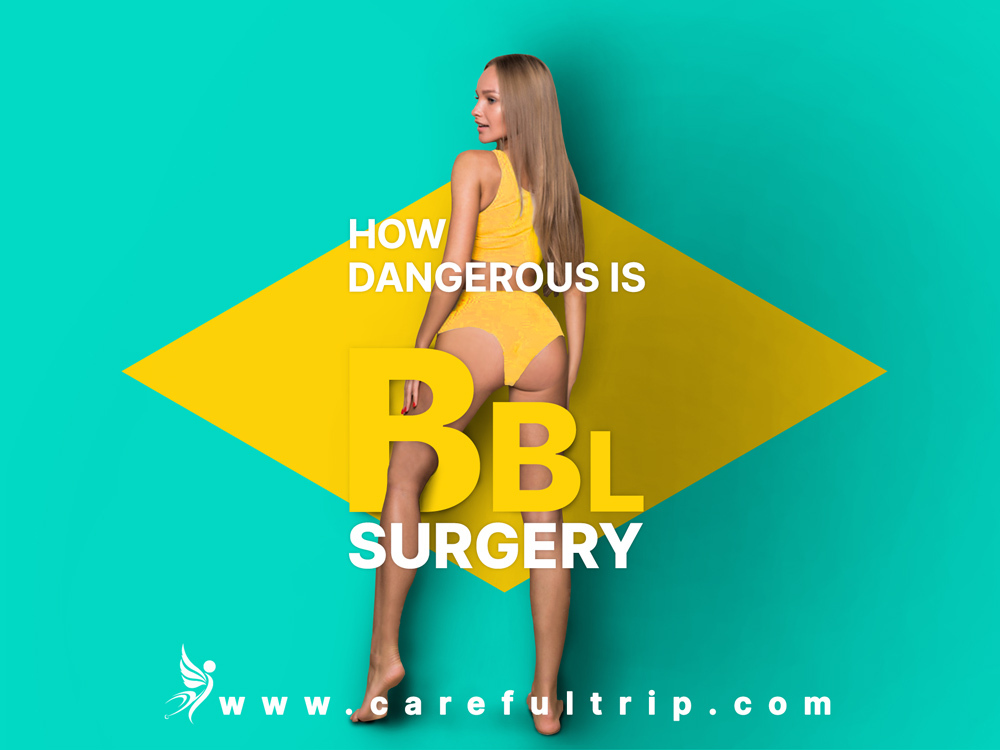 Is there a risk involved with a Brazilian butt lift?
Do a quick search on the internet. You will find many articles about how dangerous the Brazilian butt lift is. According to the data collected, the number of BBL surgeries performed in every region of the world has increased by 77.6% since 2015, making it the cosmetic surgery procedure that is expanding rapidly.
A study that was published in 2017 in the Aesthetic Surgery Journal found that the death rate associated with BBL surgery was as high as 1 in 2,351, according to Steven Williams, MD, a board-certified plastic surgeon in Oakland, California, and the founder of Tri Valley Plastic Surgery, whom SELF interviewed.
This death rate is higher than that associated with any other type of cosmetic surgery, including tummy tucks, which were previously considered to carry the highest risk.
Accidental injection of fat into large veins can result in the patient's death because the fat travels to the patient's brain, heart, or lungs. Fat necrosis is a condition that can develop in certain circumstances when blood clots travel to the lungs or when fat is injected into the wrong places. This can lead to a condition known as fat necrosis.
According to the available evidence, the BBL mortality rate in Florida is the highest of any state in the world. A recent paper by Pat Pazmiño, MD, shows the working environment at the clinics and the short surgery periods.
The results of this paper demonstrate that from 2010 to 2016, there was an average of one death linked to BBL PFE each year. Seven deaths in the state between 2017 and 2018 caused alarm, which led the FL Board of Medicine to pass an emergency rule in 2019 that limits gluteal fat grafting to the subcutaneous space. Unfortunately, neither the ASERF recommendations nor the 2019 Florida emergency rule improved BBL PFE-associated mortality. The years after these safety tips and the rule about only giving injections under the skin have been the deadliest ever. Fourteen people have died in Florida since the ASERF guidelines were implemented, and 12 people have passed since the "only subcutaneous injection" emergency rule was implemented in 2019. The worst year by far was 2021, with six BBL PFE deaths and two nonfatal cases of BBL PFE.
In another paper by Arian Mowlavi, they demonstrate how using assessment tools can optimize Brazilian buttock lift results.
These papers and many others show that regardless of its dangers, there are many ways to prevent penalties and to see the bright side of this surgery.
Doing this surgery in inappropriate clinics, in unassessed ways, and in a short time may be dangerous. Because of these warnings, you are now aware of the threats and can avoid them. However, suppose you believe that you require this operation. In that case, you must investigate every risk factor first before consenting to it.
What are the safest conditions for a Brazilian but lift surgery to pay attention to?
As we mentioned above, the Brazilian butt lift surgery could be one of the most dangerous surgeries if you don't pay attention to some conditions.
Other than general factors like the surgeon or his expertise, before organizing for this surgery, you have to be careful about these points:
Where to do BBL: As the results of studies show, the clinic where you do the Brazilian butt lift surgery is essential. It would be best to closely monitor the equipment, staff, environment, doctors, and surgical procedures.
The duration of BBL: Don't rush to make an end to your surgery! The longer it takes, the better it makes! Doctors should concentrate on the procedure and do every assessment needed to ensure everything is going on.
The procedure of BBL:Ask your doctor how the process is, what the equipment is, how they assess every step of the surgery, and make sure they are aware of the risks.
How is the Brazilian butt lift surgery in Iran?
These days, having BBL in Iran is getting more and more popular. But is it safe to have surgery for a Brazilian butt lift in Iran?
Not only is it safe, but it is affordable for everyone who seeks to have BBL. First, you must pay attention to the company that arranges your operation. CarefulTrip is one of the companies in Iran that is recommended and trusted the most by patients from other countries. Their 98% satisfaction rate shows their expertise and reliability in finding you the best hospitals, surgeons, and environment for a zero-risk surgery.
To get under a surgery like the Brazilian butt lift in Iran can have multiple benefits for patients:
It is more affordable than in any other country.

Their doctors and surgeons are among the most qualified worldwide. They have degrees from some of the most prestigious educational institutions in the world.

Iran is home to some of the most advanced medical facilities in the Middle East.

According to the statistics, the risk of complications during surgery for a Brazilian butt lift in Iran is relatively low.

This procedure is performed successfully daily on many Iranian women.

The number of people on the surgical procedure waiting list is extremely low, and you can schedule the procedure whenever you like.
Conclusion
Even though numerous global statistics illustrate the lethal threat posed by BBL, countless other studies point to preventative measures that can be taken. Iran has a low rate of complications following this type of surgery, in contrast to many developed countries, with a high death rate associated with this procedure. This is due to Iran's technologically advanced hospitals and highly experienced surgeons. In the end, calling CarefulTrip to arrange everything with the best plastic surgeons in Iran would be one of the best decisions you could make. CarefulTrip can help you find the right surgeon for your needs.