People who are experiencing trouble getting pregnant should think about fertility treatments such as IVF as a possible solution. Ovulation is stimulated by a class of treatments called fertility medications. These medications can be used alone or in combination with other in vitro fertilization procedures to treat infertility (IVF). it involves the laboratory fertilization of an egg and sperm, followed by uterine transfer. Fertility medications assist the ovaries in producing and maturing eggs as well as timing their release.
 Drugs for infertility are either hormones themselves or have the ability to improve the function of a person's hormones. Some people may be concerned about how reproductive treatments can influence their risk of developing certain cancers because hormones can encourage the growth of some tumors. Before further information is given, it should be mentioned that by deciding to have IVF in Iran with CarefulTrip our doctors will give you a consultation and take care of everything.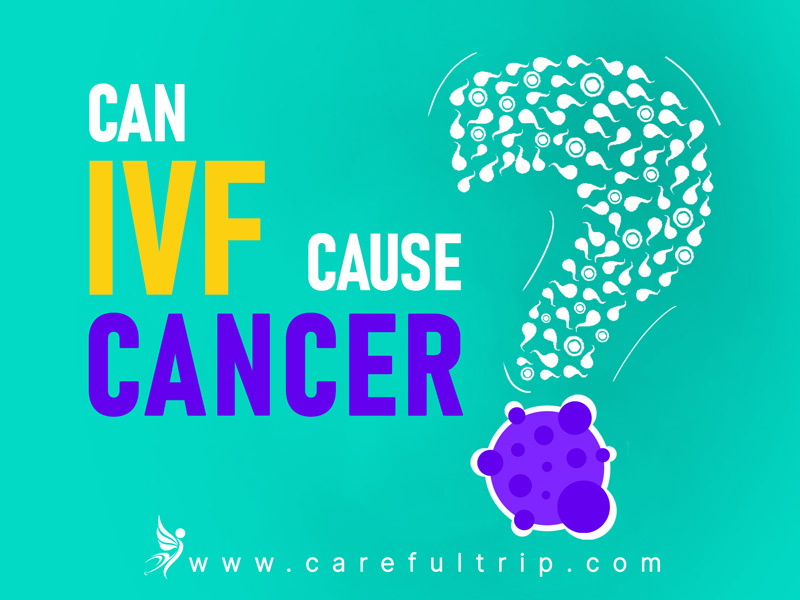 About fertility drugs' safety for women who have cancer
According to a 2015 and 2016 study, women with a genetic risk for cancer, such as those with a hereditary BRCA mutation, do not have a higher risk for ovarian cancer after fertility treatments like IVF. Some cancer-stricken female patients may also take medications to suppress estrogen or maintain it at a precise level while receiving fertility therapies, which can increase estrogen and other hormone levels. According to Mitchell Rosen, MD, a reproductive endocrinologist at the University of California San Francisco Center for Reproductive Health, women shouldn't be anxious about receiving [fertility] treatment even if they are already battling cancer. Before beginning fertility treatments, it is still crucial for people to discuss their risks with their medical team.
Interference of cancer treatment
If you have cancer and are concerned that your treatment may interfere with your ability to conceive, talk to our medical team at CarefulTrip about making an appointment to see our fertility specialist to learn more about your choices. Keep in mind that it's crucial to inquire about the side effects and potential long-term hazards of any new treatment like IVF in Iran before beginning it. Based on your unique health and goals, your medical team can assist you in choosing the course of action that is best for you.
Fertility drugs and cancer risk
It makes sense that some people worry that using reproductive medications or IVF will make them more likely to develop cancer. Fertility medications contain hormones that alter the amounts of hormones in your body, including estrogen. They can result in several ovulations during a single menstrual cycle, and ovarian cancer risk has occasionally been linked to a longer lifetime of ovulations. In addition, some people worry that estrogen-containing fertility medicines may raise the risk of developing certain malignancies, such as some types of breast, ovarian, and uterine cancer, which depend on the hormone estrogen for growth.
ASRM guideline
The existing body of evidence does not support the notion that using fertility medications or IVF increases the chance of developing cancer. As stated in the ASRM recommendations above:
People can be relatively comfortable knowing that there hasn't been any discernible rise in the risk of invasive ovarian cancer linked to the use of fertility medications by infertile women, and the risk isn't different for each therapy.

There is adequate proof that fertility medicines do not increase your chance of developing uterine or breast cancer.
IVF and breast cancer risk
Female steroids significantly impact the invasive malignancy known as female breast cancer. Breast cancer is the most prevalent cancer in women globally, especially in middle-aged and older women, with a new case rate of 128.5 per 100,000 women per year.
The effectiveness of medicines and advancements in screening has reduced breast cancer mortality. Breast cancer can be caused by a number of known and suspected causes, including lifestyle choices, age, race, location, and exposure to ionizing radiation.
IVF breast cancer risk
Progesterone and estrogen sensitivity can occur in some breast cancers. People are worried that reproductive medicines might make these tumors more likely. The growth of a patient's hormone-sensitive breast cancer would occur during periods of high estrogen or progesterone (IVF treatment intervals or pregnancy); however, studies have not revealed a rise in the number of new breast cancer diagnoses.
Ovarian cancer risk
A Cochrane review provides the most convincing evidence that using Clomid and other ovarian-stimulating medications will not increase your risk of developing ovarian cancer. Four studies from 1990 to February 2013 were reviewed. Together, the studies included 182,972 women in them. The analysis concluded that studies that did reveal a higher risk of cancer were unreliable because they either neglected to account for the risk of infertility itself or used too small a sample size to draw any meaningful conclusions. By choosing the right medical team for IVF in Iran, you can reduce the different risks associated with your procedure. At CarefulTrip, we arrange everything from the beginning for you, like getting a visa, arranging a hotel, or your appointments with the most experienced specialists.
During the oocyte maturation phase
HCG or other drugs are administered to aid in the egg's maturation during the oocyte maturation phase when the follicles are prepared for egg retrieval. An estimated 40% of women who underwent IVF and received more than six cycles of HCG or HMG are at risk for breast cancer, particularly those who have a strong family history of the disease. The peptide hormone HCG is present in both the female and male sexes, biologically.
 It is created specifically by the embryo during pregnancy and has a significant impact on both pregnancy and tumor stimulation when estrogen and estrogen response components (ERC) are present. Because malignant breast cancer cells produce HCG, particularly its -subunit, and have a high concentration of HCG receptors, it can be used as a tumor marker in breast cancer. In other words, raising the amount of this chemical in the body can accelerate the growth of cancer cells in the absence of pregnancy.
Duration and dose effects
It is noteworthy that the dosage and frequency of drug use are thought to have an overall effect on breast cancer. Women who had an average of more than three cycles were exposed to medications for more than a year and were unable to get pregnant had the highest incidence of cancer. The effects of these medications on breast cancer have been better studied in studies with longer follow-up periods. For instance, the possible effect of clomiphene citrate on breast cancer has been mentioned among cohort studies in research with more than 10 years of follow-up.
More information better to know
The general agreement is that using fertility medications or IVF won't make you more likely to get uterine or breast cancer. Additionally, several studies have examined the relationship between the use of reproductive drugs and various diseases (such as thyroid and skin cancers), but they have not shown any conclusive evidence of elevated risk.
 It's also vital to keep in mind that fertility treatment technology is evolving. Nowadays, drug dosages are lower than in the early stages of treatment, and much of the research on cancer and fertility treatment involves women who were given harsh treatments in the 1980s.
Conclusion
In this blog, all the necessary information about the risk of cancer through IVF is provided, and after reading it, you can easily take the necessary measures. If you choose Iran for IVF and CarefulTrip, you will also get the best results. We make an effort to comprehend your needs and provide the best services for your medical visit to Iran. We thoroughly assess your medical situation and recommend a unique combination of hospitals, clinics, and top surgeons.
 Online patient services (quotes and consultations). Planning hospitals and clinics that will meet the highest standards in the world (for all treatments and budgets). selecting highly skilled medical professionals who have had worldwide training (most doctors and surgeons have more than 10 years of experience with international degrees). Airport pickup, preoperative examinations, round-the-clock assistance, and lodging arrangements (for patients and their families). High-quality healthcare services for both inpatient stays and outpatient visits.