One of the common questions that women ask during pregnancy is the connection between pregnancy and a nose job. In fact, in this era, many women are looking for changes. Still, they must get complete and sufficient information about nose surgery and any other type of surgery in this era. A pregnant woman should know what effects a nose job and any further cosmetic surgery have on the health of the mother and fetus during this period. As an informed person, you should know that any cosmetic surgery that requires anesthesia is prohibited for pregnant women. It is usually recommended that pregnant women undergo rhinoplasty surgery two months after giving birth.
Next, you should know that nose surgery is a long-term process, and the surgical treatment process includes before and after the nose job. For this reason, the treatment and recovery process after a nose job is long and takes time. Therefore, women who intend to get pregnant should know how long the recovery period of this surgery takes and when is the best time to get pregnant. Some surgeons believe women can get pregnant after the cartilage has hardened and the wounds have healed. It is suggested to wait about 1 to 2 months after the nose job to recover your nose and try to get pregnant. You should also know that during pregnancy, you should not take any particular medicine without the prescription of your pregnancy doctor.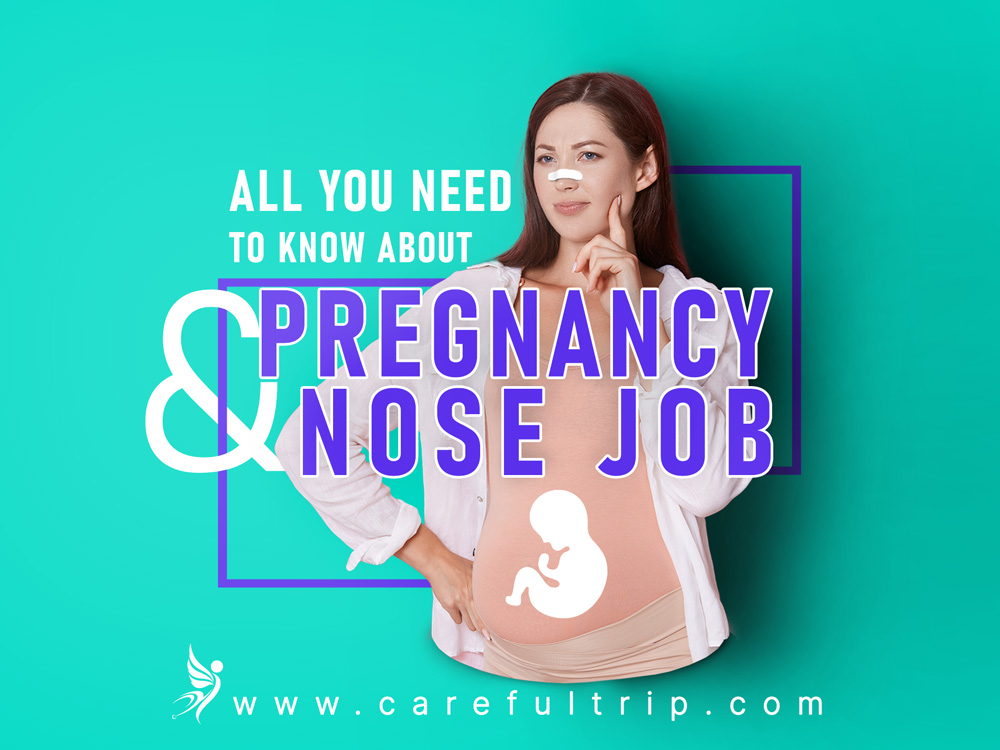 All you need to know about pregnancy & nose job
Usually, doctors recommend that you take time to rest and recover after a nose job and try to get pregnant whenever the swelling of your nose is entirely resolved. The disappearance of nasal swelling varies from person to person, and doctors cannot give a specific number of days or months for it. After the swelling of your nose is resolved, the surgeon will check whether the results obtained after the nose job are satisfactory and complete. In this case, if you need a new nose surgery, your physical condition must be ready, and you must not be pregnant. So, it is better to wait until the results after the nose job and then try to get pregnant.
Will be. It is also imperative and necessary to mention that, in general, pregnancy causes swelling in the face and body parts, so you cannot correctly recognize the results of a nose job, and the swelling of your nose will stay with you for a longer time due to pregnancy. Finally, after pregnancy, the puffiness of your nose will disappear, but the results of the nose job will not be determined correctly at the initial time. It is true that from the medical point of view, pregnancy after rhinoplasty recovery is not a problem. Still, surgeons recommend that six months to 1 year after a nose job is a more suitable time for pregnancy because the results of your rhinoplasty are entirely determined. You and your surgeon will not worry about seeing results without swelling pregnancy.
Swelling caused by pregnancy may cause your nasal passages to close, so women who have undergone nose surgery before pregnancy will experience more breathing problems than others. As we mentioned above, it is better to get pregnant six months to 1 year after the nose job because your body changes a lot during pregnancy; For example, swelling, water accumulation, nasal congestion, etc., may cause many problems for a nose that has just undergone cosmetic surgery and has not yet returned to normal conditions.
Is pregnancy dangerous for me after a nose job?
The wounds and swelling of your nose should be removed after the nose job, and the cartilage of your nose should be tightened. In this situation, the result of your nose job is known; if your nose needs changes, re-rhinoplasty, or rhinoplasty, the cosmetic doctor will diagnose this issue. If there is a suitable time interval between a nose job and pregnancy, you can get pregnant without risk to your health and the fetus. If you are taking any medication after the nose job, discuss this with your nose surgeon and stop taking the medication before becoming pregnant if your doctor recommends it. For this reason, doctors recommend not less than six months before getting pregnant after nose surgery. It is better to get pregnant six months to 1 year after rhinoplasty.
So, it can be concluded that if pregnancy is done at the right time and with a suitable time interval compared to your cosmetic surgery, there will be no risk to your health and the fetus. But in general, we suggest you consult your doctor before trying to get pregnant and show your doctor the necessary tests for a healthy pregnancy so that if your body is ready to get pregnant, you get pregnant. Many people from other countries travel to Iran to do nose jobs; Compatriots outside Iran and many tourists come to Iran due to the quality of medical, medical, and beauty services as well as affordable costs and use CarefulTrip's consultations and packages. It is necessary to measure your pregnancy conditions before any cosmetic surgery and consider a proper and healthy plan for these procedures.
Are nose jobs and rhinoplasty dangerous for me during pregnancy?
In general, nose jobs and rhinoplasty are not recommended during pregnancy if the patient is under anesthesia. Also, during nose surgery, the doctor usually prescribes certain drugs and painkillers to treat and relieve your pain; Some drugs are recommended to prevent infection, so if you are pregnant at the time of rhinoplasty, taking these drugs will endanger the health of the fetus. This is why when you go to the doctor for a nose job or any other type of cosmetic surgery, a pregnancy test is one of the things the doctor asks you to do. If your pregnancy test is positive, cosmetic surgery will not be allowed.
In certain circumstances, your breathing may face many problems due to the disease with deviated nasal septum; In this situation, there is a possibility that nose surgery will be performed under special conditions for you during pregnancy. Also, sometimes to straighten the nasal septum, you need to inject filler into your nose; In this situation, if the doctor determines that the filler injection is not dangerous for your body and the fetus, there is a possibility that the filler injection will be done in your nose. In this situation, consult your doctor and do your cosmetic work in well-equipped hospitals and by expert cosmetic surgeons.
A nose job in Iran is one of the most popular surgeries that many tourists travel to Iran to perform every year. If you have traveled to Iran to complete your beauty services, you should be okay with your relationship with Iranian doctors; the CarefulTrip team will introduce you to the best and most experienced doctors, and you can quickly contact them. Also, to get a visa, stay and choose a hotel, our team will be by your side during your trip so that you have a pleasant experience of traveling to Iran.
Nose job and Rhinoplasty after pregnancy
Nose job and rhinoplasty after pregnancy, if done at the right time, is not a problem and is not prohibited by doctors. This is if your pregnancy and delivery time have passed and your body has returned to its original state. In this situation, the cosmetic surgeon will consider tests for you to measure your physical condition during this period. Your treatment process will begin if your body is ready for a nose job. Be sure to pay attention that if you are breastfeeding your baby, prescription drugs during nose jobs and after surgery is dangerous for your baby's health. As you know, any medicine you take enters your milk and your baby's body. Doctors recommend not breastfeeding your babies during the nose job or performing nose surgery whenever the period of breastfeeding is over.
If you have chosen a Nose job in Iran, you must have noticed that the most professional cosmetic surgeons will perform nose surgery in Iran due to its popularity. Every year, many people from European countries, Dubai, Turkey, etc., travel to Iran to perform their nose surgery with the best possible results. In the meantime, many mothers experienced pregnancy several months ago and consulted with Iranian experts and experienced doctors about this issue. Iranian cosmetic surgeons provide you with the best solutions, and in the meantime, our team will be by your side.
For young women experiencing motherhood for the first time, it is not recommended to destroy this special feeling with rhinoplasty and stress during recovery. This stress and anxiety may also be transmitted to the child through breast milk, so consult your doctor. At birth, the child strongly depends on their mother and feeds on breast milk. In this situation, the mother must be careful in eating certain foods and medicines because these medicines will quickly enter the mother's milk and, eventually, the baby's body. Considering that you usually need to take medication for a while after a nose job to prevent infection, pain, and other things, it is better to postpone a nose job in Iran until the end of breastfeeding.
Nose job in Iran with CarefulTrip
One of the most popular cosmetic surgeries performed in Iran is rhinoplasty. Due to the presence of expert and skilled surgeons and well-equipped hospitals, Iran has become one of the most popular countries for nose jobs. Also, along with the high-quality beauty and treatment services, the Nose job in Iran is very affordable. In the meantime, you must have the necessary information to perform nose job surgery because pregnancy and some such conditions can affect your or your doctor's decision for a nose job. The CarefulTrip team is by your side and provides you with suitable medical and tourism packages. Our team offers you services that include getting a hotel, getting a visa, an interpreter, choosing a cosmetic surgeon, visiting a doctor, consulting before treatment, etc.
After a nose job in Iran, you should consider time for recovery; Our suggestion is to stay in a hotel for medical visits and then see the beautiful tourist destinations of Iran. Iran is one of the most popular medical and tourism destinations that many tourists visit annually. The high quality of medical services, expert and skilled doctors, and affordable prices compared to other countries have made Iran one of the most popular tourist destinations. Our team will consider exciting plans to create a unique travel experience for you. During the trip, our team will be with you and provide you with the needed services.
Summary of the article All you need to know about pregnancy & nose job
Everything you need to know as a pregnant woman, a mother, and a person who wants to get pregnant and then make a decision about a nose job, we have stated in the text of this article. We suggest you ensure that you are not pregnant before a nose job or cosmetic surgery, in general, to get the best result and take care of your health. Also, consider that after giving birth, wait at least six months before your rhinoplasty surgery. If you need to take medicine, these medicines will not enter your baby's body and will not be harmful. Remember that pregnancy will cause swelling of your nose and organs in general; If a standard time interval has not passed since your nose surgery, your specialist doctor will not be able to diagnose the result of the nose job correctly. Also, these conditions may cause congestion in your nose and cause breathing problems for you.
Nose job procedures involving general anesthesia are not allowed during pregnancy due to possible side effects that may endanger your life and the fetus. Nose job in Iran will be done according to all these precautions to minimize potential risks for you and your baby. Consult your specialist doctor about the existing conditions before performing any cosmetic surgery.