Soft skin is everybody's dream. Unfortunately, our skin becomes too dry whenever the temperature is cold during winter or fall. Therefore, we have to use more skincare and moisturizers to keep our skin hydrated. Drinking more water will make your skin soft, but the chemical peel is the best solution for dry skin because of the cold temperature. Chemical peel in Iran is a common and popular way to have more beautiful and softer skin during every cold and warm season. 
Everybody wants to have beautiful skin. How about you? How is your skin? To have stunning skin, you must take proper care of your skin during youth ages.
 Your skin will need more protection and intense care as your age increases. There are many medical ways to protect your skin against age changes. We will tell you more about one of the valuable and effective ways of skin care.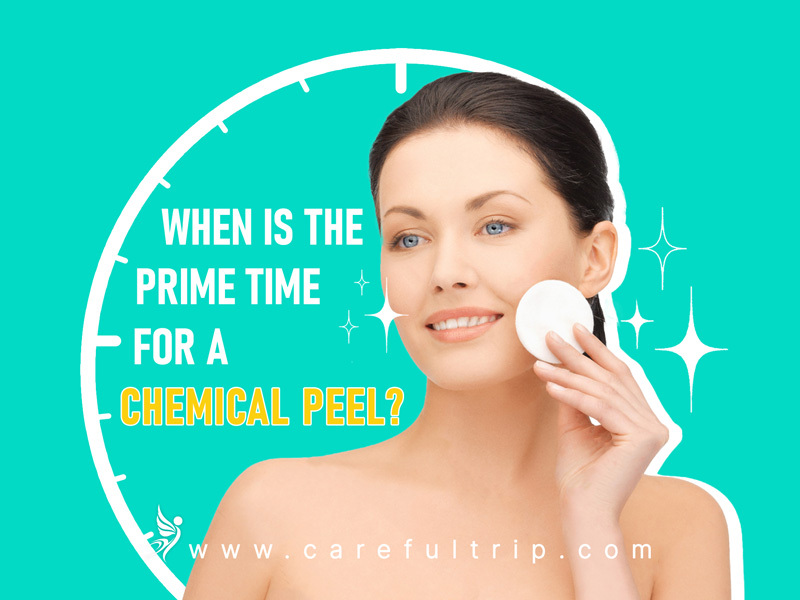 The prime time for a chemical peel
The skin peel treatment process removes dead cells from the skin's surface and improves the skin's softness and quality. It is one of the most common methods in which chemical material is applied to the skin and left on it for some time. 
Then the professional expert will remove the chemical material from your skin. After a while, your face will create young cells and replace them with dead cells. 
Since your skin is too sensitive during cold seasons, fall and winter are the best time for this chemical or medical solution. Make your skin ready for summer fun by performing chemical peels in Iran. 
There are some medical clinics with enough experience in this skin care procedure. Besides skillful experts in the skincare process, Iran can offer the best and most affordable skincare solutions like a chemical peel. 
Cold seasons are the best time for this process because you stay indoors due to the cold temperature; therefore, you will be away from sun rays harmful to your skin.
 It would help if you had plenty of time to heal your skin after the peel treatment. Don't you want to show off to others after peel treatment? You can perform this medical process during winter or fall and stay home for some time.
 Don't worry; your skin will get better and healthier in a few weeks after the peel treatment. 
Chemical peel in winter
Based on the gathered information, winter can be the prime time for a peel treatment in Iran; as you know, peels can expose the deep layers of skin. During this process, your skin gets more sensitive to heat and sun rays. 
So, the summer or spring seasons will increase your healing time, while winter and its cold temperature will protect your skin treatment. Everyone knows the sun is not too hot during winter; therefore, your skin can get better sooner in cold temperatures. 
No matter how many sessions your peel treatment has, doctors and potential experts in this field recommend performing peel treatment during cold seasons like winter. You will get better sooner during winter or fall. 
3 reasons for performing chemical peel in fall 
When summer ends, and the sun's rays get lower is the best time to perform peel treatment because the outdoor sun is not too hot. Fall is another season to refresh and renew your skin via peel treatment. 
You may know about fall's popular nickname (peel season). Many doctors consider the fall an ideal time for performing any peel treatment or protecting your skin.
 But why is fall good or prime time for a peel treatment? Stay with us to get 3 main reasons. 
Smother summer sun 
You cannot avoid sun rays during summer. If you are eager to enjoy summer weather and experience summer entertainment, sun rays may affect your skin more than others.
 These rays also damage your skin for a long time. Sun rays are harmful to your skin after chemical peel in Iran. Due to its smoother sun rays, you can perform this skin treatment when fall starts. 
This peel treatment will remove dead layers of your skin. Summer will increase the dead cells of your skin because of its sun rays, but fall is an excellent time to remove these dead layers.  
Glowing skin 
In contrast to summer, fall is a good time for glowing skin. You are lifting away dead layers, cells, dirt, impurities, and oil from your skin during fall. This season's weather helps you have smoother and more glowing skin. 
You can remove any lines and wrinkles via peel treatment; you only need to be careful after this skin treatment. In other words, sun rays harm those who have performed peel treatment. 
You will have the most damaged skin after summer. It means fall is a good time to heal deep layers of your damaged skin. Fall is even better than winter because cold temperatures will severely dry your skin. 
Short recovery time 
Sun rays increase your healing procedure and recovery time. Fall is the prime time to have peel treatment because you have to avoid sun rays after the peel treatment for one or 2 weeks. There will be no hot sun rays during cold seasons, so your recovery time won't be too long.
Soft sun rays during fall won't be as harmful as summer sun rays. You can stay home and experience a short recovery time during the fall season. Fall and winter seasons are both good times for having peel treatment based on gathered information. 
Fall and winter, the good times for a chemical peel
Are you looking for healthy and beautiful skin? Skin care methods are growing quickly. Chemical peel Iran is one of the best and most effective skin care methods. The excellent news is affordable peel treatment's price in Iran.  
If you wish to have better, softer, and more stunning skin, come to Iran during fall and winter and perform peel treatment efficiently. CarefulTrip offers the best and most affordable clinics to experience skin treatment.
Don't worry about your accommodation in Iran during cold seasons; CarefulTrip will help you arrange the trip for skin peel treatment during fall and winter. You only need to choose the time and let CarefulTrip perform everything correctly.