Stubborn fat is one of the most critical factors to make people disfigured. Are you unsatisfied with your body shape or looking for a way to get rid of your belly fat? It is possible to reduce body fat via medical and clinical practices like CoolSculpting. Coolsculpting in Iran is getting broader and more advanced in fat reduction because many experts are working on it at low prices.
Imagine a stick of butter is hidden under your skin; how can you remove this hardened fat? Let's shape your body with a CoolSculpting solution and change the tissue size or shape.
The unshaped and fat body will send you into s cycle of deep depression, severe sadness, and even self-loathing, so don't hesitate and remove your body fat. We are here to tell you more about this popular procedure to remove body fat.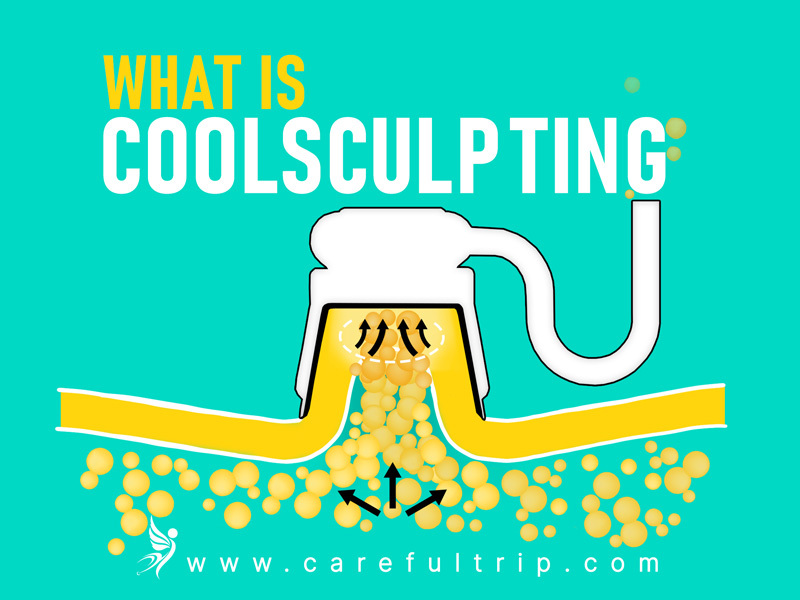 Reviews of CoolSculpting in Iran
Cryolipolysis is the other name for CoolSculpting. It is a cosmetic treatment removing excess fat in hardened areas. This procedure will break excess fat and kill fat cells quickly.
CoolSculpting in Iran is a well-known and most-used fat-removing procedure since it doesn't need any medical surgery, anesthesia, or medical tool.
This method reduces the excess fat in different parts of the body, so you won't need to have a diet or do exercise. It also has fewer risks compared to other fat-reduction procedures.
It is safer than liposuction or any other cosmetic surgery to remove fat. The freezing temperature helps fat break down while other tissues won't hurt.
Many Iranian people prefer fat freezing because their skin or underlying tissue won't hurt during this procedure. Moreover, CoolSculpting doesn't leave a scar or enormous pain on your skin.
Don't think about pain or other matters; you only feel a cooling sensation during CoolSculpting. The gathered information shows no severe side effects because it doesn't damage your skin or tissue.
The procedure of CoolSculpting in Iran
Cryolipolysis or CoolSculpting in Iran has a high success and satisfaction rate because it affects the target area and doesn't hurt other body parts. There is no needle or surgical tools during this fat-reduction way.
The experts only make target parts calm and remove the fat level easily. As we said before, freezing temperature will break down your fat cells. The good news is fat cells are harmful against cold temperatures.
Generally, your fat cells get damaged during CoolSculpting, while your skin or other tissues won't. The experts recognize the fatty tissue and vacuum your skin on the fat area.
In following the procedure, the freezing temperature will numb the target area. This procedure can last 30 to 60 minutes, it depends on your fatty cells and target area.
It is good to know that you will feel minor muscle injury after this procedure, but it is common and natural.
According to gathered reports, many fat people get slim and fit via CoolSculpting in Iran. You won't stop this procedure because it will show the demanded result in a long time.
Is CoolSculpting good for belly fat?
The answer to the above question is yes. You can quickly get rid of your belly's stubborn fat for good with the help of CoolSculpting. It is a non-surgical fat reduction performed under a doctor's advice and medical treatment.
Some active people eat healthy foods, but they still have some areas of stubborn fat like belly. They must consider CoolSculpting as the best way.
If you are one of these people facing belly hard fat that doesn't go away, let's experience CoolSculpting. Besides the stomach, you can have this fat reduction procedure on different body parts.
This non-surgical fat reduction procedure's target and effective area are the same for men and women. We will mention the female and male target parts for CoolSculpting.
Suitable and effective body parts for CoolSculpting
No matter whether you are a man or woman, CoolSculpting will reduce and kill your fat cells in target areas. It will freeze fat cells and naturally eliminate them. You only have to choose a treatment plan and recognize the target area.
The expert team will freeze the fat cells in target areas and eliminate the dead fat cells. Your fat cells will reduce by 10 to 15 percent during each session of CoolSculpting.
The result depends on your fat area and stubborn fat cells. Here are the most suitable areas for CoolSculpting:
Under the jawline

Under the chin

Flanks

Abdomen

Thighs (inner, outer, and distal)

Upper arm

Back fat or bra fat

Love handles

Banana roll

Inner thighs
Is CoolSculpting a good idea?
Compare CoolSculpting with liposuction; which one is better for you? CoolSculpting can be a good idea because it is a non-surgical fat reduction treatment without any recovery time or after-procedure care.
This non-surgical fat removal process is better than a surgical procedure. Some people look for the fastest fat removal process, so they must perform liposuction. If you are prompt, CoolSculpting is a better choice.
There will be no hard pain, prolonged recovery time, scar on your skin, and other side effects such as liposuction. Finally, it depends on whether you prefer CoolSculpting or liposuction and different fat removal processes.
Success rate and popularity of CoolSculpting in Iran
CoolSculpting in Iran gets more popular in 2019, according to some reports and information. This popular non-surgical fat reduction treatment requires no anesthetic or surgical tools.
It is also a certified fat-reducing treatment in Iran with a high success rate. Killing fate is not easy, but CoolSculpting makes it easy for you.
The number of satisfied people with CoolSculpting in Iran is probably much higher than in other countries. Iranian experts don't ask for much money so that you can come to Iran for this fat reduction treatment.
CarefulTrip, a medical tourism agency, is ready to help you find the best CoolSculpting performer in Iran. You are not the only foreigner thinking about CoolSculpting in Iran; there have been many foreigners, based on reports.
CoolSculpting doesn't need a long and complex recovery time compared to other surgical procedures like liposuction. You don't need to stop your normal lifestyle because of this non-surgical treatment.
Experience fat reduction with both CoolSculpting and the gym. No need to act primarily and observe medical care.
Is CoolSculpting permanent?
How long does CoolSculpting last? It is an important question during the CoolSculpting procedure. Many people want to get the result as soon as possible; they also want it to be permanent.
This fat reduction treatment kills your fat cells, so these fat cells cannot return. Based on qualified sources, CoolSculpting lasts 6 to 9 years. The time also depends on some factors like:
The wideness of the target area

Number of sessions

Freezing temperature

Intention for following sessions

After the procedure, diet, and activity
You have to be careful about your foods because CoolSculpting removes existing fat cells but cannot stop new fat cells.
If you are looking for permanent CoolSculpting, you must have a healthy lifestyle with a special diet and following exercises. Don't feel free from the gym or diets. CoolSculpting doesn't last long for those who leave the gym and have a healthy diet.
How much does CoolSculpting in Iran cost?
According to the obtained information, the price of CoolSculpting depends on the target area. This non-surgical treatment has a different price range, as your target area is more comprehensive, and the CoolSculpting procedure is more expensive.
CoolSculpting in Iran is cheaper than in other countries. Many experts in different countries perform this fat-killer treatment for 4000 to 6000 USD, while Iranian experts have lower costs.
You can even perform this procedure for your chin or jaw. The facial target areas have a lower cost. Some Iranian clinics are ready to serve CoolSculpting lower than 3000 USD.
The price of this fat reduction non-surgical treatment depends on below factors:
Target area

Experience and knowledge of the CoolSculpting clinic

Potentiality of CoolSculpting expert

Provided staff with oil, dress, and cloth

Number of CoolSculpting sessions
CoolSculpting in Iran with CarefulTrip
CarefulTrip is the best medical care center and tourism agency in Iran, with high-quality services, professional surgical and medical teams, and enough knowledge of different beauty surgeries.
Do you think about experiencing CoolSculpting in Iran? Contact CarefulTrip, who knows the best CoolSculpting specialists with in-depth training. They also will provide ongoing clinical support to ensure you about high standards of care.
Choose CarefulTrip to experience safe procedures, clinical safeness, and the most effective device. Don't hesitate and reshape for body quickly with a non-surgical fat reduction treatment named CoolSculpting.