In 2020, more than 193,000 women had breast implants in the US. It shows breast augmentation is among the most popular plastic surgeries in the United States and also worldwide. However, there are some complications involved with this popular medical course. Breast implant illness (BII) refers to the difficulties that a small percentage of women notice after obtaining breast implants, including exhaustion, joint persistence, and muscular discomfort. They are rare, scientists are still learning about them, and they're not a recognized diagnosis; Still, BII is real, and some ladies suffer from it.
As there is little scientific work on BII, some individuals may find it challenging to overcome. However, it doesn't mean you should always live with this pain. Consulting with an experienced plastic surgeon can help you to overcome these symptoms soon. In this case, we highly recommend CarefulTrip medical provider to you. This health facilitator finds you a skilled physician for a proper consultation with satisfying results. Additionally, you can rely on this agency for various cosmetic surgeries, such as breast reduction surgery in Iran. If you decide to experience this company's medical courses, CarefulTrip manages a flawless journey for you with everything planned; so that you can focus on your breast reduction surgery in Iran without any worries. Below, you can read more on BII, breast implant plans in Iran, and additional information about them.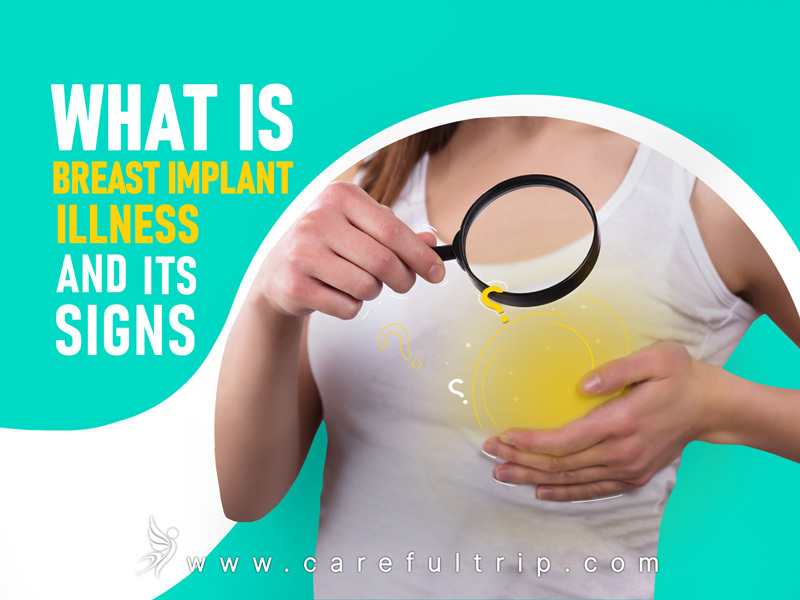 What is Breast Implant Illness?
Breast implant illness (BII) is a term used to describe various symptoms that may appear following breast implant surgery for cosmetic or reconstructive purposes. Although BII is not well understood and has not been recognized by the medical community as a disorder, some experts believe that it is probably related to an autoimmune response to the implants. This condition can develop with any breast implant, whether silicone gel-filled, saline-filled, smooth, textured, round, or teardrop-shaped implants. The risk of BII is not the same as the uncommon cancers that can grow in the fluid and scar tissue around a breast implant, such as squamous cell carcinoma, different types of lymphoma, and breast implant-associated large cell lymphoma.
Candidates planning to undergo different types of breast surgery might be nervous about BII. But, although it is understandable to be concerned about the surgery's complications you are experiencing, it is essential to make a plan to avoid them. One of the main ways to be prepared for all breast surgery complications and undergo a risk-free procedure is to choose a perfect surgeon and a reliable medical center. Accordingly, we recommend considering Iran and its advanced hospitals for receiving a smooth medical course under the eye of skilled surgeons. CarefulTrip medical facilitator can help you, in this case, to find a suitable procedure for your intentions, such as breast reduction surgery in Iran, and come through it without any hesitation.
Breast Implant Illness Signs
Each person experiences BII symptoms differently. These symptoms might arise at any point following implant surgery – some patients notice them immediately, while others become aware of them years later. BII signs share many symptoms with autoimmune and connective tissue diseases such as lupus, rheumatoid arthritis, and scleroderma. Some people with BII are also diagnosed with an autoimmune or connective tissue disorder, but many are not. Although BII symptoms vary in each individual and different condition, you can see a list of common ones below:
Continual fatigue;

Muscle and joint pain;

Experiencing headaches;

Symptoms of rashes and skin problems;

Concentration and memory problems;

Problems with breathing;

Indications of depression;

Having anxiety;

Disruptions in sleep;

Loss of hair;

Mouth and eye dryness;

Problems with the digestive system.
Unfortunately, BII is not currently accepted as a recognized medical diagnosis and has no associated diagnosis code. It is a poorly known disorder that hasn't received much research attention. More particularly, during the past two decades, patients have increasingly shared their experiences on social media, which has increased awareness of breast implant sickness. Overall, we look forward to this condition becoming a widely known one shortly.
It is interesting to know that surgery to remove the breast implants often, but not always, improves or entirely cures the BII symptoms. However, many BII patients might find relief from their symptoms without having their breast implants removed. We highly recommend consulting a breast specialist or plastic surgeon if you experience unexplained symptoms that might be related to your breast implants. In this case, you can rely on CarefulTrip medical provider; this agency will pay attention to what you want to say and put you in touch with experts who can help you feel more like yourself again. You can also rely on this company's services for various types of breast surgery, such as breast reduction surgery in Iran.
Breast Implant Illness Diagnosis
Breast implant problem has been linked to more than 100 symptoms, including headaches, exhaustion, and digestive issues. Any breast implant might cause symptoms, which may manifest right away or years later. It's crucial to rule out factors other than breast implants because many BII symptoms are linked to other illnesses. For instance, autoimmune diseases, including lupus, rheumatoid arthritis, scleroderma, and Lyme disease, cause comparable symptoms. Menopause, fibromyalgia, and hypothyroidism can also result in symptoms similar to BII.
Diagnosis goals include finding the cause of the symptoms and developing a plan to address them at their root. Some women's implants turn out to be the problem; for example, if the implant ruptures or the tissues around it stiffen. Many more are affected by an underlying ailment. In both situations, talking about the causes of the symptoms and how much they affect one's quality of life is the first step in making a diagnosis. The doctor may then recommend the patient seek treatment from a specialist in fields like:
Rheumatology;

Endocrinology;

Dermatology;
If the doctors discover an unrelated underlying problem, treatment for that ailment should relieve or eradicate the symptoms. If no underlying issues have been found, the doctor will discuss the following possible measures, such as eliminating the implants.
Breast Implant Illness Treatment
As was previously discussed in this article, breast implant illness is not well known, and plastic surgeons approach its treatment differently. Breast implant removal is the typical surgical treatment for it. Some surgeons think removing the implants and the surrounding scar tissue capsules, rather than replacing them with fresh ones, is the course of action most likely relieving symptoms over time. According to them, a crucial component of the treatment is having the scar tissue capsules removed by your surgeon.
Some other plastic surgeons suggest an "en bloc capsulectomy," which involves removing the implant and capsule in one piece. Theoretically, this strategy could prevent the escape into the body of silicone, biofilm (colonies of bacteria that adhere to each other and the implant), or other substances present inside the capsule. Complete removal of the capsules of scar tissue may also lessen the possibility of fluid collection following surgery. Some might also advise a "total" capsulectomy, which entails separating the implant and capsule.
Removing Breast Implants: Deciding Whether to Do It or not
Just as important as deciding to get breast implants is choosing to have them removed. However, if you've experienced a complication like capsular contracture, the choice to have your implants removed may lessen your symptoms. Nevertheless, the choice may be more challenging if you are happy with your physical appearance and your symptoms are systemic rather than specifically related to your breasts. Even if BII symptoms disappear following implant removal, getting used to physical changes might be difficult. In this case, we strongly suggest a consultation with your doctor; they will review your options to assist you in making the best choice.
Summary
Breast implant illness (BII) is a name for a condition with specific diagnostic criteria that is not yet fully understood and not recognized as a medical disorder. Some women who had breast implants describe symptoms referred to as BII. These symptoms undoubtedly exist, but it is unclear if implants are to blame for them or whether they result from a different disease or condition. It includes several symptoms like anxiety, headaches, persistent fatigue, and brain fog.
The best way to determine whether you're suffering from BII or another problem is to consult an experienced plastic surgeon. In this regard, you can rely on the CarefulTrip medical provider to choose a skilled doctor. This company also offers well-equipped hospitals and medical centers in Iran if you decide to undergo any implant removal surgery or even when you consider undergoing another cosmetic operation, such as breast reduction surgery in Iran.