No wonder we are becoming more conscious about what personal skincare products we use. We put synthetic skincare products on our bodies to treat or nourish the skin. This article will explore the truth about natural and artificial products to help you make thoughtful decisions.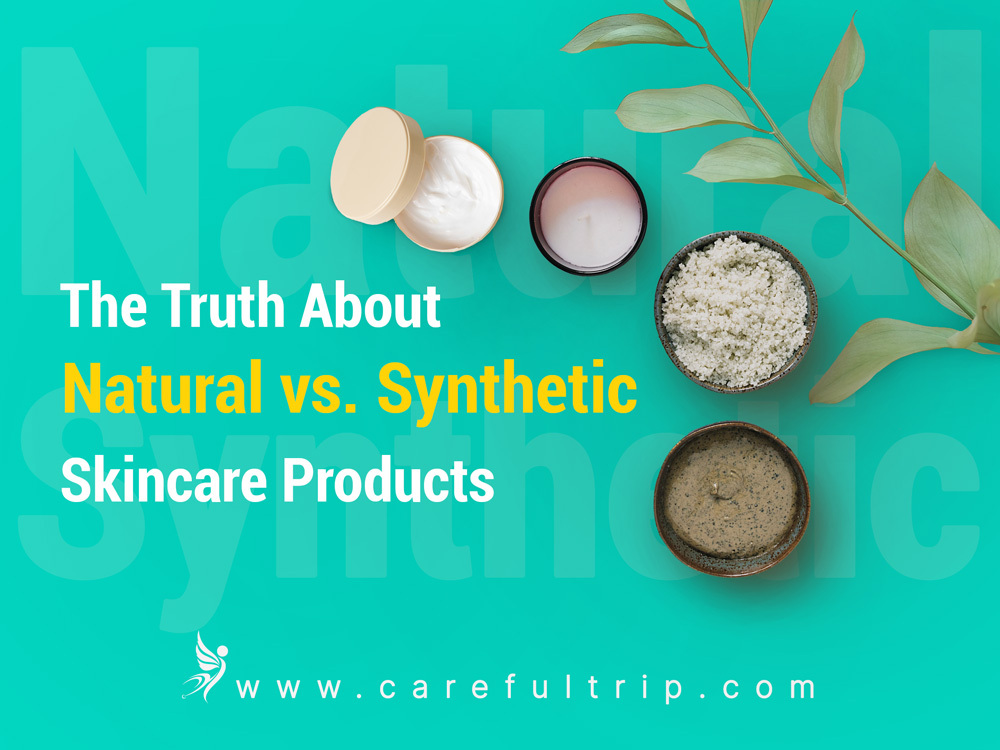 Know the Product You're Buying
First and foremost, you should ensure that the product you're buying is safe and healthy for your body and skin. It's essential to read more about harmful ingredients that must be avoided. Note that products that lack quality and standards may come with these toxic ingredients like glycolic acid that can impact your skin over time.
The sad truth is that many manufacturers claim their products are free from harsh ingredients and they are organic. However, you have to take your time and check the development and its formulation before putting an amount of a skincare product on your skin.
Natural Skincare Products
Natural skincare products contain nature-derived formulations, which come with surprising benefits to offer people trustworthy skincare. Since these products don't have as many harsh chemicals as other products, products backed by natural ingredients are becoming popular among consumers.
In natural skincare products, manufacturers use naturally-derived ingredients such as roots, herbs, and plants to treat and nourish the skin. As an inherent feature of these products, manufacturers guarantee a clean manufacturing process. One of the notable benefits of natural products is that such cosmetic products do not involve animal testing. In recent years, removing the animal testing process in the production line of cosmetic products has become a priority to prevent high risks exposed to animals.
Synthetic Skincare Products
Synthetic skincare products consist of artificial ingredients, sometimes called "chemical skincare products." These fake products are created in laboratories after scientists thoroughly research the elements included in a specific skincare product.
Synthetic skincare products are natural ingredients that go under investigation in laboratories to increase their efficiency and functionality after adding to the final product. Combining the active and inactive ingredients in such products adds to their color and beauty, and there is a better lifetime with preservatives added during the production process.
Remember that synthetic skincare products are harmless in many cases if chosen carefully. Many of these products have tremendous benefits for your skin, including collagen protection, and they help your skin delay the aging process in time.
Are Synthetic Products More Effective Than Natural Products?
With the growing demand for natural skincare products, there have been declarations that people should avoid synthetic products. Remember that it's not simple, and we can't leave out one of them.
Both synthetic and natural skincare products have downsides, but there are benefits to both as well. Remember that just because the ingredients of natural products come from nature, we can't say they are entirely safe and effective. You often choose natural products over the other option as they come with many natural ingredients and minerals.
However, these natural products may contain unnecessary ingredients your skin doesn't need. This is when you will need synthetic skincare products that deliver a full range of components to your skin. Experts in a professional lab formulate synthetic products to be more consistent and better in quality.
Reasons to Choose Natural Skincare Products
Natural skincare products, also called "organic products," are gentler if applied correctly to the right part of your skin. If you want to offer your skin a wide range of benefits, natural products ensure no artificial additives that may harm your skin or affect your long-term health. There are several reasons why it would be better to use natural products:
Rich source of vitamins and minerals: Organic products originate from natural sources that help feed your skin with various vitamins and essential ingredients. In addition, there will be common essential oils in organic products that can help supply your skin.
Not containing harmful ingredients: People should avoid using synthetic products with harmful chemicals. Beauty is a desire, but achieving it with peace of mind is better. Natural products don't contain harmful ingredients that may be added to synthetic products during production.
Eco-friendly: Using eco-friendly products means you're helping the environment, and there are no harmful impacts on our planet.
Key Synthetic Ingredients to Avoid
Some harmful ingredients are found in nonstandard products. Remember that ingredients in skincare products are as critical as those added to the foods you eat. Your skin is your body's largest organ, so the products you put on your skin matter. Here is a list of harmful ingredients you should avoid to prevent skin damage and issues in the future:
Parabens

Sulfates

Propylene Glycol (PEG)

Synthetic Fragrances

PVP/VA Copolymer

Diethanolamine (DEA)

Stearalkonium Chloride
Some Essential Tips
It would be better to be suspicious of skincare products' ingredients. When scrutinizing such products, the main determining point should be safety. Both products can be effective for a wide range of skin problems, but it requires your attention when choosing a product to maximize your spending.
It would help to speak to your doctor before picking up a skincare product. Specialists can check out your skin thoroughly and offer a science-based recommendation that enables you to achieve all your short-term and long-term goals.
Final Words
With the vast range of skincare products available in the market, it may seem effortless for some people to choose the right one. However, for many others, selecting the best product that suits their skin specifications can lead to hesitation or confusion. The best way is to check the products' ingredients and choose the proper one for your skin.