Rhinoplasty is one of the standard procedures to change and reduce the nose of patients. Rhinoplasty, also known by other names such as nose surgery or nose job, is one of the methods used by people worldwide. Rhinoplasty in Turkey has also become a familiar and widely used cosmetic surgery that many people use every year to shape their noses. Although it seems that Rhinoplasty is a susceptible and delicate operation, every year, many people do this cosmetic surgery to make a more beautiful appearance for themselves.
Rhinoplasty is a surgery to change the shape of the nasal skeleton of patients, which will change the main structure of the nose and generally change the function and form of the nose. Interestingly, some patients undergo Rhinoplasty to restore the balance between the nose and other parts of their face, while others use Rhinoplasty to improve their breathing conditions.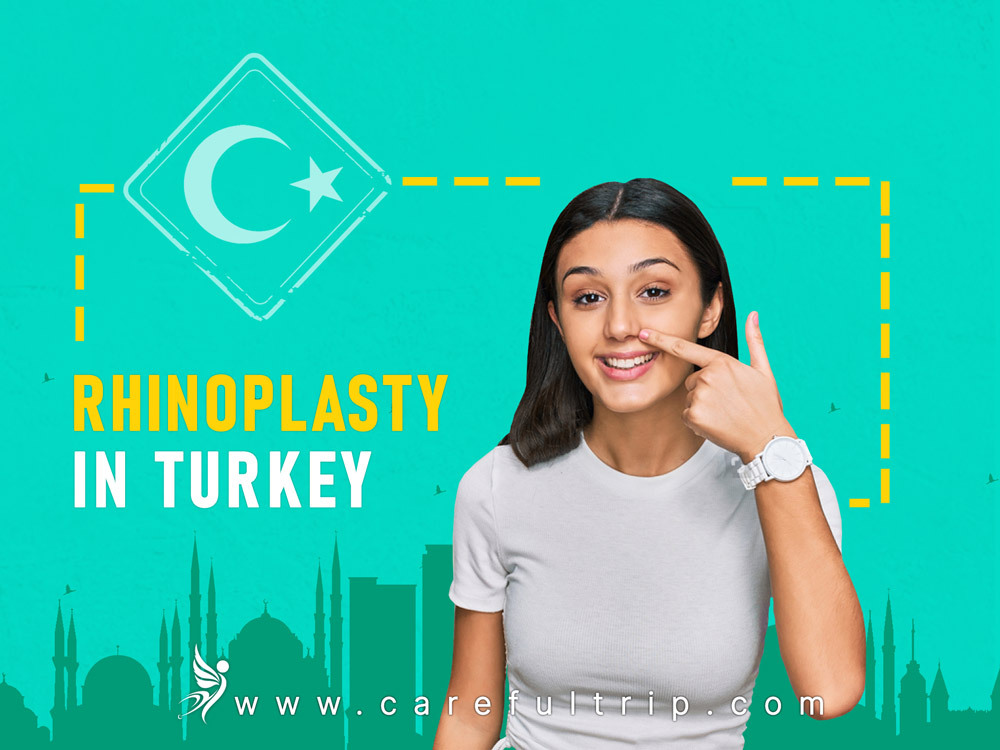 Approaches
As you know, Rhinoplasty is performed in many developed and semi-developed countries, and in general, the procedures considered for Rhinoplasty are similar to each other. Still, according to the research conducted by the CarefulTrip team, every country may Consider a different approach to Rhinoplasty based on your patients' requests. Rhinoplasty in Turkey, like some other countries, is performed to change the shape of the nose and also to improve the breathing condition of the patients; It is interesting to know that expert surgeons perform these techniques according to patients' requests and order to enhance or modify the anatomical parts of the nose. Because the structure of each nose differs from the nose of another person, Rhinoplasty must be performed in each person according to the structure of the nose and the patient's request for this cosmetic surgery. According to the characteristics reviewed by expert doctors, two types of open or closed Rhinoplasty will be considered for treating and reshaping the nose of patients. According to the reports obtained, the rhinoplasty surgeon in Turkey must evaluate the nose incision, the characteristics of each patient, and the beauty of the face and consider the most suitable rhinoplasty method for the patients.
Pricing
One of the most important things you should pay attention to when performing cosmetic surgery, especially Rhinoplasty, is the cost of treatment, recovery, hospital, drugs, etc. If you visit another country as a tourist for cosmetic surgery, especially Rhinoplasty, the prices of accommodation, visa, transportation, translator, and other such things will be added to your surgery and treatment costs. The country of Turkey, especially the city of Istanbul, due to its large size, creates a very high cost of transportation for tourists and patients. Also, due to this country's high cost of fuel and energy, very high side costs will be imposed on tourists. Hotels and accommodations in Turkey are also very high because this country is a tourist destination, and these costs will be added to the cost of Rhinoplasty in Turkey.
The cost of Rhinoplasty will be considered different according to the knowledge and expertise of the specialist doctor, the hospital, and the type of cosmetic surgery. For example, the cost of rhinoplasty in cities such as Istanbul, Ankara, Adana, Antalya, Bursa, and Izmir differs. Naturally, the cost of Rhinoplasty in the towns like Bursa and Izmir is lower than the cost of Rhinoplasty in Istanbul and Ankara. Still, you should also pay attention to the fact that the quality of Rhinoplasty is also significantly reduced in smaller cities, and naturally, patients' satisfaction with surgery will be less. The most important thing is that the quality of Rhinoplasty is high, so the patient does not need secondary Rhinoplasty. Still, the cost of receiving the service is also essential because the cost of cosmetic surgery in Turkey is relatively high.
In some cases, Rhinoplasty can be done at a lower cost. Unfortunately, patients' satisfaction with these cosmetic surgeries is shallow, and this has caused unsuccessful information and reports on performing Rhinoplasty in Turkey on some sites. Also, due to the low cost of some hospitals and the salary of some doctors in Turkey, the cost of accommodation, commuting, and transportation in this country is still very high.
Risks of performing Rhinoplasty in Turkey
In general, Rhinoplasty may cause risks such as scarring, breathing problems, asymmetric result, infection, and inadequate reaction to anesthesia. Reports show that the number of patients utterly unsatisfied with the outcome of Rhinoplasty in Turkey is very high. In fact, for Rhinoplasty, you need an experienced surgeon, a well-equipped hospital or clinic, and valuable medical services so that the result of Rhinoplasty is what you expect. Patients should choose a country for Rhinoplasty that follows patient safety and health guidelines.
Remember that choosing an expert and suitable surgeon for Rhinoplasty is one of your most essential steps to achieving successful Rhinoplasty. Many plastic surgeons in Turkey also perform Rhinoplasty, but you should find a doctor specializing in facial plastic surgery. It is necessary to check the nose surgeons, study their history and ask for the satisfaction of the previous patients so that you can entrust your nose surgery to them with peace of mind.
Rhinoplasty in Iran and its benefits
In this section, you need to get information about Rhinoplasty in Iran. Iran is one of the most prosperous countries in facial cosmetic surgery, especially Rhinoplasty, where a high percentage of patients are fully satisfied with their nose surgery in Iran. Iran is the best option if you choose a country for Rhinoplasty as a tourist or as an Iranian abroad. Rhinoplasty in Iran is offered at affordable cost and very high quality; Also, cosmetic surgeons in Iran are fluent in several languages, and you don't have to worry about communicating with them. Iran's hospitals and clinics are equipped with the most up-to-date technologies in the world and provide complete services to patients.
By receiving advice from the CarefulTrip team, you can make a very successful and practical choice for your treatment and cosmetic surgery in Iran. The cost of visa, accommodation, travel, and medical visits in Iran is very affordable; by traveling to Iran and receiving Rhinoplasty services, you will still pay less than doing Rhinoplasty in your country, and you will also visit beautiful Iran. Every year, tourists from countries such as Dubai, Turkey, Canada, Australia, etc., travel to Iran and receive Rhinoplasty services from the best Iranian specialists.
What you need to know about this article
In this article, we have talked about the approach, cost, and risks of Rhinoplasty in Turkey. Considering the relatively high cost of Rhinoplasty, accommodation, travel, and generally traveling to Turkey, there is a possibility that Rhinoplasty in this country is not suitable for you. Also, the quality of providing medical and beauty services is essential, and you should check them before any action. You should be able to consider a practical and low-risk choice for Rhinoplasty.
Interestingly, Rhinoplasty services in Iran are of the highest quality and most affordable cost for tourists and Iranians abroad. You can check the results of Rhinoplasty of previous patients on the websites and virtual networks of reputable beauty clinics and hospitals and make a practical and risk-free choice with peace of mind. Recovery after Rhinoplasty in Iran is considered very short, and you can stay in your hotel during this period.