Why Rhinoplasty in the UK
Due to the popularity of cosmetic surgery, many people from all over the world visit many countries every year for it, especially rhinoplasty. The United Kingdom claims to be the best in cosmetic surgery. Worth noting that, rhinoplasty surgery is performed by specialist doctors in the UK and in reputable clinics. For these reasons, the UK is one of the famous countries for cosmetic surgeries.
Apparently, the cost of this surgery is quite high and the recovery time in Uk is at least 7 days. Therefore, the United Kingdom is one of the most expensive rhinoplasty surgery destinations for patients.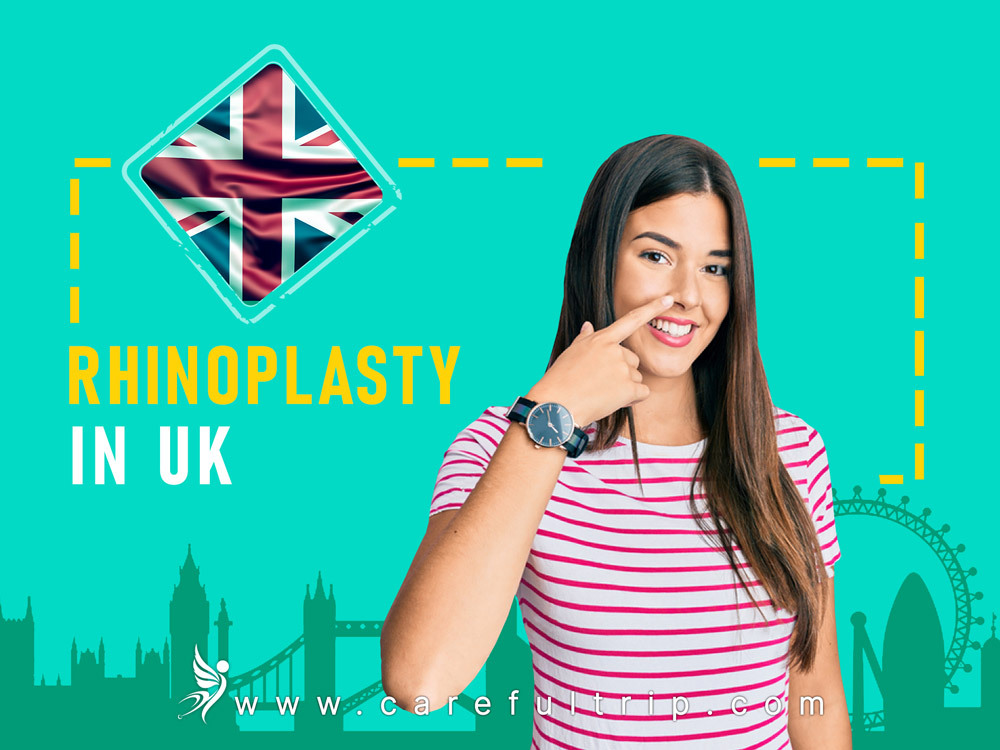 You may consider:
What Are the Benefits of Rhinoplasty in the UK
By now, we've nice introduction to undergoing nose reshaping surgery in the UK. Let's jump right into its advantages in depth. Shall we?!
Experienced and Qualified Surgeons
The increasing number of patients and nose job candidates, who choose the UK for undergoing their surgeries, makes rhinoplasty surgeons more experienced in this country.
The High Rate of Successful Rhinoplasty
The majority of cosmetic surgeries in the UK are successful. Besides, most of the surgeons in this country are responsible for the follow-up of surgical complications.
High-quality and Well-equipped Clinics and Hospitals
As you may know, one of the important factors in choosing a place for undergoing surgery is well-equipped hospitals. The United Kingdom provides high-facilities places and highly-trained doctors in order to satisfy the patients and bring the best results.
In the next section, we've provided the cost of nose procedures in the UK and the factor that can affect it. Stay tuned to us!
How Are Rhinoplasty Costs in the UK
Generally, the cost of nose reshaping in the Uk starts from £4,000 to £7,000 which is an unreasonable huge price.
Moreover, there are common factors that have impacts on the costs of your surgery. The first one is the type of nose job that you want to undergo. Some complicated rhinoplasty surgeries like reconstructive rhinoplasty are often more expensive than straightforward procedures. In addition, the price can vary from closed to open rhinoplasty. To clarify, closed surgery is a cheaper option because it takes a shorter time comparing an open nose procedure.
The second factor is post-up care which includes follow-up appointments with your surgeon, prescriptions, and medication expenses. But on top of them, the location and the experience of the doctor play a significant role in determining the overall cost of any surgery.
What Is the Disadvantage of Nose Reshaping in the UK
As I mentioned before, the cost of rhinoplasty in the Uk ranges from £4,000 to £7,000 excluding additional expenses like follow-up care and consultation cost. The price can vary depending on the specific doctor you choose. A doctor with more experience and an established reputation within his field comes with higher fees and higher quality.
 If you want to pay below £4,000, you have to choose an inexperienced doctor and accept its risks. In addition, the recovery time in the UK is at least 7 days which will add to your costs. To wrap up, the price of rhinoplasty surgery in the UK is unreasonably high. If you want to pay less money, you have to be prepared for unexpected results!
Now what? Want to give it up or find a better destination for your nose reshaping? Depending on your budget and individual situation, you may reconsider switching from the UK and choose an affordable destination for your surgery. We recommend Iran which is a more affordable destination than the UK and any European country.
Why Rhinoplasty in Iran
Rhinoplasty in the United Kingdom is so expensive and unaffordable. Since everything is pricey in the UK from equipment to doctors' fees. Unfortunately, they will charge you extra to recoup costs for every basic service such as consultation and follow-up care.
 To be honest, the costs of performing a medical procedure in the UK are significantly higher than in Iran. Additionally, the number of rhinoplasties in Iran is surprisingly high because it's not as much expensive as in the UK. So many people from all over the world choose Iran for their surgeries, especially nose operations. The large number of rhinoplasties in Iran, especially In Tehran, has made this city famous as a suitable and affordable place to undergo procedures.
If you want to cut down your rhinoplasty costs without sacrificing procedure quality, CarefulTrip is the best option that you can trust on it risk-free. We offer high-quality doctors and clinics at a fair price. Moreover, CarefulTrip provides affordable healthcare that is accessible to everyone. Our price is best guaranteed, so you won't find any cosmetic clinic with a %100 satisfaction guarantee at a lower price. Why are you waiting then?!
Final Verdict
Although the popularity of undergoing rhinoplasty surgery in the UK is increasing, It has an unreasonably high price that makes people reconsider it. As we mentioned, you should pay at least £4,000  for nose reshaping excluding some extra charges. So, traveling to Iran for treatment in CarefulTrip can really help you to reduce costs and cover all downsides of undergoing surgery in the UK and any other country.