Rhinoplasty is one of the standard and practical methods to change the shape of patients' noses. In recent years, the number of people who use Rhinoplasty to change the shape of their noses has increased. Still, many patients are concerned about the quality of surgery, surgery costs, and choosing a suitable specialist for Rhinoplasty. Rhinoplasty in Oman is one of the most common plastic surgeries in Oman and, in general, worldwide. Rhinoplasty can make the patient's nose smaller, strengthen it, or change the shape of the nose in public. Rhinoplasty makes the patients gain more self-confidence and ultimately improves their face's shape and harmony.
Rhinoplasty in Oman, as a restorative procedure, is considered to correct the shape of the nose after damage and correction of congenital disabilities. Rhinoplasty is the best treatment option for patients in cases where the nose deviation is very high, or the nose problems are close to the sensitive respiratory area.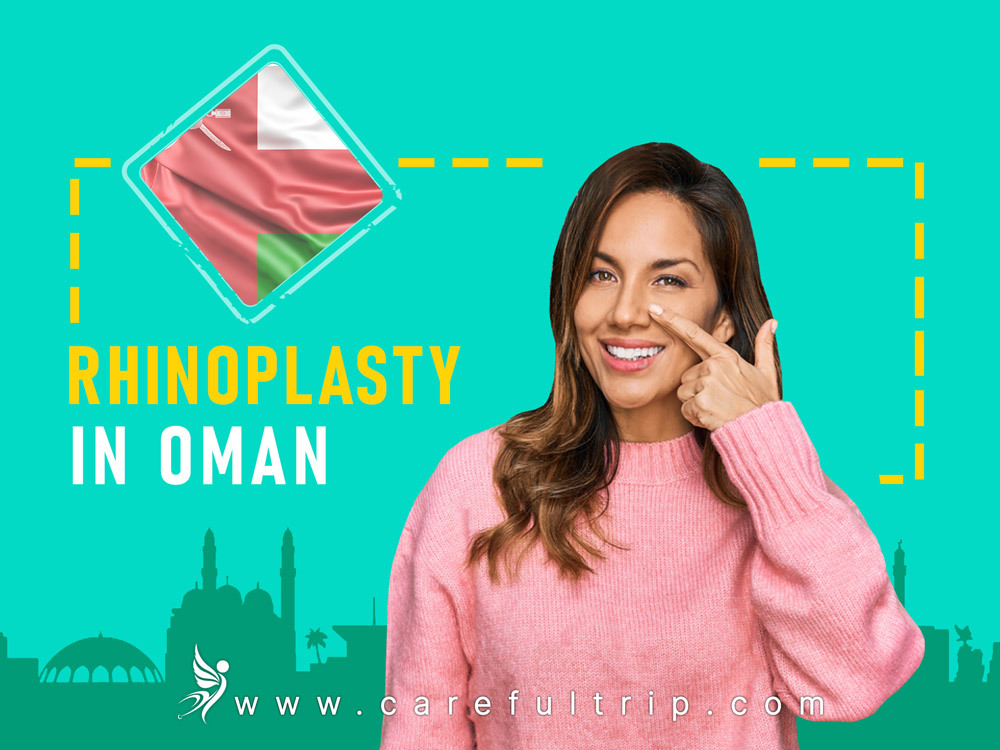 How rhinoplasty in Oman works
Rhinoplasty in Oman is performed with the aim of beauty, eliminating defects, and shaping the nose of patients. The following features are necessary for a successful Rhinoplasty, but you should consider the best choice for treating and beautifying your nose.
The CarefulTrip team shares with you the characteristics of a successful Rhinoplasty according to the history of research and consultation in this field:
Successful Rhinoplasty will correct the width of your nose

Rhinoplasty makes your nose in harmony with other parts of the face

Rhinoplasty corrects a broad, large or drooping nose tip

A functional Rhinoplasty can treat the hump or depression of patients' noses

This plastic surgery can change the nostrils and make them smaller

Rhinoplasty changes the angle of the nose and mouth and corrects deviations or asymmetry of the nose
The mentioned features are among the things that are required for a successful Rhinoplasty. Rhinoplasty in Oman has yet to treat some fundamental nose problems and has caused some patients to be dissatisfied. Still, reports show that the number of satisfied patients who have done Rhinoplasty in this country needs to be improved. Most plastic surgeons in Oman use open or closed Rhinoplasty for their patients. In closed Rhinoplasty, incisions are made inside the nostrils, while in open Rhinoplasty, incisions are made in the outer layers and tissues between the nostrils. If patients' noses have deviated, plastic surgeons must correct the internal structure and septum of the nose to improve breathing. In this situation, changes in shape and nostrils are also considered according to patients' requests.
Recovery after Rhinoplasty in Oman
Typically, patients will face facial and nasal puffiness, headache, cramping, bruising, swelling, bleeding, and nose pain after Rhinoplasty in Oman. In this situation, it is necessary to consider a period of at least one week for recovery. Still, if the complications after Rhinoplasty in this country are severe, you may need to consider a few weeks of recovery. Naturally, the costs of recovery and temporary stay in Oman are high. Considering the complications this plastic surgery will cause, it is probably not cost-effective for you to perform it in Oman.
A few weeks after Rhinoplasty, the surgery results will become apparent. Still, if the puffiness, bruising, and swelling of your nose and face continue, you will not be able to notice the main results of Rhinoplasty. In this situation, it seems that as a tourist, you can only stay in Oman once you get a definite result, and this issue may complicate things for you. Usually, after a week, the dressing or plaster of the patient's nose is removed by specialist doctors, and if the treatment is complete, the patients can return to their routine life, but they should still not do heavy sports such as weight lifting. Give As a patient who wears glasses, you should know that during Rhinoplasty, you will not be able to wear your glasses for some time after the surgery. You may also be thinking about doing an eye laser or eye surgery. Due to the expertise of Iranian doctors, we suggest you do eye lasers and Rhinoplasty in Iran.
Revision Rhinoplasty is considered a secondary rhinoplasty. Reports show that some patients with Rhinoplasty in Oman use Revision Rhinoplasty to correct the condition of the nose after surgery; This is if the patients cannot go under the nose surgery again by performing quality Rhinoplasty. It is essential to note that, as much as possible, nose correction surgeries should not be used. Before Rhinoplasty, consider the quality of services, the expertise of specialist doctors, and the recovery conditions after Rhinoplasty. Revision Rhinoplasty is more complicated than primary Rhinoplasty because tissue shrinkage or scarring may occur. Also, in Revision Rhinoplasty, there is insufficient cartilage for changes and correction of the nose.
Rhinoplasty quality and cost; Two critical issues for choosing a functional surgery
Revision of Rhinoplasty has many additional costs and also increases the risk of Rhinoplasty. As a tourist or even a person who lives in Oman, you will be charged a lot for Rhinoplasty. In this situation, it is necessary to consider the quality of Rhinoplasty and its cost together to make a correct and principled decision. As we mentioned in the text of the article, according to the reports obtained, the number of patients who are dissatisfied with Rhinoplasty in Oman is not tiny. Unfortunately, this issue has caused many patients to undergo revision rhinoplasty.
Also, as a tourist, visa, accommodation, and hospital expenses will be high for you. If you choose a hospital and doctor with a low cost of Rhinoplasty, the quality of Rhinoplasty will decrease. In a situation where the high quality of Rhinoplasty is essential to you, the imposed prices, including the hospital, the doctor's fee Specialist, visits after Rhinoplasty, and accommodation and visa costs, will be excessive. In this situation, choosing the least risky, most affordable, and highest quality services to perform Rhinoplasty is better. You can select Rhinoplasty in Iran as one of the high-quality, widely used, low-cost services.
Rhinoplasty in Iran and its benefits
As we said above, the high quality of surgical and hospital services and the affordable price are among the options for choosing Rhinoplasty. You can use quality Rhinoplasty services in Iran as a tourist or as an Iranian outside of Iran. By choosing Rhinoplasty in Iran, you will experience benefits such as high-quality medical services, consultation with specialist doctors, affordable cost, short recovery time after Rhinoplasty, comfortable stay in Iranian hotels, and use of suitable tourism opportunities. Also, according to the reports obtained, Rhinoplasty in Iran is performed in a short period, the swelling after nose surgery is very low, there is no deep skin incision, it improves respiratory and congenital nose problems, and it increases the patient's self-confidence. And usually, there is no need for secondary Rhinoplasty.
Patients can tell their needs and concerns to a specialist doctor with a medical consultation before undergoing Rhinoplasty in Iran so that their expectations can be met after Rhinoplasty. Also, the problems related to the nasal septum will be solved in Rhinoplasty. Patients can make their noses more beautiful and solve their noses' fundamental issues and defects. You can make visits after Rhinoplasty easily; Commuting between your place of residence and the hospital is very easy, and patients will not face any problems.
Conclusion
Indeed, choosing a suitable method to change and correct the shape of the nose is one of the most important actions that every patient must take. We have written about Rhinoplasty in Oman, its procedures, recovery, quality, and cost of Rhinoplasty in this country. You can get comprehensive information about nose surgery in Oman. Remember that the quality of Rhinoplasty is one of the main features to consider in this country. It is necessary to be more sensitive at first to make the right choice and avoid the need for secondary Rhinoplasty.
With Rhinoplasty in Iran, you can have one of your best medical and beauty experiences. The CarefulTrip team will help you by providing expert and therapeutic advice on choosing a hospital, specialist surgeon, recovery after treatment, and accommodation after Rhinoplasty. In this situation, our team will be by your side to provide services such as obtaining a visa, accommodation, translation, choosing a well-equipped hospital, and choosing the right surgeon for you.