Laser rhinoplasty is actually worthwhile when you receive the perfectly balanced nose you have always desired or when the breathing problems you once experienced disappear. A small laser hand probe is used during laser rhinoplasty in Iran to accurately alter the cartilage and bone of the nose. It can enhance the nose's functionality and appearance, giving patients attractive results while preventing potentially dangerous consequences. With laser therapy, the nose can mend more quickly and with less edema. The way patients recover from surgery is improved by this brand-new, cutting-edge method. Iranian surgeons precisely use the laser to remove very small amounts of cartilage in order to reduce the size of the nose. The laser causes very little bleeding, which results in less swelling and a quicker recovery. Additionally, patients receive more specific results, which is vital if they want modest changes and improvements. You can benefit from the emergence of medical tourism providers for various cosmetic surgeries and rhinoplasty in Iran. There are so many companies in Iran. One example is CarefulTrip. They can help patients to have safe and great surgery in Iran. If you want to know more about this new method in Iran, read on!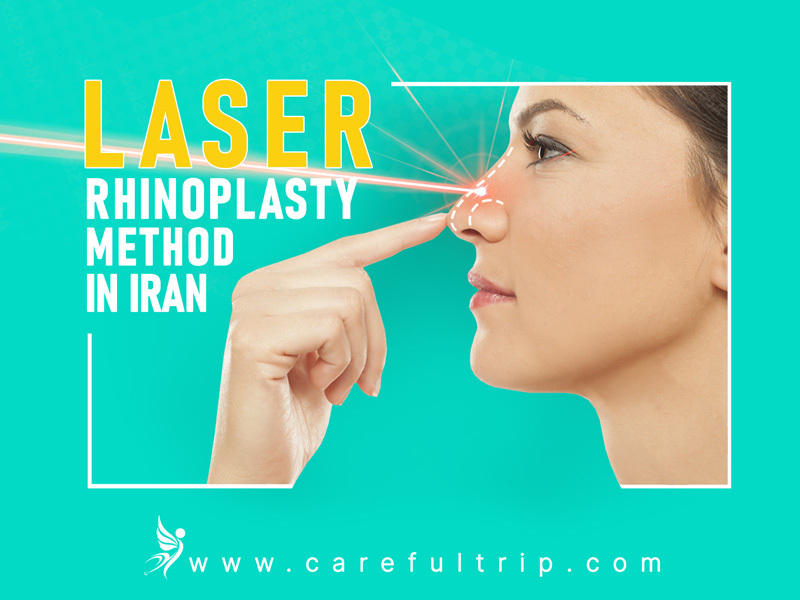 Laser Rhinoplasty in Iran VS Traditional Rhinoplasty
The aesthetic and functional results of laser rhinoplasty in Iran can be compared to those of traditional rhinoplasty with a higher level of intraoperative precision, higher patient satisfaction, a cleaner field, and less bleeding. It is practicable, safe, and has no significant complications. When compared to patients who underwent normal open rhinoplasty, the patient satisfaction rating for laser rhinoplasty in Iran was greater. Standard rhinoplasty involves surgically modifying the nasal bone to alter the structural contour and cartilage of the nose. The CO2 laser can be used to thin thicker nasal skin during laser rhinoplasty procedures in Iran. Because of this application, just the top layer of skin is peeled, causing little harm to the nose and a shorter recovery time. This method eventually results in a better skin layer, especially when used on thicker skin. The damaged skin layer is also peeled off as the healing process progresses. This procedure should not be used on people who have uncontrolled diabetes or bleeding clotting issues. For more information, you can reach CarefulTrip. CarefulTrip which is a reputed medical provider in Iran can provide services to you and arrange your medical trip.
How Laser Rhinoplasty in Iran Works
Advanced performance in photoablation is made possible by the energy density attained with a small focused spot during laser rhinoplasty, along with high peak power and ultra-pulsed emission mode, especially when using the surgical microscope. It allows the Iranian surgeon to easily control the primary operating procedures without having to look away from the microscope. This enables precise control of the ablation figures' size, shape, and depth of cut. In general, laser rhinoplasty is not a painful procedure. Since you are unconscious during the process, you won't experience any pain. You are more likely to have slight discomfort on the first day following rhinoplasty. On a scale of 0 to 10, the intensity of the pain can be estimated. To help you deal with any discomfort, painkillers will be given to you.
Advantages of Laser Rhinoplasty in Iran
It has the following benefits:
It can reshape the nose without requiring major surgery;

It is performed under local anesthetic;

There is no need for a buffer;

The hospital stay is brief;

There are a few complications;

Patients with thick skin heal more quickly after the procedure.

Shorter healing time
The secret to CO2 laser rhinoplasty microsurgery is Mini-invasiveness. Most commonly employed in ENT and laser rhinoplasty, CO2 lasers are praised for their high level of cutting precision and great coagulation effect. The well-known benefits of CO2 laser surgery are further improved by the laser rhinoplasty system. One of the most noticeable features on your face is your nose. The proportions and symmetry of your face will be significantly improved after a successful laser rhinoplasty performed by a licensed and skilled plastic surgeon.
Summary
It is possible to state that the goal of rhinoplasty surgery is to permanently alter the form of the nose. Although it is typically done for cosmetic reasons, it can also be done to fix issues that arise during childbirth or after trauma. The issues that arise as a result of breathing functioning issues can also be resolved. The most popular and frequently performed plastic surgery. Nasal hump, collapsing nasal cartilages, nasal tip deformity, low nasal tip, big nasal wings, and narrow nasal bone angle are the most frequent nose deformities that patients wish to be fixed.  There are various ways to rectify these defects; in addition to open and closed rhinoplasty treatments, nose cosmetic by laser is now an option as a result of recent advancements in laser technology. The decades of experience CarefulTrip in Iran brings to the operating room guarantees your rhinoplasty will be secure and yield the greatest outcomes. In order to make sure your rhinoplasty meets your expectations and gives you the best results possible, your surgeon will take plenty of time during your initial consultation to examine the area and go over your concerns and goals.