The way we perceive ourselves and the outside world determines who we are. Being proud of our appearance gives us self-assurance and confidence. Most people wish they could change at least one physical aspect of their bodies. Perhaps you think your nose is a little crooked, or you'd feel sexier if you had bigger breasts. Whatever it is, plastic surgery is an excellent way to improve the little things about ourselves that we, and no one else, feel would increase our confidence.
Plastic surgery performed by licensed medical professionals in a reputable clinic has the potential to be both safe and life-altering. If you are worried about whether plastic Surgery in Iran is safe or not, read on!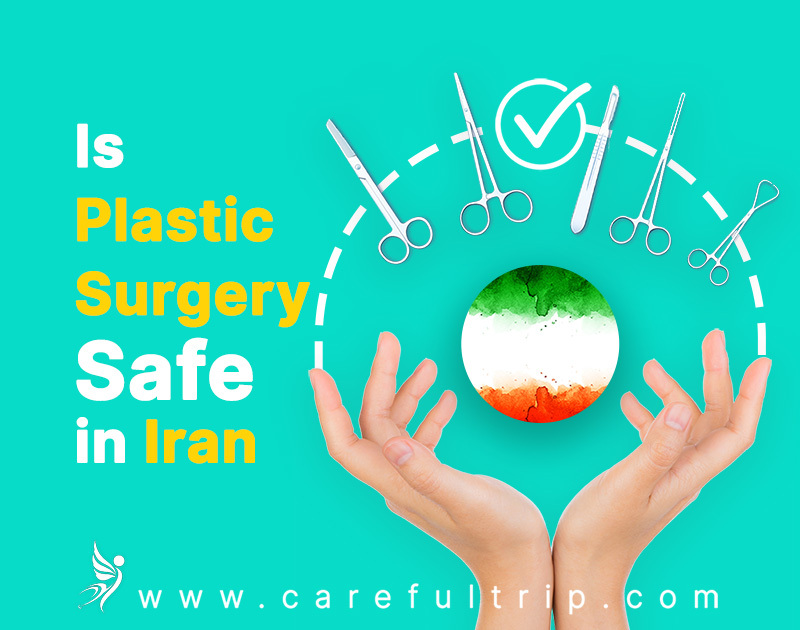 Is Plastic Surgery Safe in Iran?
Yes! It is perfectly safe. The best candidates for plastic surgery in Iran are those who have been informed about what will happen during the procedure and what you need to do to take care of yourself afterward. Ask your surgeon any and all questions you may have, and keep any incisions clean to avoid infection. Being prepared makes the process simpler. There is a small chance that the results of plastic surgery in Iran won't be exactly what you wanted because it IS surgery. For instance, a lot of people worry about getting anesthesia. The likelihood of experiencing an anesthesia issue is actually less than 1%. The risks of plastic surgery in Iran are minimal, and the procedure is safer the less invasive it is. For your specific areas of concern, CarefulTrip can address your queries and go over your options.
Reasons You Have Nothing to Worry About
Surgery of any kind is by its very nature terrifying. No matter how minor the procedure may seem, the thought of voluntarily allowing someone else to cut into your body triggers your survival instincts. Many people who are considering having plastic surgery in Iran worry and express anxiety about the procedure, wondering if it will be safe. Although this anxiety is understandable, it is ultimately unjustified. Plastic surgery is now much safer than ever before, and patients who select a skilled, reputable surgeon can rest easy. Here are six reasons why you don't need to be afraid of plastic surgery in Iran in light of recent medical and technological advancements that place a strong emphasis on patient safety.
Surgical Techniques Have Evolved
Talented plastic surgeons in Iran are constantly developing new, cutting-edge methods to minimize scarring and maximize results in the field of plastic surgery in Iran, which is one of the fastest-evolving medical specialties. Fewer incisions are made during these procedures in an effort to protect the patient as much as possible while still producing amazing results. Ingenious new surgical techniques that are ready to be applied on a larger scale are constantly being detailed in new articles and studies by surgeons, which helps to keep patients as safe as possible.
New Technology Helps Ensure Patient Safety for Plastic Surgery in Iran
Plastic surgery is becoming more secure than ever thanks to new technology. Many of the recent innovations in technology aim to lessen the possibility of human error, doing everything they can to prevent patients from ever needing to inquire about the safety of plastic surgery. Every year, patients can rest easy knowing that a top-notch plastic surgeon will use cutting-edge technology to give them the best experience possible because technology is constantly being advanced.
Plastic Surgery in Iran Take Place at a Certified Surgical Facility
Only at a surgical facility that has been accredited and certified should plastic surgery be performed. These organizations take all reasonable steps to ensure that patients have a modern, hygienic, and secure facility to have surgery in. A surgical facility must pass a thorough inspection in order to receive accreditation. The inspectors are looking for any errors made by the staff that could endanger a potential patient. Patient safety and protection are aided by this level of attention to detail.
You Will Undergo a Physical Exam Prior to Plastic Surgery in Iran
Existing illnesses and conditions can put patients at risk of experiencing complications after some procedures. For this reason, all plastic surgeons perform a thorough physical examination. The goal is to show that the patient is in excellent health and a good candidate for surgery. The plastic surgeon will recommend an alternative surgery or a non-surgical cosmetic procedure if anything concerning is found during the physical examination and it can produce results that are comparable to surgery. In addition to performing a physical examination, a plastic surgeon will review a potential patient's medical history to look for any potential warning signs. Even if a patient is currently in perfect health, something that happened to them in the past could compromise them.
You Can Find Information about Your Surgeon in Iran Online
In the past, if there was a bad plastic surgeon, they might have been able to get away with it for years without anyone noticing. There was little information available about a surgeon's past, even if they had a poor reputation or had been the target of a few lawsuits from unhappy former patients. The choice of a surgeon was extremely difficult due to the informational gap. Nowadays, the Internet is a gold mine of knowledge about each and every surgeon in Iran. Simply entering the surgeon's name into a search engine will yield a comprehensive report on everything you need to know to ensure your safety. You can learn more about the surgeon by reading reviews and testimonies from previous patients, viewing before and after pictures, and much more. In the past, putting their trust in an unqualified surgeon was the riskiest thing a patient could do. Patients now have the tools necessary to make sure they only select a surgeon who makes them feel secure and safe. Additionally, and perhaps more importantly, you can seek assistance from a reputable medical service in Iran like CarefulTrip, which can guarantee that you'll have a safe operation in Iran with the ideal surgeon.
Specialized Anesthesiologists in Iran Devoted to Your Safety
In the past, patients would frequently receive anesthesia from the nurses or doctors working at the plastic surgeon's office. Although these medical professionals had training in administering anesthesia, they were not specialists. Most plastic surgeons now choose to only provide their patients with anesthesia administered by an anesthesiologist. Anesthesiologists are experts at giving anesthesia, taking all necessary precautions to keep the patient as relaxed, safe, and comfortable as possible. Patients can relax knowing they're in capable hands because this is their area of expertise.
Is Plastic Surgery Safe in Iran Nowadays?
In Iran, plastic surgery is a huge industry. One of the most common surgical procedures in Iran is cosmetic surgery on the face and body, which is done to enhance the shape and appearance of the face and body. Many people from various nations visit Iran each year for cosmetic procedures. Plastic surgeons have accumulated a great deal of experience in this field as a result of the numerous cosmetic surgeries carried out each year. You can quickly locate reliable references. Ask those you trust—such as your family doctor, friends, and acquaintances in the medical field—for recommendations on plastic surgeons they may know or have heard of. Contact anyone you know who has undergone plastic surgery, and inquire about their experience and satisfaction with the outcome. Visit online review sites to see what people are saying about plastic surgeons, and lastly. Verify the hospital privileges of the surgeon you are considering. A doctor's ability to utilize the resources and amenities at a specific hospital is referred to as having "hospital privileges." Hospital privileges show that your surgeon has been approved by their peers and by a hospital committee, even though your procedure may take place at a surgical center rather than a hospital. If your plastic surgeon lacks hospital operating privileges, that should raise a red flag. All of these can be easily done through a trusted provider in Iran like CarefulTrip and you can easily ensure that your cosmetic surgery will be safe in Iran.
Summary
The best way to ease your concerns about plastic surgery in Iran is to select a reputable, trustworthy medical professional who will take all necessary precautions to keep you safe. In Iran, CarefulTrip has established a reputation as a provider who prioritizes the needs of his patients, working alongside them to ensure their safety as they pursue their objectives. Contact CarefulTrip right away if you have questions about the precautions they take to keep their patients secure during plastic surgery in Iran or if you'd like to arrange a surgical consultation.