Iran has become one of the most prominent medical tourism destinations for medical and beauty services. Many tourists visit Iran every year to receive medical and treatment services. The high quality of medical services and their affordable prices have made tourists choose Iran as one of the most popular medical and tourism hubs. Fat transfer is a beauty procedure that has become one of Iran's most demanded beauty services due to its long history. Fat transfer is a non-invasive surgery that involves removing fat from different parts of the patient's body and transferring it to the organs needed by the people. Fat transfer is done to change the shape of one or more body areas, including the face, below the eyes, breasts, or hips, and to fill cavities and rejuvenate weakened body mass.
Some body organs lose their natural shape after rapid weight gain and loss, childbirth and pregnancy, aging, and illness. The mentioned symptoms can also cause darkness and depression under the eyes. Darkness and indentation under the eyes make your face not have beauty, freshness, and youth forever. In this situation, it may seem that you are sick or your age is shown more than your actual age, so it is suggested that you try safe and simple treatment methods to remove dark circles under the eyes.
In this article, we have shared comprehensive and sufficient information about fat transfer below the eye, the advantages and disadvantages of this surgery, and the things that can be important in making a decision. Fat transfer below the eye is one of the most common and popular non-invasive surgeries with many applicants.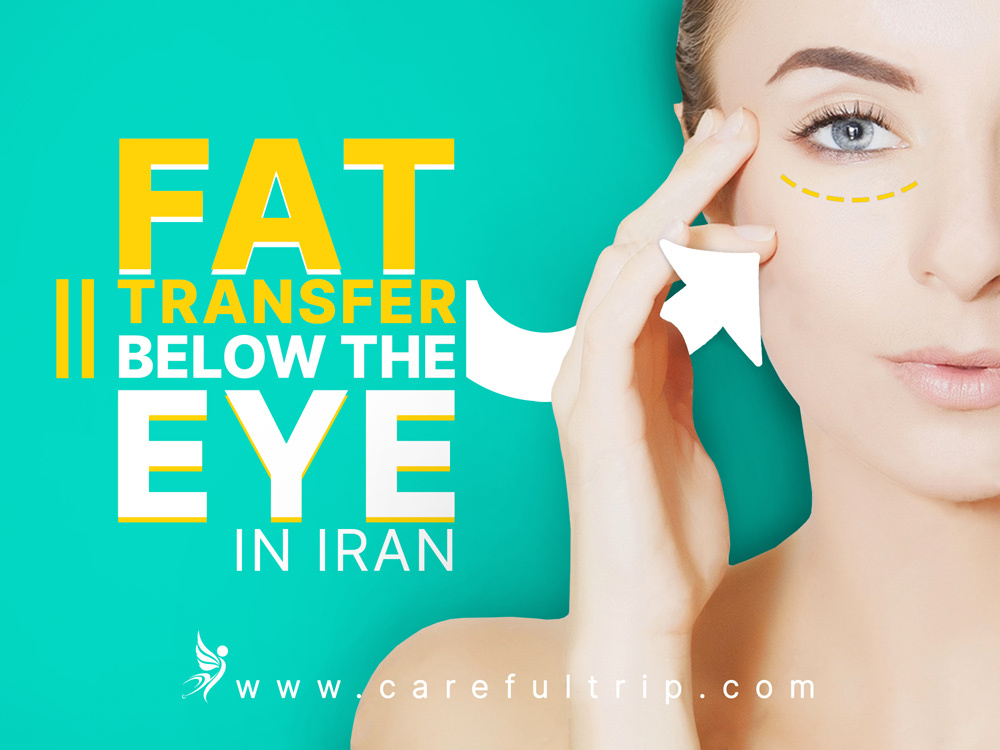 Fat transfer below the eye
Fat transfer or lipofilling is a rejuvenation technique that involves removing fat from other body parts and transferring it to other features. In fat transfer or lipofilling, fat is removed from different body parts and fills cavities, wrinkles, and depressions in other body parts. This technique is convenient and has many applicants due to its simplicity and low risk. The same method is also used to fill hollows under the eyes and make your face look younger and fresher. Fat transfer below the watch is a non-invasive technique that a specialist doctor diagnoses, whether suitable and effective for you. If the expert doctor finds that you need to transfer fat under the eyes, he will do it for you quickly.
It may be interesting that fat transfer under the eyes was first performed in 1893 by a German surgeon named "Gustav Neuber". In this surgery, the German surgeon removed fatty tissue from the patient's arm and injected the fat around the person's eyes to eliminate the scars caused by the bone infection. To perform this surgery, a specialist doctor may remove fat from parts of your body and, with adequate measures, differentiate body fluids from fat so that he can inject it into your body in a completely pure and sterile form. This surgery was a pioneering move in the medical and cosmetic industry, even before cosmetic surgery was practiced on a large scale.
Fat transfer below the eye is commonly used to eliminate lines and lines, blackness, and indentation under the eyes and to eliminate scars or effects after an accident.
This method has many advantages, some of which are mentioned below:
Non-invasiveness of surgery

Long lasting after surgery

No swelling, inflammation and skin sensitivity

Outpatient and fast treatment

No need for anesthesia

Fast effect after surgery
Fat transfer under the eyes is long-lasting and, unlike Botox, lasts a lifetime. Also, because your body is used, there have been no sensitivity cases after surgery. It is interesting to know that the injected fat will decrease by 20 to 50% within 15 days, but after that, it will not change at all. The only problem with this non-invasive surgery is that it may not be suitable for completely removing fine wrinkles around the eyes. Thanks to fat injection, the wrinkles around the face disappear, and the sagging under the eyes also gets a younger look. Fat transfer helps you to make the wrinkles around your eyes less visible.
The fat transfer lasts a lifetime. It is good to know that since fats are living cells, some fat will be absorbed in the specified area. Also, fat absorption varies from person to person. For example, the shelf life of fat under the eyes differs from the shelf life of the lips. Depending on the effectiveness of fat transfer under your eyes, the doctor will decide whether you need a second session.
Fat transfer below the eye in Iran
Many compatriots outside Iran and tourists choose Iran to perform fat transfer below the eye. The long history of serving this non-invasive surgery has made Iran one of the most popular countries for fat transfer under the eyes. Fat transfer below the eye in Iran is a convenient and practical technique to make your face natural. This method removes fat from the abdomen or thighs and injects it under the lower eyelid. This procedure is done to puff up the area, which, according to surgeons, loses its natural state after 30. Most people who go to Iran's hospitals and clinics for fat injections under their eyes are over 30 years old, but some cases need this non-invasive surgery due to dark circles and sunken eyes since birth.
Suppose you also worry about choosing a specialist doctor, a well-equipped hospital, and getting quality medical services in Iran. In that case, the CarefulTrip team will provide you with the most suitable treatment packages. You no longer need to worry about issues such as residence, visa, or choosing the right surgeon for Fat transfer below the eye; In fact, our team offers you the best treatment options. Also, after transferring fat under your eyes, you must stay in Iran for a short time to meet your doctor and have a medical visit. In this situation, you can stay in the hotel and, after getting permission from your doctor, go to the tourist areas of Iran and make the most of your trip.
As mentioned above, transferring fat under the eyes has many advantages over other methods. Still, suppose you are not careful in choosing a specialist surgeon and hospital and do not seek advice. In that case, there is a possibility that you will experience some complications from the surgery.
Complications of surgery may include the following:
Asymmetry of fat transferred under the eyes

Swelling and bruising under the eyes

Occurrence of infection in the areas where fat was injected (low probability)
So, it is imperative to pay attention to this point to choose a reliable treatment package, so you do not experience surgery complications. According to the reports taken from patients, fat transfer is an excellent and permanent option for patients; These patients wanted a natural and young appearance in the area under their eyes, and after performing this surgery, they achieved their goal. With more and more people looking to beautify and rejuvenate their faces, fat transfer is becoming more common. This is attractive to many patients because fat transfer under the eyes is a natural way to use their body fat. Also, due to the high quality of Fat transfer below the eye and the affordable price of this surgery, many tourists and applicants are looking for it.
How long does fat transfer below the eye take?
Fat transfer below the eye in Iran is done in a short time. Transferring fat under the eyes usually takes 30 to 60 minutes. Fat transfer under the eyes is a non-invasive and low-risk surgery traditionally performed with or without local anesthesia (according to the doctor's diagnosis and the patient's request). We suggest you complete this surgery in a well-equipped hospital or clinic to get the best results. Also, if you need to take any action or medicine during the surgery, the expert surgeons are by your side so that this cosmetic surgery can be done without any worries.
The tissues transferred under your eyes are made of fat, so you shouldn't lose weight drastically for a few months. It is important to note that you should not use blood thinners such as aspirin for about ten days before surgery. If you have a particular disease or are taking certain medications, tell your doctor about this.
In general, you do not need to be admitted to the hospital after a fat transfer under the eyes. Still, in exceptional circumstances, the doctor may ask you to stay in the hospital overnight. After that, you can go to the hotel and go to the hospital for some examinations, according to the doctor's opinion.
The cost of fat transfer below the eye in Iran
The popularity of fat transfer under the eyes is increasing day by day. In fact, by transferring fat under the eyes, you get a very natural result in your appearance. Fat transfer under the eyes is a long-term and safe cosmetic surgery. The cost of fat transfer under the eyes varies according to the amount of fat transferred, the doctor's experience, the hospital or clinic has chosen, and the patient's wishes and expectations. Fat transfer below the eye in Iran will be done with the highest quality and very reasonable cost. The cost of transferring fat under the eyes in European countries, Turkey, and even Dubai is several times the cost of this cosmetic surgery in Iran. So, it will be very affordable for you to travel to Iran and enjoy the attractive tourist areas of Iran and receive your medical services as well. Our team will be with you throughout this process.
Fat transfer below the eye in Iran with CarefulTrip
You need to consult with a reliable and skilled team to receive medical services and perform cosmetic surgeries and the like. Also, receiving affordable and quality medical and tourism packages will eliminate your worries about traveling to Iran. The CarefulTrip team will take all your worries away and will be with you every step of the way. Our team offers you services that include accommodation, obtaining a visa, transfer, translator, surgeon selection, doctor's visit, pre-treatment consultation, etc. After coming to Iran, you will not have to worry about contacting or talking to surgeons. Our team will perform these procedures for you to get perfect and perfect results for fat transfer under the eyes. Fat transfer below the eye is one of the most popular surgeries performed in Iran.
Summary of the article Fat transfer below the eye in Iran
Transferring fat from other parts of your body to under the eyes is one of the most popular surgeries in recent years. In this technique, the blackness and dimples under your eyes will be removed by fat injection, and the holes or wrinkles under the eyes will be removed. This method is a non-invasive and low-risk surgery that people usually perform after age 30. Of course, there is a possibility that patients are less than 30 years old and perform this surgery to remove dark circles or hollows under the eyes. This surgery is long-lasting, and the results may be seen after four months. The fat transfer under the eyes will be done for you quickly, and it has a very high-quality treatment. Fat can be taken from different places, such as your stomach, sides, and thighs. The transparency and thinness of the skin are covered by creating a layer of fat under the eyes, and the blackness and unnatural color under the eyes and hollows are improved.
The CarefulTrip team suggests using the treatment packages and creating an excellent and high-quality medical experience for yourself. Typically, you will be awake during the fat transfer under your eyes, and if necessary, the surgeon will consider local anesthesia for you. Be sure to talk to your doctor about the medications you are taking and the diseases you are suffering from. Consultation with a doctor before receiving medical treatment can speed up your treatment process and affect surgery results.