Skin diseases are among the problems that are common among people. Many people face skin diseases during their lifetime, and in the meantime, they are looking for ways to treat their skin problems. Some treatment methods are low-cost and available, but there is a possibility that they do not have fast and favorable results; some other techniques are considered medicinal and naturally produce quick results in the treatment of skin diseases. Antibiotics for Skin Diseases are one of the standard and effective methods many patients use yearly. The obtained results show that the use of Antibiotics for Skin Diseases has favorable results and speeds up the treatment of skin diseases and problems.
Treat Skin Diseases; there are various oral and topical medicinal methods; among these methods, we can mention Antibiotics, Antifungal agents, Corticosteroids, Enzyme inhibitors, Retinoids, Biologics, Anthralin, Coal tar, and Salicylic acid. Suppose the origin of skin diseases is infections. In that case, antibiotics can help treat them.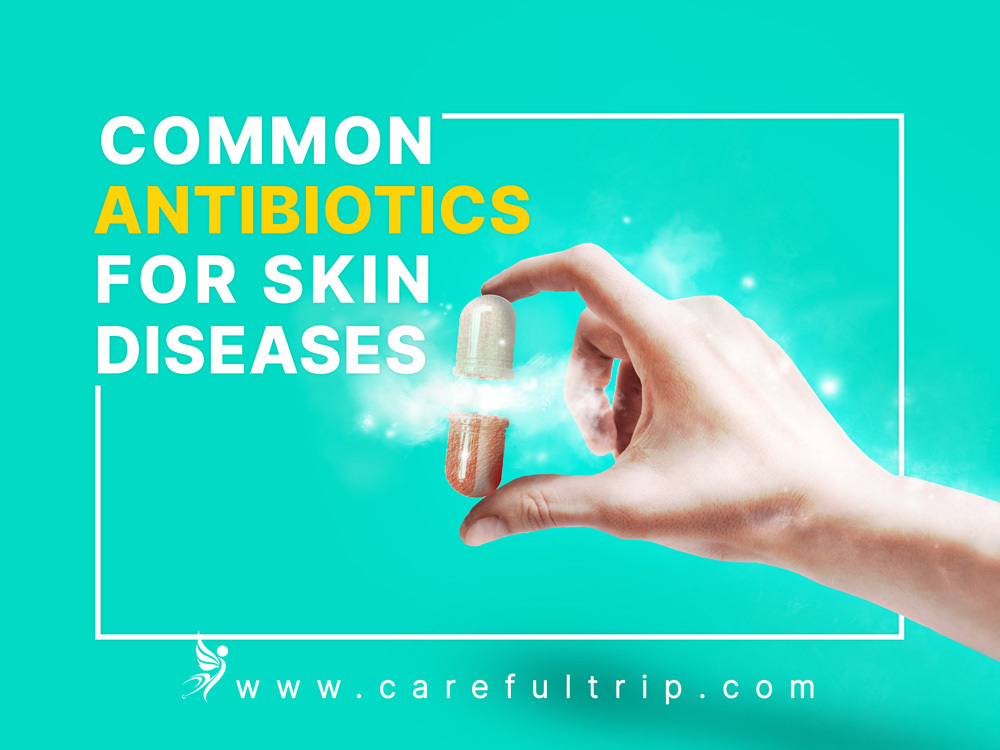 Do I need to take antibiotics to treat skin diseases?
Before taking action, you must know that sometimes you don't need antibiotics to treat your skin problems. In this situation, taking antibiotics may cause many complications for you. Oral antibiotics can cause stomach upset, diarrhea, vomiting, and vaginal yeast infections. Sometimes the inappropriate use of antibiotics causes skin rashes, allergic reactions, swelling, and itching. If a specialist doctor has not prescribed antibiotics for you, taking this medicine can cause superbugs, which can endanger your health. So, be careful not to cause too many side effects to your body by taking the wrong Antibiotics, and don't waste too much money.
But in situations where your skin is contaminated, has an infection, there are infected inflamed cysts, and you have deep wounds that are infected or may become infected, taking Antibiotics for Skin problems can restore your health. Research conducted by the CarefulTrip team shows that if patients have or are suspected of having a skin infection, taking antibiotics can save their lives. Also, using Antibiotics for Skin Diseases increases the speed of disease treatment, and patients can return to their everyday life as soon as possible. Are all types of antibiotics effective for treating skin diseases? Stay with us to share comprehensive information about this with you.
Choosing Common Antibiotics for Skin Diseases – Which is the best option?
Infections and Skin Diseases are among the common problems that can endanger the health and life of patients. Treating skin problems should be the priority of each individual's actions because delay in treatment can threaten patients' health. Also, skin diseases create an unpleasant appearance for patients, reducing their self-confidence and distancing them from society. Usually, doctors recommend a 10-day course of treatment for Skin Diseases. Still, depending on the type of skin problem you have, the treatment time will be different.
In some situations, doctors recommend using home care methods and taking Antibiotics for Skin Diseases to clean your skin sooner. Consult a specialist doctor in this regard so that therapeutic and medicinal interactions do not occur for you. Some types of antibiotics are considered to treat skin problems, diseases, and infections. Penicillin, cephalosporin, dicloxacillin, erythromycin, and tetracycline are among the most common drug treatments for skin diseases. Below we introduce Common Antibiotics for Skin Diseases:
Erythromycin

Doxycycline

Clindamycin

Delafloxacin

Tetracycline

Minocycline
Erythromycin
Erythromycin is one of the common types of Antibiotics for Skin Diseases. This drug has anti-inflammatory properties that reduce redness and swelling in the skin. One of the most important actions that Erythromycin will take to treat your skin problems is to destroy bacteria, which will speed up the treatment of your skin problems such as acne, inflammation, and things like that. The dosage of Erythromycin is considered to be 250 to 500 mg twice a day. Pregnant women can use Erythromycin with a doctor's prescription.
Doxycycline
Doxycycline is one of the effective antibiotics for treating patients' skin problems. Doxycycline is prescribed for patients who are allergic to other types of antibiotics. The dosage of Doxycycline is around 50 to 100 mg twice a day. We recommend taking Doxycycline with food.
Clindamycin
Clindamycin is one of the common antibiotics for treating skin diseases, which is prescribed orally and topically. Clindamycin is a topical cream that can treat acne and skin infections. The prescribed dose of this antibiotic is considered different depending on the type of your disease. You can consult a specialist in this regard. Remember that topical clindamycin is very suitable for patients who cannot use oral medications and has fewer side effects.
Delafloxacin
Delafloxacin is one of the types of antibiotics prescribed to treat skin problems. Delafloxacin treats skin diseases by either killing bacteria or preventing their growth. Delafloxacin in the form of intravenous injection and oral form is considered for the treatment of skin infections. Due to its positive results in the treatment, it is among the antibiotics doctors prescribe. Remember not to take this type of antibiotic without a doctor's prescription. In case of complications, discuss the issues with your specialist doctor.
Tetracycline
One of the most common types of antibiotics used to treat skin diseases is tetracycline. Tetracycline is commonly used to treat acne. The prescribed dose for this antibiotic is 500 mg, usually, two times a day, which is gradually reduced. Keep in mind that it is not recommended to take tetracycline on an empty stomach. Tetracycline is not suitable for pregnant women and can cause irreversible side effects.
Minocycline
Minocycline is one of the common types of antibiotics prescribed to treat skin diseases. Usually, this drug is considered for the treatment of pustule, and it is one of the types of tetracycline. The prescribed dose of this drug is about 500 mg twice a day, which is reduced according to its effectiveness. Minocycline can cause side effects such as skin discoloration, tooth discoloration, nausea, vomiting, and dizziness in patients. In case of intolerable side effects, contact your doctor.
Antibiotics are considered short-term because there is a possibility that your body will become resistant to antibiotics. Also, the use of antibiotics can cause unpleasant side effects for patients, which can be ignored during the treatment period, but in the long run, they may cause many risks to people's health. Doctors usually limit the use of antibiotics to 10 days to 1 month, and if the skin problems of the patients are not resolved, they will consider other treatments for the patients. In this regard, CarefulTrip consultants can introduce you to Iranian doctors and skin specialists so that you can treat your skin diseases in the most convenient way possible.
Which skin diseases are treated with antibiotics?
Get advice. If your skin problems and diseases are bothersome, you can consider one of the appropriate treatment methods to solve skin diseases by visiting a doctor. The doctor may consider antibiotic treatment for you in case of chronic acne, fungal infection, bacterial infection, cellulitis, skin abscess, etc. You can use antibiotic-medicated creams to treat skin parasitic infections. Bacterial skin infections are treated with topical antibiotics applied to the skin or with oral antibiotics. In some cases, skin infections show resistance to topical and oral antibiotics; in these conditions, doctors consider injecting intravenous antibiotics. You can also use over-the-counter topical creams and sprays to treat fungal infections, but if your body is allergic to any of these treatments, you should stop your treatment and ask the experts about it.
A proper medical examination can diagnose the cause of your skin problems. Most doctors can diagnose the type of Skin Diseases and the appropriate treatment based on physical review and considering the patients' tests. Specialists will ask questions about your skin symptoms and analyze rashes and lesions. In some acute cases of skin diseases, there is a possibility that a specialist doctor will take a sample of your skin and diagnose the type of disease and how to treat it.
A note
As you know, the number of treatment methods to eliminate skin problems and diseases is enormous. You can use various home methods, oral medicine, topical medicine, surgery, and laser to treat Skin Diseases. One of the standard methods of treating skin diseases is using antibiotics. Antibiotic treatment solves your skin problems quickly and is highly safe due to consultation with specialist doctors.
The results obtained from antibiotic drug treatments are excellent. You can also consider the best dermatologists for the treatment of Skin Diseases by getting advice from the CarefulTrip team. Our team provides services such as introducing the best dermatologists, well-equipped hospitals, visas, accommodation in the best hotels, translators, and other such services to tourists and compatriots outside Iran. Skin infections can range from mild to severe. Also, the complications of other diseases may cause skin problems. If skin diseases have caused discomfort and issues, it is better to contact a specialist doctor.