A healthy diet before egg donation plays a vital role in the success of the donation process. One of the essential factors of successful pregnancy through the medical procedure is having hormonal balance by eating organic and healthy nutrients. 
It would help if you took care of your diet to increase the chance of successful pregnancy. We are here to discuss the best diet before donating eggs. Stay with us for more information.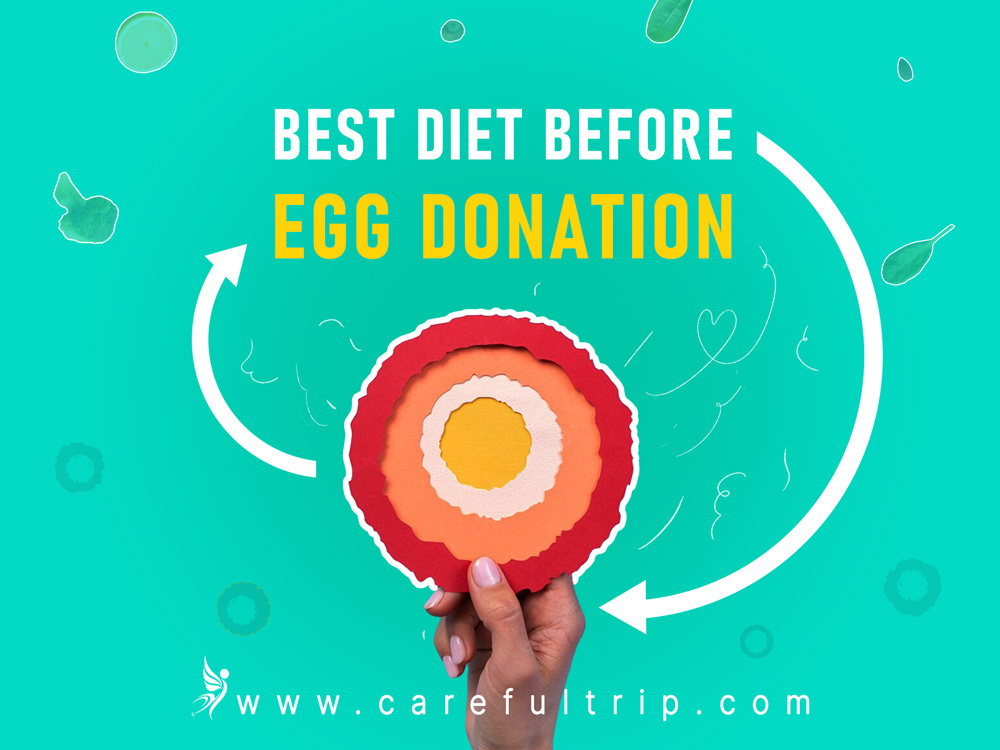 10 things to eat before the egg donation 
Every artificial and irregular process has some side effects; egg donation is also one of these unnatural pregnancy processes, so you need to have a balanced and healthy diet to overcome the common side effects as much as possible. 
Foods can be magical during egg donation. To have mature eggs, you must consider your diet before this process. Here are some essential foods and nutrients before donating your egg. 
Lean meats 
As you may know, vitamin B12 is vital in the ovulation process. Lean meats have vitamin B12. So, eating lean meats helps to reduce the risk of miscarriage. Also, it can strengthen the endometrial lining and cure fatigue.
It is possible to prevent pregnancy issues by eating lean meats, which are full of vitamin B12, and increasing the chance of successful pregnancy. We will mention some lean meats which have vitamin B12:
Red meat 

Chicken 

Pork

Salmon 

Turkey 
Plant-based protein 
A vegan or vegetarian diet is good before egg donation because many plants have enough protein for your body. These proteins can increase the blood cells and warm your body, so your body condition improves. 
Add plant-based protein to your diet while you try to avoid animal protein. There are some plants rich in helpful protein. You can replace animal protein with plant-based ones. There are some nutrients with plant-based protein, such as: 
Beans 

Quinoa 

Peanuts 

Tree nuts 

Peas 

Lentil 

Carrots 

Pumpkin

Sweet potato 

Soybean

Broad bean 

Gluten-free whole grains 
Dark leafy greens 
Dark leafy greens come with a total amount of vitamin A, which improves the immune function system. The most useful dark leafy greens are: 
Kale

Spinach 

Romaine lettuce 
Banana 
Everyone knows about bananas' effects on pregnancy. Bananas have a total amount of melatonin which is a sleep hormone. It means you can get enough sleep by eating and having a banana. The more you sleep, the more comfortable you are during donation. 
Berries 
Inflammation is an issue while donating the egg. Berries have a high level of antioxidants to fight inflammation, so you won't feel discomfort and bloating by eating berries as below:  
Cranberries 

Blackberries 

Blueberries 
Pumpkin seeds 
The pumpkin seeds are full of magnesium, called magnesium-filled super seeds. Have them on your diet to reduce pains like headaches and increase the chance of successful donation. 
Fats and oils 
Some essential fat and oil nutrients are appropriate for hormone production and regulation. Healthy fats are helpful for hormone synthesis. 
Don't ignore necessary plant-based fats because they can increase the number of mature eggs. Remember, only healthy and plant-based fat and oils are helpful, not the fat stored in biscuits, cheese, chocolate, and other unhealthy foods.
Eating healthy oils and fats is essential only before donating your eggs. We will mention some plants with enough plant-based fat and oil. 
Avocado 

Salmon 

Olive oil 

Coconut oil 

Nuts 

Seeds 

Sesame 

Chia 

Flax seeds 

Greek yogurt 

Peanut butter 
Eggs 
The egg is another vital nutrient in the best diet for an egg donor. Eggs are rich in protein and healthy fatty acids. Eggs are full of essential nutrients, such as vitamins A, B2, B12, and K. These vitamins increase the chance of successful donation.
Saltine crackers 
Sodium is another essential nutrient during the donation of eggs, so it is good to have a source of sodium in your diet before this process. Saltine cracker is the best source of sodium. It is suitable for your tummy and solves nausea and depleted appetite issues. 
Water 
It is essential for everyone, especially egg donors and pregnant women, to drink enough water during the day.
Water can provide essential nutrients for the body and promote the recovery process. It is good to drink 3 liters of water daily before donating your eggs.
Other fresh beverages like fruit juices and coconut water can increase hydration and essential nutrients.  
3 things to avoid before the egg donation 
As we said, diet is vital in the donation egg process, so you must be cautious. Sharing diet information is your chosen clinic's responsibility. 
You must choose a well-experienced and professional clinic with enough diet information before egg donation. CarefulTrip is a medical tourism agency that helps you to find the best IVF clinics in Iran. 
You only need to inform them about your aim. The experts will give you enough information on diets, benefits, processes, and success rates.
Besides things to eat before egg donation, there are some things not to eat! We will tell you more about these nutrients.
Caffeine 
Caffeine will decrease the speed of the healing process and increase the risk of dehydration, so doctors don't recommend drinking caffeine beverages before donating eggs. If you get used to drinking caffeine drinks, stopping it for 4 weeks before donating your eggs is better. 
Caffeine can decrease blood supply during donation and increase miscarriage issues. Some beverages with caffeine are as below: 
Coffee 

Black tea 

Cola soda 

Energy drinks 
Alcohol 
Another beverage to avoid is an alcoholic one. Alcohol can thin egg donors' blood and cause some problems with swelling. In addition, alcoholic beverages cause some issues with anesthesia and pain medication. 
Egg donors who drink alcoholic beverages have less chance of pregnancy via the medical process. We recommend you stop drinking alcoholic drinks one month before donating your eggs. 
Carbohydrates 
Carbohydrates are essential nutrients for a healthy body, but you must refrain from gaining artificial carbohydrates because they won't let your body store its vital energy. You will gain power only for a short time after eating unnatural carbohydrates. 
They may have more calories, but they are artificial sweeteners. This carbohydrate won't let your body gain weight and disrupt the successful egg donation process. It is better to eat natural carbohydrates in your diet. Some artificial carbohydrates sources are: 
Refined sugar 

Corn syrup 

White flour 

White rice 
The artificial carbohydrates will increase the egg donor's blood sugar level. Also, it may cause diabetes and high blood pressure, which reduce the chance of pregnancy. 
Conclusion 
Although everybody has a different lifestyle, the diet before donating eggs is the same. The donation success rate will vary from person to person, but you can develop your eggs' chance by observing a healthy diet. 
Generally, having a special diet before donating eggs will help better implantation and increase the chance of pregnancy. Based on a recent investigation, people who eat more fresh vegetables and fruits have a higher chance of egg donation successful rate.