Age is not a factor in the discrimination of vision issues. Even though presbyopia and cataracts are two eye conditions that become more prevalent as we age, vision issues affect people of all ages and socioeconomic backgrounds. The good news is that patients of all ages can benefit from eye LASIK surgery, which is intended to correct refractive errors.
The unfortunate truth is that not everyone is a good candidate for LASIK, sometimes because of their age or another aspect (s). Come to CarefulTrip for a consultation if you want to find out if you qualify. During your preliminary appointment, the team takes the time to explain the procedure and its benefits, what you can expect from the recovery and results, and your financing options. We have discussed the best age for eye LASIK surgery below.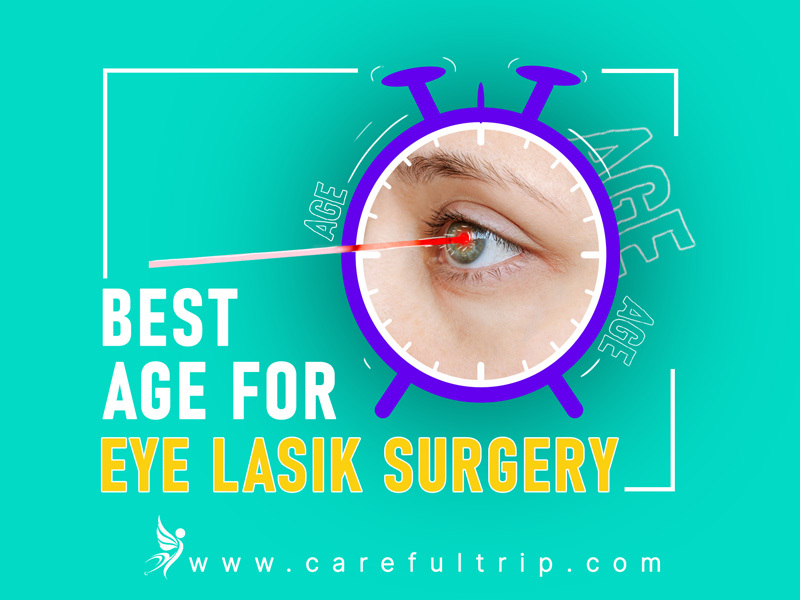 What Age Should You Get LASIK?
The ideal age range for eye LASIK surgery is typically between the ages of 25 and 40. You can get LASIK at other times besides right now. Actually, LASIK is most frequently performed on patients between the ages of 21 and 60. Younger or older people may need to take a few extra factors into account. In the United States, patients must be at least 18 years old to undergo eye LASIK surgery. As time goes on, eye LASIK surgery becomes more and more widespread. It can be a desirable method for the right candidate to correct refractive errors such as nearsightedness, farsightedness, and astigmatism without the use of glasses or contact lenses. With CarefulTrip, it's possible to find freedom from glasses and contacts at any age. If you're interested in learning more about how LASIK eye surgery or another vision procedure can transform your life, book a consultation today.
Why does Age Matters For LASIK?
If you're under the age of 18, you shouldn't get LASIK or any other type of vision correction procedure. This is so that the eyes can continue to develop throughout your childhood and adolescence. This implies that they could still change, which would change your prescription.
In order to create a clear image, LASIK eye surgery involves reshaping the cornea to correct how the eye refracts light. However, there is a chance that your cornea will change shape after surgery if you have LASIK while your eyes are still developing. The outcomes of the LASIK procedure may become useless as a result. So it's best to hold off until you're an adult and your vision has stabilized.
By the time you reach your early 20s, your eyes are typically fully formed, and they typically remain that way through your 30s. As early as their 40s, some people start to show the first symptoms of age-related eye conditions, and this gradually worsens as they age.
Older Eyes Have Higher Risks
Even though our eyes may stop developing as we age, they can still change as age-related eye conditions develop.
Presbyopia, for instance, describes the gradual loss of the eye's capacity to focus on close objects. It typically starts in a person's mid-40s and gets worse as they age. Similarly, cataracts develop when the eye's lens becomes cloudy. Cataracts slowly form over time, but after the age of 60, your risk of getting one increases significantly. Even if you have presbyopia or cataracts, you may still be a good candidate for LASIK. However, because these conditions are more prevalent in older people and because they can make your prescription more complicated and severe, LASIK might not be sufficient to correct your vision. A further reason you might not be given LASIK is that if you're over 65, there is a higher risk of complications.
Considering LASIK at Different Ages
The best person to give you the most accurate advice for your particular situation when it comes to LASIK surgery is an eye doctor or LASIK surgeon.
Most medical professionals start with the following details:
Ages 18 to 25
Before having LASIK, nearsightedness, farsightedness, and/or astigmatism conditions should be stable. In this way, after the procedure, their vision won't change as they age. Some people's eye prescriptions still change frequently between the ages of 18 and 25. However, since everyone's eyesight varies, some people may experience a stabilization of their vision before turning 25 when LASIK may be taken into account. If your prescription for glasses or contact lenses hasn't changed in at least a year, your eye doctor is more likely to suggest LASIK.
Ages 25 to 40
The majority of LASIK doctors agree that the best age range for laser eye surgery is between 25 and 40. You'll want to make sure your vision information is up to date because eye doctors and surgeons typically demand at least a year without a significant prescription change. The best way to obtain a current vision prescription from an ophthalmologist or optometrist is through a thorough eye examination.
Ages 40 to 55
Your vision starts to alter once more around the age of 40. This time, presbyopia, a form of farsightedness that affects everyone eventually, is to blame. Presbyopia affects specific eye structures, making it challenging to focus on objects that are close up. When reading a book or using a smartphone during this time, reading glasses may be helpful. Presbyopia is not reversible with standard LASIK surgery for distance vision. However, there are additional options, such as multifocal LASIK and monovision. This age group may still be candidates for LASIK, but they should take the following risk factors into account: Diabetes, Family Eye Health History, Glaucoma, Smoking, and Other Current Eye Conditions. If you take any prescription medications or dietary supplements, tell your doctor. They may affect the outcome of your procedure, too.
Ages 55 and Older
People over the age of 55 who are in good health may still be candidates for LASIK eye surgery. However, additional risk factors may impede eligibility. People in this age range, for instance, are most frequently affected by cataracts. Over time, most cataracts deteriorate. When they are found to be affecting vision, cataract surgery may become more important. But this doesn't necessarily mean that you won't get LASIK in the future. Age is one factor that affects laser eye surgery, but it's not the only one. You can decide if LASIK is right for you by taking these aspects into account with the assistance of your eye doctor.
Summary
So, what is the minimum age for LASIK? Anywhere between your twenties and your fifties, and even later! Age is just a number when it comes to LASIK eye surgery. Your eligibility is determined in large part by your measurements, stability, and ocular and medical history. The most crucial considerations for LASIK eye surgery candidacy are generally good health, family medical history, and a stable prescription. The only way to know for sure whether or not you're eligible for LASIK is to come in for a no-cost, no-obligation, consultation. Contact CarefulTrip to schedule your consultation!