A nose job also referred to as a rhinoplasty, is a procedure that can dramatically or subtly change the appearance of your nose. Before having nose surgery, before starting your medical adventure, you should be certain of a few things. If you have reasonable expectations and believe that the potential advantages outweigh the potential hazards, you might be a good candidate for rhinoplasty. In this case, before further explanations, it should be mentioned that having a nose job in Iran is very common these days, and many people from inside and outside the country are doing rhinoplasty in Iran.
The decision to get nose surgery has pros and cons, just like any other decision in life. Safety must be taken into account while assessing the advantages and disadvantages of a nose job. The more time you invest in information gathering, the better you can get ready for the procedure and reduce safety concerns. In the following, we will examine the risks and complications of the procedure to help with your decision if you are looking for reasons not to get a nose job.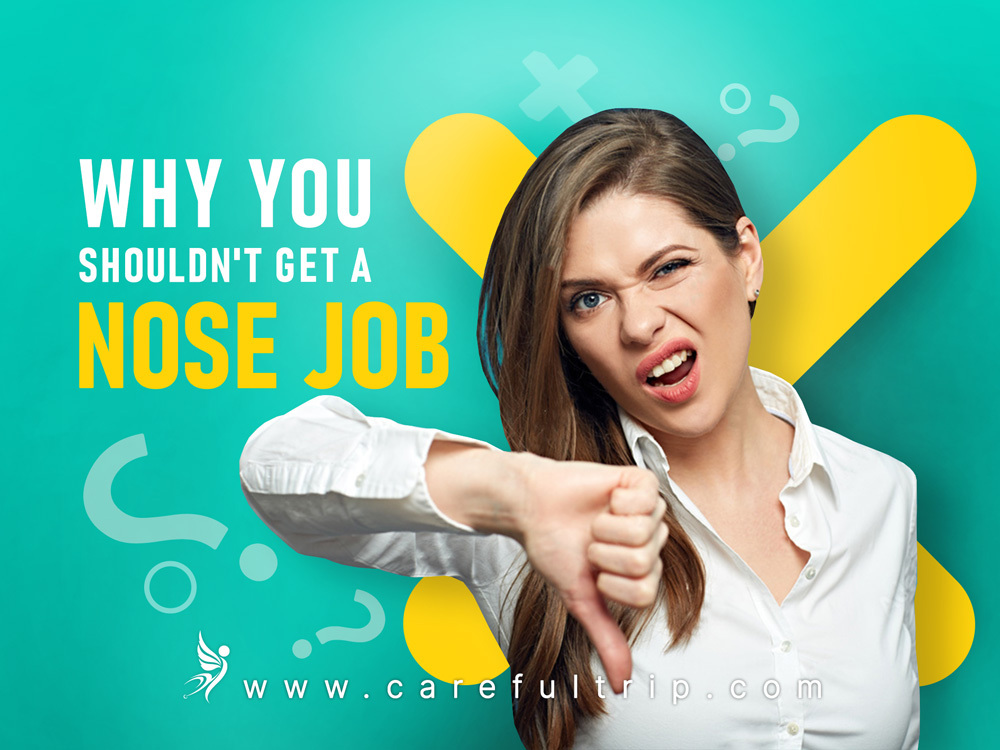 Assurances and promises
One of the major problems with rhinoplasty is that the surgeon cannot gauge how tough the treatment will be before it begins. In-depth experience is necessary to comprehend the degree of technical complexity and the likely outcome of the surgery. The surgeon must take into account a number of things, such as:
Skin elasticity

muscle, cartilage, and bone composition

specifics of the blood supply

imperfections and lumps
According to a recent survey, 85% of patients are happy with the outcomes of their rhinoplasty. However, it's impossible to ensure the surgery will be successful without a detailed analysis. You shouldn't anticipate the surgeon to give you any promises, just like with any cosmetic procedure. However, you may anticipate the finest outcomes if you select the candidate with the most experience and a well-equipped facility. Rhinoplasty involves a lot of costs, and not only the cost of the surgery itself. Also, after the surgery, you have to pay a lot of expenses for the recovery period.
Contraindications
Regrettably, not everyone is a candidate for rhinoplasty. If you decide to have a nose job in Iran or another country, you should be prepared. Even if a skilled surgeon can handle the most challenging situations with outstanding results, some contraindications remain.
They consist of:
Patients with obstructive sleep apnea are more likely to experience difficulties after surgery.

Patients who take narcotics, particularly cocaine, experience severe vasoconstriction and mucosal inflammation, which makes surgery challenging. They are also more vulnerable to problems following surgery.

During the surgery, patients who have coagulation issues need to be given extra care. Major surgery could not be possible due to serious blood-related complications.

Patients with BDD (Body Dysmorphic Disorder), personality disorders, and psychiatric issues may not be suitable for a nose job unless it's required to regain the ability to breathe.

Patients who have had a rhinoplasty within the last 12 months should hold off on having it done again until it is safe to do so. Numerous rhinoplasty operations may leave behind substantial scarring and an atrophic skin-soft tissue envelope.

incorrect expectations may not impair the safety of the surgery, but they may have an impact on the patient's recovery, making the procedure risky.

undergoing general anesthesia might be difficult for people who have serious heart issues. In some cases, the surgery may potentially cause a heart attack.

Severe diabetes interferes with the body's natural healing processes, making recovery difficult. Any procedure, meanwhile, has an impact on blood sugar levels.

Anesthesia and surgery during pregnancy can be dangerous for both the mother and the unborn child.

Smoking tobacco interferes with the patient's ability to breathe and may be harmful to the anesthetic. Smoking cessation several weeks before the operation can reduce the dangers involved.
For safety reasons, contraindications should never be disregarded. However, even if you experience any of the aforementioned problems, rhinoplasty is still within your grasp. Every situation needs to be discussed separately. Before giving up on getting rhinoplasty in Iran or anywhere else, if you have contraindications, be sure to speak with a surgeon.
Risks of getting a nose job
Of course, there are risks associated with a nose job in Iran as well as outside of it, and you should be aware that there are risks associated with rhinoplasty in Iran as well. Some rhinoplasty patients may experience persistent pain and swelling around their noses, or they may even experience breathing difficulties over time. Infection, scarring, and numbness in specific nose regions are some of the possible side effects. In my case, a scar was a given. Anesthesia itself carries danger since some patients can have a negative reaction to it. Whether or not your surgery goes according to plan, there is always the potential that you will detest your new nose.
There are still some hazards involved with rhinoplasty treatments, even though the majority don't.
Risks are
Bruising and enlargement

Bleeding

Infection

airway issues

rupture of the septum

Scarring

psychological difficulties (if unhappy with the results).

Having difficulty breathing

Poorly healing wounds

Discoloration of the skin

Skin sensitivity variations

Temporary loss of smell

Temporarily unpleasant feelings
Disadvantages of having a nose job
A nose job in Iran or anywhere else is not an easy decision to make. The most crucial thing is to ensure that you're acting ethically and gathering as much information as you can. There are some disadvantages to having a nose job.
It is more challenging for rhinoplasty results to be seen when the nose skin is thick. This is especially true for people who want a nasal tip that is more accentuated or polished. Technique or finesse of the cartilage in the nose tip can be shaped through rhinoplasty. However, it would be more challenging to see the outcome of nose surgery if the skin overlaying it was thick.

The extent of what can be altered by nose surgery is limited. By rearranging bone and cartilage, the contour of the nose can be changed to varying degrees. However, there are restrictions depending on the general anatomy of the patient.

It is illogical to believe that after rhinoplasty, you will be able to have the nose of your favorite celebrity unless you are their identical twin. Therefore, when speaking with your plastic surgeon, concentrate on the precise features of your nose that worry you and be very clear about your expectations and aspirations.
Side Effects and Risks of General Anesthesia
You should think about general anesthesia side effects while having a nose job in Iran or other places in addition to other surgical risks.
Dizziness

Having trouble urinating

IV drip-related bruising

Nausea

throbbing throat Allergic reactions
By selecting the best facility and a skilled anesthesiologist, the bulk of the aforementioned adverse effects can be reduced to a minimum or even eliminated. However, you need to use caution if you have
Obstructive snoring

Seizures

Severe renal, lung, and cardiac problems

Elevated blood pressure

Tobacco and alcohol abuse

Drug intolerances

Diabetes

Obesity
You can frequently reduce risks and adverse effects by doing the following:
Being honest about your medical background

Obey your doctor's advice strictly.

Maintain process knowledge.

Changing your way of life

Making dietary changes

Get rid of bad habits.
In particular, it's crucial to call your doctor right away if you experience any complications following the operation. A prompt response might reduce unfavorable effects.
Nose job in Iran
There are many reasons for not doing rhinoplasty, but if you intend to do it, choosing the right medical team is one of the most important measures. It's essential to think about safety while assessing the benefits and drawbacks of a nose operation. You can better prepare for the surgery and reduce safety concerns by spending more time obtaining information. In recent years, Iran has made significant progress in the fields of medicine and health tourism. All the Iranian doctors are very experienced and skilled and have completed their studies at international universities.
After deciding on rhinoplasty in Iran, get the best experience by choosing CarefulTrip tourist medical team. CarefulTrip is the Most Reliable Health Tourism Provider in Iran. We examine your medical condition comprehensively and suggest a customized mix of hospitals, clinics, and top surgeons. Appoint treatments by the most skilled and internationally trained doctors and surgeons. 24-hour assistance, pre-operative check-ups, 24-hours assistance, and accommodation arrangements.
Conclusion
All the information about the complications and risks of having a nose job in Iran and abroad was reviewed. Being very knowledgeable about the operation might occasionally make you feel more at ease and in charge of the situation if you desire one and are scared. Make sure you're in the best hands possible, whatever you choose! To begin your journey right now, get in touch with one of our knowledgeable patient managers below if you're interested in a free assessment and quote.