Do you have thin or light-colored eyebrows? Did you have one of the medical conditions that caused eyebrow hair loss? You will be so depressed because of your facial issues. The good news is that advanced medical procedures, doctors, and experts have created a lot of ways to make your dreams come true. Microblading is one of these ways, the same as a cosmetic tattoo. Moreover, plastic surgery in Iran is popular and solves facial issues quickly.
You may be afraid of this medical and helpful procedure. Some patients are scared due to the pain of eyebrow tattoos or plastic surgery. If you need to perform surgery or get a tattoo, keep reading to get more information about the hurt percentage.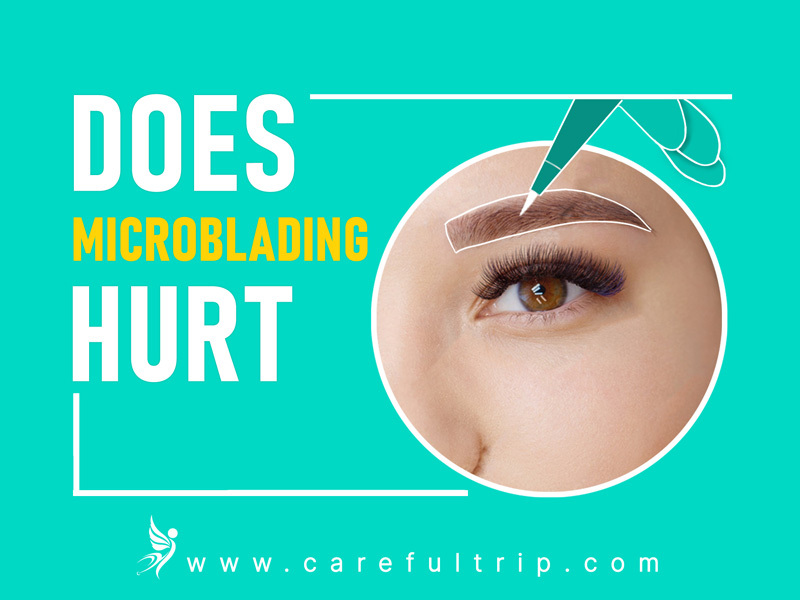 Microblading eyebrows pain
Have you ever done a tattoo? Microblading is like a cosmetic tattoo filling your thin eyebrows and making them look fuller. Your eyebrows will seem natural after this cosmetic tattoo.
A bladed tool fills in your skin pigment so that it may hurt. It makes your eyebrow feathery and stays long, so you don't need to tolerate the pain every month or week.
There will be 100 tiny cuts on your eyebrow, just like a tattoo. Generally, this beauty procedure hurts, but there are many ways to numb the eyebrow area and reduce or remove the pain.
Have you ever cut your finger with a blade? Of course, cutting with a blade is painful, but this facial cosmetic tattoo won't have intense pain. You may only feel the device moving on your skin, like a scratching feeling.
It is possible to reduce the pain with an anesthetic. You won't feel any hurt or pain, only the scratching sensation on your skin. It would help if you got the anesthetic 30 minutes before your cosmetic tattoo.
How to reduce microblading pain?
As we said, the best way to reduce microblading hurt is by making the area numb. This numbness is possible by using an anesthetic before starting the cosmetic tattoo.
If you use an anesthetic, you only feel the device's pressure on your skin, and you think of scratching over and over. It is also possible to reduce the scratching sensation. You need to consider some points before going to the clinic.
Some clinics will inform you about do and don't before this cosmetic tattoo, whiles others never mention a word. Therefore, you must be careful about choosing the right clinic for performing any plastic surgery in Iran.
CarefulTrip is ready to help you find the best and most professional beauty clinic with a kind and knowledgeable surgical team.
They will inform you to avoid some particular foods or drinks before any cosmetic tattoo to reduce your pain and scratch feeling:
Don't use caffeine or alcohol on the same day as your cosmetic tattoo.

Don't sunbathe a few days before plastic surgery or a cosmetic tattoo.

Don't wax your eyebrows a few days before the cosmetic tattoo.

Don't use chemical peels a few weeks before the cosmetic tattoo.

Avoid laser treatments a few weeks before the cosmetic tattoo.

Don't use vitamin A one month before the cosmetic tattoo.
Does microblading hurt more than a tattoo?
Tattoos and microblading are somehow like each other, but the needles will differ. Any way eyebrow tattoo is the blade penetration into the eyebrow skin, so it is near to the tattoo.
The clear difference between these two procedures is their devices. They use a machine to perform a tattoo, while they will use a manual tool during eyebrow tattoos.
A short eyebrow tattoo doesn't hurt like a tattoo because it is not permanent. Numbing cream will be a good idea for eyebrow tattoos.
In contrast, traditional tattoo involves too many needles, so numbing cream cannot reduce pain. Many professionals don't use any numbing cream for their tattoos.
A tiny blade cut of an eyebrow tattoo doesn't hurt the same traditional and actual tattoo procedure. Finally, it is less painful in comparison with natural and permanent tattoos.
Microblading after pain
Every tattoo or surgery will have after-pain, bruised, or tender skin. Microblading is one of these cosmetic tattoos after pain. Don't worry; you won't feel much pain after this procedure, but your skin will get red.
There will be some wounds on your eyebrow area too. The pain, red area, and wounds will heal some days after your cosmetic tattoo. You may feel sunburn some days after this procedure, which will be natural and common.
After the pain isn't severe, let's have a fuller and better eyebrow by performing an eyebrow tattoo. You must tolerate the wound or pain 10 to 14 days after your eyebrow tattoo.
During these days, your eyebrow area will be sensitive. You can experience a faster healing time by considering some points below:
Use coconut oil on your eyebrows area twice a day after the cosmetic tattoo.

Keep your eyebrows areas clean and dry.

Don't touch, rub, pick or wet your eyebrows areas for 7 to 10 days after the cosmetic tattoo.

Don't use any harsh skin care products.

Don't use makeup products on your eyebrows area for a week after the cosmetic tattoo.

Avoid standing in direct sunlight.
Microblading pain vs. threading pain
As eyebrows have the most considerable effects on facial structure, many people are looking for a way to have better-shaped eyebrows. You will look more attractive and younger by having fuller and better-formed eyebrows.
There are too many ways to have better-shaped eyebrows, like waxing, threading, laser, and microblading. The newest way to make eyebrows better shaped is eyebrow tattoo, and the oldest and most traditional way is threading.
They both have hurt, but the eyebrow tattoo is more painful. Compared to eyebrow tattoos, threading is far less painful clearly. Eyebrow tattoo is an invasive procedure with intense hurt, while threading is less painful.
Microblading and plastic surgery in Iran with CarefulTrip
Microblading is near to plastic surgery in Iran at a much lower price than in other countries. Therefore, you can choose Iran as a good destination for your eyebrow tattoo.
There are many well-experienced experts to perform this procedure on your eyebrows area, but can you find the best ones?
CarefulTrip is the best Iranian health center and medical tourism agency, so its professional team will help you find the best clinic to perform eyebrow tattoos with less pain.
This professional team is ready to help you with complete medical care before and after cosmetic eyebrow tattoos. Don't hesitate and contact them to experience a less painful eyebrow tattoo.