Harvesting extra body fat from the belly, back, hips, waist, thighs, and arms is a Brazilian Butt Lift technique component. The buttocks receive the extra fat after that. This operation will increase the area as desired and is ideal for deflated buttocks. Due to lower complication rates and a quicker recovery time, body fat transfer to the buttocks is the preferred method of augmentation over buttock implants. An adult who is in good health, does not smoke, and has a sizable quantity of extra fat that can be removed is the perfect candidate for this treatment. Before proceeding, it should be noted that having a Brazilian butt lift in Iran is now very common due to the excellent results and talented specialists.
A Brazilian butt lift in Iran is carried out by plastic surgeons in CarefulTrip under local anesthesia. Fat is refined and injected into the buttocks after being extracted from problem areas like the hips, thighs, abdomen, etc., using minimally invasive liposuction procedures. When done by a professional, the treatment improves the size and contour of the derriere and gives the back a lovely S-curve.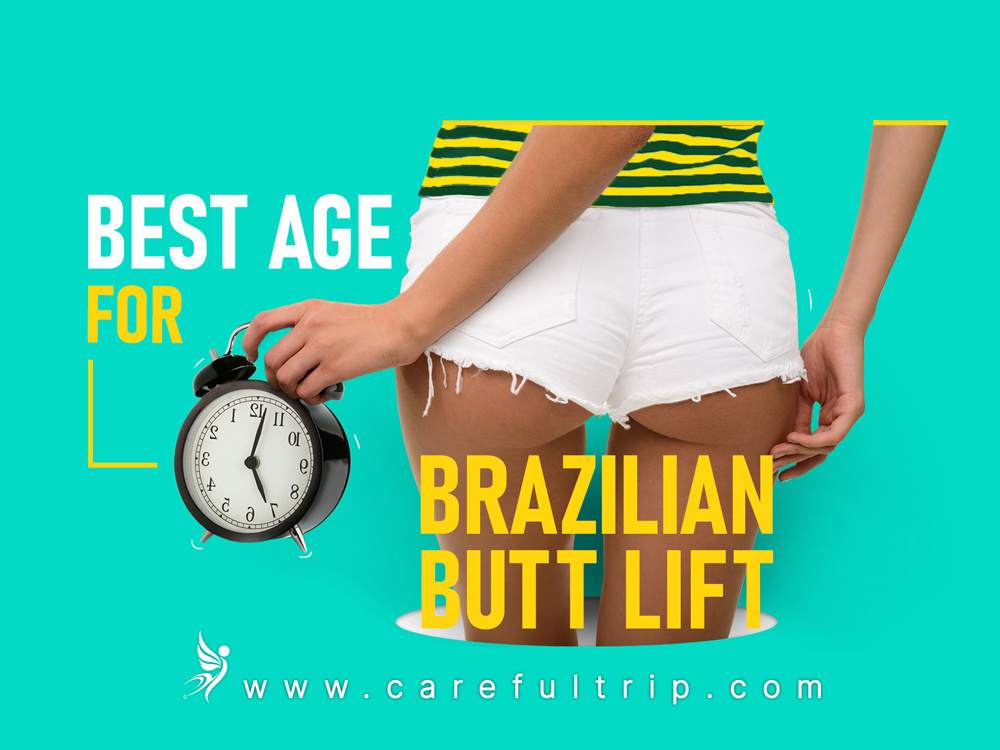 Different ages for Brazilian butt lift
is there a suitable age for BBL? There is no upper age limit for obtaining a Brazilian butt lift, but it's crucial that you be in good condition and have no skin laxity. Additionally, crucial is maintaining a healthy, stable weight, abstaining from smoking, and having reasonable expectations. But in the following, we will examine different ages.
18 to 25 years old for Brazilian butt lift
There is a decent probability that you are a good candidate for a Brazilian butt lift if you are between the ages of 18 and 21. The body finishes expanding and growing at different ages for each individual. In addition, it takes the human brain until age 25 to reach its full potential. Therefore, if you are between the ages of 18 and 21, you should carefully examine whether you are confident that your body is maturing and whether you are convinced that you have the emotional maturity to make the best choice for yourself. If you are between the ages of 22 and 25, you probably qualify for a Brazilian butt lift in Iran or anywhere else. Your butt has reached the end of its growth and development, and you are likely old enough to decide whether this treatment is right for you.
26 to 35 years old for Brazilian butt lift
When you are between the ages of 26 and 35, you should think about getting a Brazilian butt lift. You are most likely in good enough health to have the treatment, and you most likely have enough extra body fat to trim to enlarge your buttocks. You have a very good chance of being mentally and emotionally prepared for this treatment if you are between the ages of 26 and 35. Furthermore, studies have shown that younger people tend to heal faster and have better outcomes for up to 15 years.
36 to 45 years old for Brazilian butt lift
Another excellent time for both men and women to think about having a Brazilian butt lift in Iran or other nations is when they are between the ages of 36 and 45. It doesn't matter where you work; getting promoted often depends on your appearance. If you are competing against someone who comes to work in clothing that looks more professional because it fits perfectly, you are less likely to earn a promotion or a well-deserved increase if your clothes don't fit properly. Additionally, if you are in this age bracket, you have most likely had all of your children. Due to significant weight changes and hormonal changes, pregnancy is one of the main causes of drooping buttock skin.
46 to 54 years old for Brazilian butt lift
The ideal age range for a Brazilian butt lift in Iran, according to many clients who come to our holding, CarefulTrip, is between 46 and 54 years old. At this point in your life, you begin to lose a large amount of volume, and your skin begins to sag dramatically. But because of how young you are, your health is probably still sufficient for a quick recovery. Additionally, you are probably in good enough health to select either local or general anesthesia.
Am I a good candidate for Brazilian butt lift?
You have a very strong probability of being a good candidate for a BBL if you are between the ages of 18 and 54. In the end, whether this surgery is the best choice to help you reach your cosmetic goals will depend on your medical history, present health, and capacity for logical decision-making. Plan an initial visit with an aesthetic specialist to discuss your goals and find out for sure if you are a good candidate for a Brazilian butt lift in Iran or other countries. If you decide on CarefulTrip for a Brazilian butt lift, you don't need to worry about anything. We will take care of everything, like getting a visa, arranging accommodations, coordinating with your doctor, etc. No amount of diet, exercise, or skin-tightening lotions will be able to help you get the physique of your dreams. A Brazilian butt lift may be able to help you perfect your appearance and significantly boost your self-confidence if you are sick and tired of how your butt looks in jeans and swimwear. In general, if you concur with the following, you might be an excellent candidate for a Brazilian butt lift in Iran or other places:
You want to enhance your buttocks without using implants.

The skin tone on your hips and buttocks is nice.

You have enough fat reserves in other places to take out and inject into your buttocks.

You are prepared and able to refrain from doing so for several weeks.
Body requirements before having Brazilian butt lift
Before choosing a procedure, it is crucial to consult with the surgeon. Our surgeon at CarefulTrip will be able to give you a preview of the potential outcome and explain how they may assist you in achieving your ideal appearance. Anyone considering this kind of surgery should be aware of a few general prerequisites. These consist of the following:
Enough fat

You must be at least 18 years old.

Both your physical and mental wellness are excellent.

You're worried about how you look.

You have an optimistic outlook and reasonable expectations for what BBL may accomplish.

Smoking is not recommended.

Drug and alcohol use should be avoided for at least 4 weeks before surgery.

Your butt is not balanced.

Know the potential dangers and difficulties.
How to prepare for Brazilian butt lift?
As you prepare for cosmetic surgery, adopt healthy lifestyle practices to help your body recover faster. Before you have any work done, get into a good routine to help you stay on track after your treatment.
Nutrition
If you decide to proceed with a Brazilian butt lift in Iran or other places, be sure that your body has the adequate nutrient reserves needed for a prompt recovery. Key vitamins, minerals, and proteins will help wound healing when consumed as part of a balanced diet that covers all of the major food categories.
The following nutrients should be prioritized:
Eggs, meat, beans, nuts, and dairy products all include protein.

Strawberries and spinach are good sources of vitamin C.

Whole grains, seafood, and meat all contain zinc.
Controlling blood sugar levels is essential for diabetics as they get ready for surgery. High blood sugars hinder the healing of wounds and increase the risk of infection. 7 Keep a close eye on your blood sugar levels and work with your doctor to achieve tight glycemic control.
Conclusion
In this blog, we talked about the essential points for butt lift surgery, such as age, and the most important point after deciding on this surgery is choosing the right and experienced team to perform the surgery. You will get the best results by doing a Brazilian butt lift in Iran with CarefulTrip. The best healthcare in Iran is available through Careful Trip, the most reliable health tourism provider in Iran. Iran is becoming well-known throughout the world for its health tourism industry. Iran is one of the greatest travel destinations in the world for health tourism thanks to its skilled medical professionals, cutting-edge hospitals, and reasonable costs. We try to comprehend your needs to provide the best services for your medical visit to Iran. We thoroughly assess your medical situation and recommend a unique combination of hospitals, clinics, and top surgeons. Online patient services (quote and consultation) Planning hospitals and clinics that will meet the highest standards in the world (for all treatments and budgets). You will be completely satisfied by having a Brazilian butt lift in Iran, so you can book an appointment whenever you want.