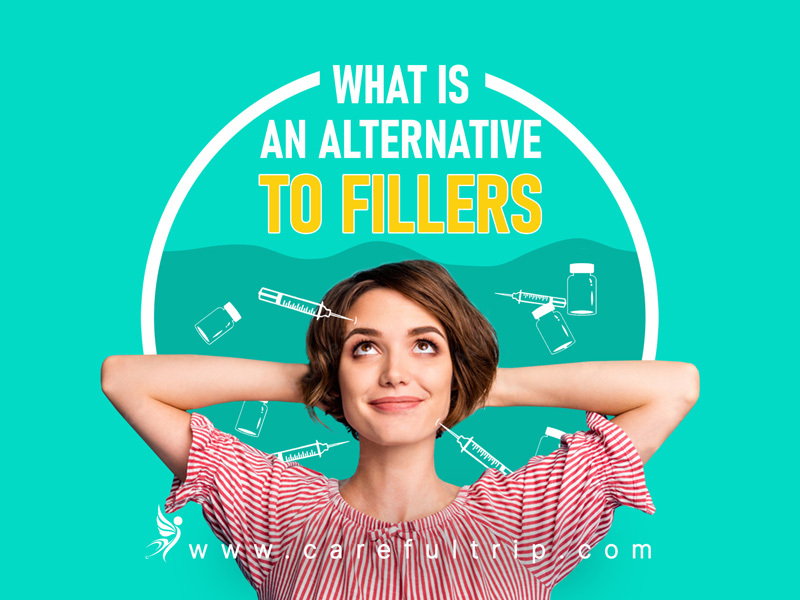 It has never been simpler to maintain bouncy, youthful, and glowing skin all year round. Maintaining your skin's elasticity is as easy as scheduling an appointment for dermal fillers or anti-wrinkle injections. What transpires, however, if you're wary or, worse, terrified of a needle approaching this close to your face? Do you really have to let your face droop? Well, not quite. There are other safety procedures that can provide you with quick results in addition to dermal fillers. In reality, there are a number of non-injectable therapy options that can focus on different facial features like your lips, jaw, or eyes. If you want to know more about an alternative to fillers, contact CarefulTrip to set up a consultation.
Alternatives to Fillers
Of course, not everyone is a good candidate for filler, and some people have no desire to undergo a cosmetic procedure. That doesn't mean that they do not care about (or want) the kinds of skin benefits and youth-enhancing effects that fillers can produce. They are so many people who are looking for an alternative to fillers. As a result, we've been considering our alternatives. 
Micro infusion
A great alternative to fillers? Micro infusion! This amazing treatment is called micro infusion in which very small microneedles are used to inject minuscule droplets of thin filler into the top layer of skin. The filler is injected more superficially than with standard filler injections, and it is combined with vitamins and a small quantity of Botox to lighten the skin and improve texture while minimizing lump formation and shape change risks. If you are hesitant to get traditional filler injections, this is a great first procedure. The effects last for about a month and get better with more treatments.
Laser Resurfacing
Full-face laser resurfacing, which can produce results that are much more realistic, may be more beneficial for someone who has significant sun damage and deep diffuse wrinkles. If you want to treat the area under your eyes, Laser Resurfacing might also be a more successful course of action and it is a very good alternative to fillers.
Radio Frequency Skin-Tightening Treatments
A series of radiofrequency heat treatments can help firm skin in a very noninvasive, no-downtime way if there has only been minor volume loss or sagging. Such procedures promote the production of collagen, aid in the reversal of early skin aging symptoms like faint laugh lines, firm or define the jawline, and reduce the appearance of jowls.
Supplements
There are many natural options that will promote the appearance of healthier-looking skin, nails, and hair, whether you choose to take extra biotin or vitamin E or supplements like collagen. Avoid over-supplementing, and always discuss negative effects with your doctor.
Botox or Dysport
A filler might not be the greatest solution for someone who has lines brought on by muscle movement; instead, Botox or Dysport would be a better choice. These procedures work well for people who have milder skin issues such as fine lines, crow's feet, and frown lines. When there is a depression in the skin, a valley in normally flat skin, a depressed scar, or skin hollow, the filler will be the best option.
Serums or Ampoules
In serums or ampoules, which are concentrated serums, a vitamin, such as vitamin E, usually takes center stage. While an ampoule might be one of those extra-care, pampering time treatments, a serum can be incorporated into a daily or nightly routine.
Liquid Gold
Another Gwyneth-approved treatment option for anti-wrinkle injections, including Botox, Xeomin, and Dysport, is liquid gold. Thrombocytes, a type of blood platelet that develops in our bone marrow, are referred to as liquid gold because they are taken from blood plasma. The liquid gold is withdrawn from one of your blood samples and then reinjected into the desired problem area. To increase cell production, collagen production, and tissue preparation. For the best results with minimal side effects, two to three treatments are frequently advised. In fact, a liquid gold injection is good for your health and appearance. The treatment of Rheumatoid Arthritis, an autoimmune disease that affects joints and cartilage and worsens with age, has been linked in several studies to liquid gold.
Skin Needling
Skin needling procedures are an excellent substitute for dermal fillers and any of the above if you have reservations about even removing cells from your blood. Skin Needling is a minimally invasive technique that emphasizes boosting the production of collagen and elastin for a plumped, healthy appearance. Reduced pigmentation and acne scarring can both be of great benefit. Using tiny needles, the method involves puncturing the skin's surface. One treatment is all it takes to see a more luminous, bouncy, and even complexion thanks to practically immediate effects. Skin needling is a common procedure in dermatology settings because it is secure and effective for maintaining skin health, according to clinical reviews.
Vampire Facial
A vampire facial, which is derived from a liquid gold treatment, gives your skin anti-wrinkle, smooth, and bouncy benefits without the use of injections! You can see Kim Kardashian's face covered in blood blotches if you Google "Vampire Facial." This can be a bit deceiving, as the redness of the skin doesn't come from pain or swelling. Let us explain. A blood sample is used to extract the liquid gold for a vampire facial, which is followed by micro-needling of the skin tissues. The outcome? tighter pores, lighter pigmentation, increased cell formation, and more. An intriguing split-face study to evaluate acne scarring treatments was published. They found that PRP micro-needling (Vampire Facial), out of 30 patients, was 18% more effective at healing the skin than simple micro-needling therapy. If you want to treat and plump your skin, combining liquid gold and micro-needling is the best option. For more information, you can trust CarefulTrip which is associated with the most famous hospitals and doctors.
PDO Mono Threads
PDO Mono Threads aren't merely a trend among celebrities. The skin is delicately tightened and plumped with threads, a less invasive cosmetic alternative to fillers that avoids the risks of looking botox-like. PDO absorbable polymer filaments are inserted into sagging skin tissue along the jawline, chin, eyebrow, or nasolabial fold. PDO threads encourage the creation of collagen in addition to delicately reshaping your skin without surgery. Each thread is smaller than a hair, and it gradually dissolves without harm over time (results can last up to 12 months). Finally, there aren't many side effects to worry about, which makes this procedure a fantastic alternative to fillers.
The significant outcomes PDO mono threads provided were highlighted in a clinical paper involving 160 patients, along with a 17% rate of minor side effects that were frequently related to technical insertion and thread displacement. With PDO Mono Thread, the nurses and doctors at CarefulTrip guarantee the best results through training, instruction, and protocol implementation. The outcome? An elevating and secure lift!
Summary
The aesthetics sector has experienced tremendous growth in recent years. It's now simpler than ever to change the way you look thanks to advancements in aesthetic procedures, from the widespread use of lip fillers to tweaks being as simple as a quick trip to the clinic. Moreover, there are so many ways for those who are still reluctant to undergo a needle or surgical procedure. CarefulTrip offers experienced professionals to help you find the best alternative to fillers.