As medical knowledge and technology are increasingly developing, performing any operation and making changes to your face becomes possible. Are you tired of your nose's bump? Do you want to have some dimples on your cheeks? Even lip fillers will change your lips' shape too. How about the shape of your eyes? The newest trendy cosmetic eye surgery in Iran is Cleopatra or fox eyes. Before making your final decision about this surgery, finding a professional clinic with full eye care in Iran is the most important thing to consider.
This trendy surgery is unfamiliar with other cosmetic surgeries but becomes more popular these years. Some global supermodels have done this eye surgery, so they encourage people to have eye surgery by performing some fox eye challenges on TikTok or other social media. Let's get more information on this unique and new eye surgery.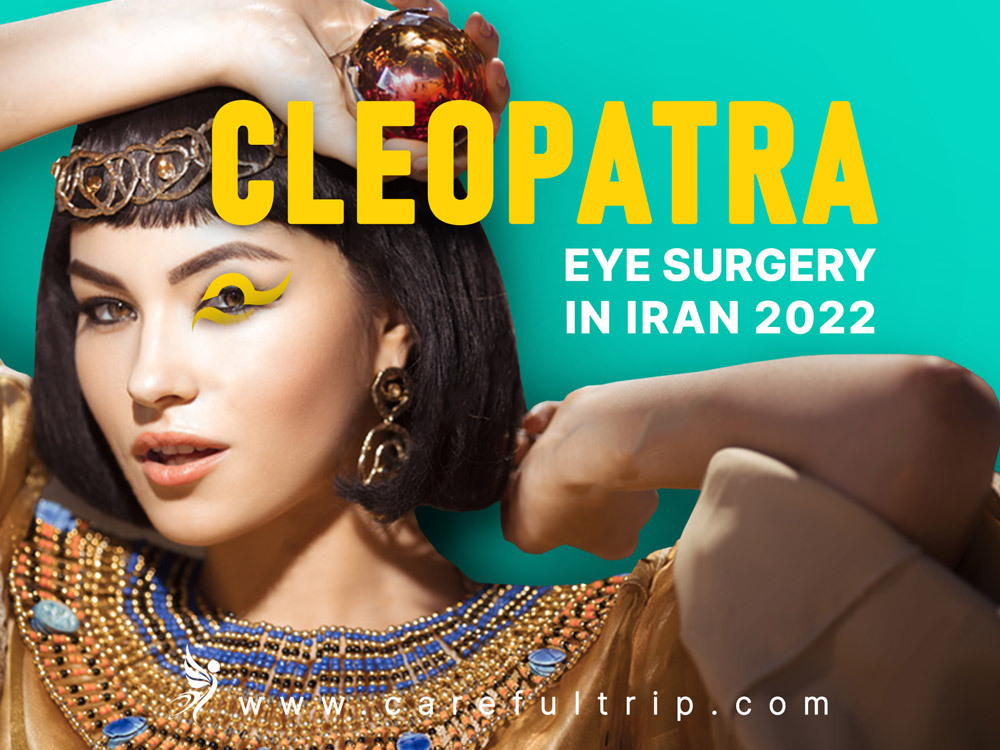 What are the most common types of eye surgery in Iran?
Do you want to improve your vision? Are you looking for a better shape for your eyes? You must answer these questions to find out the best eye surgery for yourself since there are too many different eye surgeries in Iran and worldwide.
Different eye surgeries include cosmetic treatments to medically necessary vision treatments.
It means you can improve your eyes' refractive problems with cosmetic surgeries while it is possible to prevent blindness or some eye diseases by performing a medical essential vision surgery.
During some essential medical treatments, surgeons will replace the natural lens of patients' eyes with an artificial lens. In contrast, some other eye surgeries will improve the appearance of patients' eyes.
For example, surgeons will change the eye shape, remove fat from upper or lower eyelids, remove excess tissue from both pairs of eyelids, widen eyes or reduce wrinkles. Here are the most common eye surgeries in Iran:
Cataract surgery

LASIK

Glaucoma surgery

Trabeculoplasty

Trabeculectomy

Corneal transplant

Blepharoplasty (cosmetic eye surgery)

Macular degeneration surgery
What is Cleopatra eye surgery in Iran?
Are you looking for higher eyebrows and more elongated eyes? Have you ever thought about performing eye surgery to change the shape of your eyes?
Most people are unsatisfied with wrinkles on the sides of their eyes, so they are looking for a solution to get rid of them. You can think about Cleopatra's eye surgery to change the vision or eyebrow shape.
Since eye care in Iran is so satisfying, many people come to Iran and experience charm and youth on their faces. You can have a temporal lift to make your eyes more beautiful.
Cleopatra eye surgery will increase the attractiveness of your eyes and eyebrows. Moreover, Cleopatra's eye surgery can make your eyes bigger with the best distance from your eyebrows.
The good news about this eye surgery in Iran is the reduction of wrinkles around the eyes. This cosmetic eye surgery involves lifting the eyelid, making the eye shape unique, and removing wrinkles.
There are too many cosmetic eye surgery clinics in Iran to perform a quick eye treatment, but you must be careful to find the best clinic for after-surgery eye care in Iran.
Is Cleopatra eye thread lift permanent?
Cleopatra's eye look can last long if you choose an expert clinic with knowledgeable doctors. Cleopatra's eye thread can lift hooded eyes and heavy eyebrows or make the eye wide open.
It shows you can have lifted eyebrows, and Cleopatra's eye looks without a complex surgical brow lift. The softest thread can be found in some medical clinics specializing in Cleopatra thread lift.
The Cleopatra lift thread elongates the upper eyelids and creates a beautiful fox eye shape. This is an eye lift treatment to reshape the eye style and quickly experience a trendy eye surgery.
The average time of Cleopatra's eye thread is 6 months. Some lift threads last 6 to 12 months. It is possible to repeat the thread-lifting procedure for good.
It is easy to see the Cleopatra thread eye effects immediately after the process. Don't forget this eye-thread-lifting process lasts at least 5 months.
Does Cleopatra eye surgery last forever?
According to medical statistics and patients' comments, Cleopatra eye surgery is a long-lasting process. You cannot expect a lifelong last, but Cleopatra eye surgery results remain for at least 5 to 7 years.
We can say eye surgery in Iran is essentially permanent. Cleopatra eye surgery makes some small scars outside the corners of your eyes because it stretches the corners slightly to shape your eyes differently.
Almond shape or fox shape is another name for Cleopatra eye surgery in Iran. Although Cleopatra eye surgery only takes 2 to 4 hours, its effects are somehow permanent.
The effects of Cleopatra eye surgery depend on different factors, but this cosmetic surgery lasts at least 6 months to 2 years. Influential factors on Cleopatra eye surgery results are as below:
Patient age

Skin quality

Number of recommended treatment

Type of recommended treatment

Patients lifestyle

Patients' body metabolism
Can Cleopatra eye surgery improve vision?
Though Cleopatra eye surgery is a cosmetic surgery, it can improve your vision or helps you to get rid of your vision problems.
Surgeons remove some skin around your eyes, reducing your side vision; therefore, eye surgery can also have visual effects. It also will make eyes look better and younger, so eye vision will increase severely.
Cleopatra eye surgery cannot improve your vision if you wear eyeglasses or contact lenses. It only is effective due to changing the eye shape or upper eyelids.
Removing excess skin from eyelids to reshape eyes can improve eye vision just a little bit. You cannot expect Cleopatra eye surgery to improve your eye vision the same way as LASIK eye surgery.
You must be careful about finding eye care in Iran just after performing Cleopatra eye surgery.
Costs of Cleopatra eye surgery in Iran
As we said, there are 2 ways to lift eyes and reshape them. One is Cleopatra eye thread, and the other is Cleopatra eye surgery. So the cost of each method will be different from the other.
You need to make your final decision to reshape your eyes. Another essential matter for calculating the cost of Cleopatra eye surgery in Iran is after-surgery eye care in Iran.
Some clinics offer the best recommendation for a temporary Cleopatra eye surgery, while others provide the best eye care facilities. Therefore costs depend on different things.
Moreover, the potentiality of your chosen cosmetic surgery is another point to consider in calculating Cleopatra eye surgery. Some clinics may offer cheap prices; you must be strong against their attractive prices.
Don't let them deceive you; a Cleopatra eye surgery cannot be cheap. Unless the chosen clinic is not well experienced enough and doesn't have professional surgeons. There are different factors significant to Cleopatra eye surgery costs like as:
Method of eye surgery

Patient's skin type

Patient's age

Amount of drooping

Potentiality of the chosen clinic

Enough knowledge and experience of the surgeon

Variety of medical facilities of the chosen clinic
What is the best age to get Cleopatra eye surgery?
Some people with heavy forehead look for brow lift that needs eye surgery. Therefore, they must be 25 to 40 years in case of performing eye surgery with different aims.
Mostly women between the age of 25 to 40 years are the most interested people to experience Cleopatra eye surgery.
Since Cleopatra eye surgery will last for a long or permanent time, interested people have to be sure enough about this operation. They must be old enough to make their final decision without regression.
Generally, it cannot be the exact time and age for Cleopatra eye surgery. You can perform this operation whenever you see some wrinkles on the skin around your eyes.
Whether you are young or old, Cleopatra eye surgery can be the best solution for your better appearance.
As Cleopatra eye surgery is cosmetic surgery, people can experience this operation between 18 to 70 years old. But the best time and age to have Cleopatra eye surgery is between 25 to 40 years old.
Who is the best candidate for Cleopatra eye surgery?
If you are a person who loses collagen earlier than others, it is better to have eye lifting or Cleopatra eye surgery. The desired outcome of Cleopatra eye surgery in Iran is always the most satisfying result based on people's satisfied overviews.
To ensure your potentiality for Cleopatra eye surgery, you need a professional consultation with a knowledgeable surgeon.
In addition, you have to pass some medical examination because your body anatomy is unique, the same as your face and eye shape. Cleopatra eye shape may not be proper for your face, so it is better to see an edited picture of your face with Cleopatra eye shape.
At last, everyone who is unhappy and unsatisfied with their eye shape or wrinkles can be a good candidate for Cleopatra eye surgery in Iran.
Best cosmetic eye surgeons with the best eye care in Iran
Based on different reviews and comments, there are too many cosmetic eye surgeons with the best eye care in Iran. Which one is the most proper surgeon for your Cleopatra eye surgery?
The most experienced cosmetic surgeons possible to find in Iran with the best eye care after an eye operation. The best eye surgeons who can perform Cleopatra eye surgeries have different features like the below items:
Have enough experience

Know eye surgical techniques

Have various achievements in the eye operation field

Be quick in the eye surgery process

Make a short recovery time
If you find an Iranian eye surgeon with all the features mentioned above, you can be sure about your desired outcome.
Eye care in Iran is one of the post-eye surgery matters to consider, so you need to pay attention to who is your eye surgeon or do they have enough experience in unique and challenging eye operations like Cleopatra eye surgery.
How is after-surgery eye care in Iran?
Whether you have had eye surgery in Iran or other countries, you must follow eye care instructions for faster healing. Additionally, eye care in Iran is second to none after surgery because of the best eye operation clinics.
In case of a better healing process, you must be careful about your action and avoid some activities. There are some remarkable eye cares essentially after Cleopatra eye surgery like below:
Don't read for a long time

Don't watch TV

Don't use the computer during the first 24 hours just after your Cleopatra eye surgery

Wear UV-blocking sunglasses while you get outside

Don't drive one day after your Cleopatra eye surgery

Don't lift heavy objects

Don't perform vigorous activities

Don't bend over

Don't sneeze

Don't perform any strenuous exercise
Aftercare Cleopatra eye surgery is an important matter to consider, although this eye surgery is not the same as some decades ago.
Speedy recovery time without any painful time is what every patient looks for, and it is possible to have these items in case of following aftercare instructions.
Costs of after-surgery eye care in Iran
Besides Cleopatra eye surgery costs, you must be aware of after-surgery eye care in Iran. These aftercare items have some patient costs, so you need to have enough budget. Also, antibiotics as aftercare is another eye care after eye surgery in Iran.
Suppose you choose Iran as an abroad destination for your Cleopatra eye surgery. In that case, you will choose some medical trip agencies to help you with the best eye care in Iran with affordable prices and satisfying facilities.
Eye surgery with CarefulTrip
CarefulTrip medical provider agency has many exclusive treatment plans for those looking for Cleopatra eye surgery in Iran as an abroad medical destination. They offer the most affordable eye surgical packages for foreigners with a high rate of desired outcomes.
CarefulTrip is a medical tourism facilitator that is the best medical agency for patients from all over the world. Experience the best Cleopatra eye surgery with the best aftercare in Iran by choosing CarefulTrip as your medical facilitator.