Pregnancy is a phase of great moments coupled with excitement. But it can also impact your daily routine emotionally and physically. As a new mom, you must be more careful about your postpartum diet and choose the best diet after pregnancy. Therefore, feel free for the next 5 minutes and read this article to learn more about the best diet after pregnancy.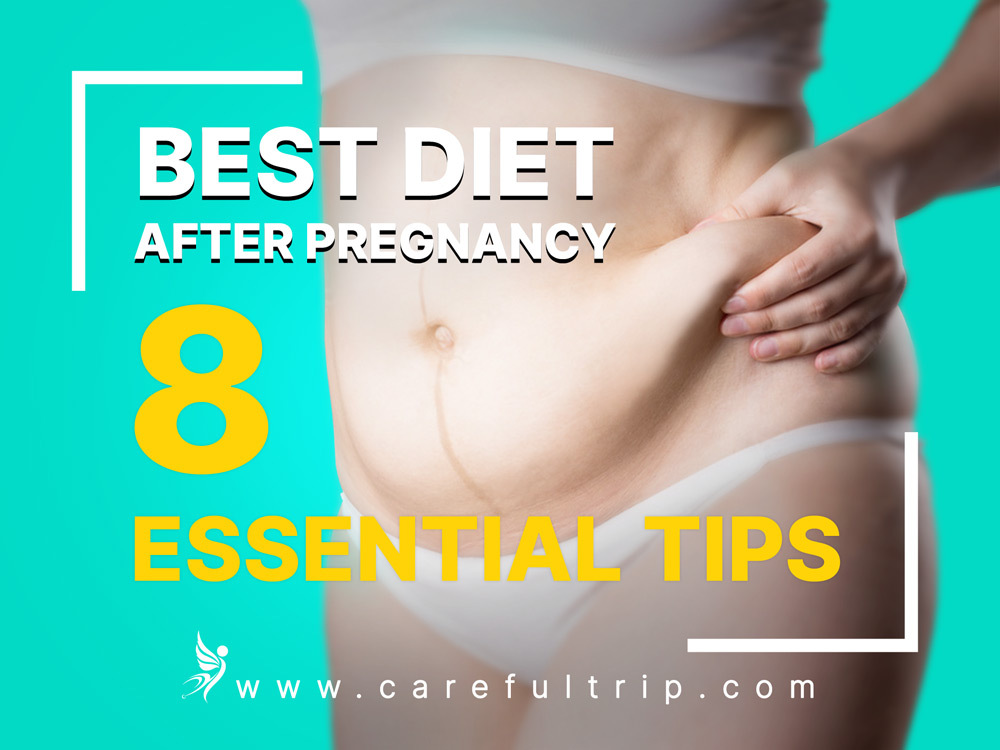 Healthy Eating Tips
The postpartum diet should be prepared based on many tips since the early months are essential, and this period can be very stressful for moms. Please remember that your body will change and adjust to new conditions in the first few weeks after giving birth.
In addition to recovering from physical stress and fatigue resulting from pregnancy, your body should adjust hormone levels and balance nutrient stores.
These critical factors may result in minor or significant changes in your body, including fatigue, mood swings, and more. But note that there are ways to moderate these concerns and mitigate the risks. A balanced diet that consists of plenty of fruits, liquids, and nutritious foods will support the healing process for your body. It helps you provide energy and mood to care for your new baby.
Low-fat Dairy Products
Whether you prefer milk, cheese, or other dairy products, these are essential to healthy breastfeeding. Remember that milk delivers a significant amount of bone-strengthening vitamin D to your new baby. So, you can help your baby develop strong bones by adding low-fat dairy products to your diet. The best diet after pregnancy should include foods full of calcium and B vitamins. As a result, you can meet your needs and feed your baby with healthy nutrients. In short, the best diet after pregnancy must have at least 3 cups of dairy each day.
A Variety of Foods
Eating a varied and well-balanced diet means providing your body and baby with different types and amounts of essential nutrients. It is crucial to choose a variety of foods within each food group. Note that the foods in each group have similar nutrients and are often used the same in cooking. Eating enough from all five groups is recommended to get nutrients and essential vitamins. Often, we get used to eating just the foods we like that are easy for us to prepare or buy. This is a wrong choice for moms, and eating a varied diet can benefit their health by reducing the risks associated with malnutrition.
Plenty of Liquids
Your body needs fluid a day. This becomes even more important when breastfeeding your baby, meaning you need about 5 to 10 glasses each day to prevent issues related to the lack of water in your body. Drinking water can prevent dehydration, which can cause several issues for your body, such as unclear thinking and mood change. Overheating is another problem caused by water dehydration, which is very dangerous for your health and your new baby.
Fruits and Vegetables
Experts say that making half your plate of fruits and vegetables can prevent many health problems after pregnancy. Fruits and vegetables are considered a source of vitamins and minerals that keep your body healthy to feed your newborn with peace of mind. These nutrients also provide your body with fiber, which is an essential factor in preventing constipation. The best postpartum diet requires having a rich source of many nutrients. Fruits and vegetables are important choices to make the best diet after pregnancy, and they can contribute to preventing high blood pressure, heart diseases, and some types of cancer.
Vitamins
It's essential to talk to your doctor before taking any vitamin pill. Your doctor can prescribe all the required vitamins after checking all conditions, and you can continue to take specific types of vitamins according to the prescription. If you take enough fruits and vegetables, there is generally no need to take additional vitamin pills. However, prenatal vitamins are crucial if you're breastfeeding.
Avoid These Foods When Breastfeeding
You should eat healthy food at every meal and avoid some foods and beverages post-pregnancy. Eating healthy food is essential, but knowing what not to eat is also a key point after giving birth.
Alcohol
Alcohol-contained drinks, like wine, wine coolers, beer, and mixed drinks, can harm your baby's brain and put his body's development process at high risk. These drinks contain alcohol that passes to your baby during breastfeeding, which can cause critical issues for your new baby over time. According to experts, you should avoid some beverages and foods to make up the best diet after pregnancy, and one of the most important examples is alcohol. Alcoholic drinks are very harmful, as studies show, and trying to limit them is essential to help your baby's health.
Caffeine
Having caffeine in moderation is fine, but less is better. Caffeine gets into breast milk as you consume and you pass it to your baby. Newborn babies can't process caffeine efficiently, which leads to several issues, such as sleep problems and irritability. Studies say mothers should moderately consume caffeine, which shouldn't be ignored. New moms, including those breastfeeding, are recommended to limit this amount to almost 2 cups of coffee daily. One of the most critical impacts of excessive caffeine is that it causes sleep disorders and can interfere with maternal sleep.
Junk Foods
Junk food is excellent and exciting, but it doesn't make sense to include it in your diet after pregnancy. Junk foods have many impacts on your body, and avoiding these types of foods is best. Junk foods can impact your baby's digestive system, and food items like pizza may still not be as healthy as you think. The best diet after pregnancy necessitates avoiding eating fast food as it is also dangerous for your baby and your body during pregnancy. Since junk food is deficient in nutrients, eating it can adversely affect your baby's physical and mental development. The significant impacts of fast food and junk food are the increased risk of allergies and increased risk for heart disease. They may also have an excessive amount of fat that is harmful to your body's health.
To Avoid Exhaustion, Read the Following Tips
Postpartum fatigue is a common symptom after pregnancy, but you can avoid this by considering some tips. It would help to care about postpartum fatigue when you have defined symptoms, such as exhaustion, tiredness, guilt, shame, and loss of self-esteem. Speaking to your doctor is highly recommended since this problem can be solved by taking a few steps and changing your daily diet after pregnancy. There are some essential foods like eggs, citrus fruits, and low-fat dairy products that you can include in your daily life to make the best diet after pregnancy.
Don't forget! You're recovering, and you need to be careful about what you eat and what you do. There is no magical reset; you should manage all of them to recover from pregnancy adequately.
Final Words
Proper nutrition will not only help your health, but it can impact your baby's physical and mental health. The best diet after pregnancy will give you the energy to keep up during breastfeeding. We understand there is much pressure, but remember to have healthy foods in your diet since they will support you in your postpartum journey. CarefulTrip's experts will provide you the best diet plan after pregnancy.